Just over half of respondents polled for this month's Focus Group said their fund has an overall ESG policy. Around the same number have an active engagement policy for corporate governance issues – and 21 have decided to exclude specific investment areas due to ESG considerations.
A Finnish fund that evaluates ESG issues as part of the broad investment risk of a sector or company, said: "We do not have an explicit exclusion lists per se, but have, for example, excluded tobacco companies from our investments based on our evaluation of legal and reputational risks. We have also sold investments in specific companies based on information on their apparently reckless environmental policies which could incur severe liabilities in the future."
Sixteen funds have been subject to pressure to change their investment policy – four were spurred their members, seven by external groups, and five by both. "[There has been] NGO and political pressure on Swedish public pension funds to exclude oil companies and some specific companies related to the mining industry," said a Swedish fund.
Nine respondents felt funds should accurately reflect the wishes of their members. An Icelandic fund said that "fiduciary duty means acting on behalf of members and the board should do that", but conceded that it is "very difficult" to reflect the wishes of all members.
Just five respondents said their fund has polled its membership on ESG policy or other related issues. Moreover, only three of the funds that do poll members have tried to incorporate their views in their investment policy.
Over two-thirds of respondents believed achieving lower returns as a result of ESG or ethical considerations was a greater risk for a pension fund board than negative publicity arising from divestment or similar campaigns.
"At the end of the day, the vast majority of our members want their pensions to be safe," said a UK fund. "ESG is a second-order issue. We incorporate ESG because we believe over the longer term it will provide better financial returns, but there will be short-term volatility. The media concentrate on short-term volatility, which is where negative publicity hits."
A Danish fund stated that integration of ESG and good returns "go hand in hand", but added that it can "live with negative publicity", whereas "lower returns means the board is not living up to its responsibility".
A French fund went further: "Some do-gooders are living in fairy land. They have no clue of what 'best in class' means. When you are managing a big pension fund, you have to accept the fact that the world is not divided between black and white. What is important is to encourage companies that try to develop more sustainable businesses and to weed out the worst performers."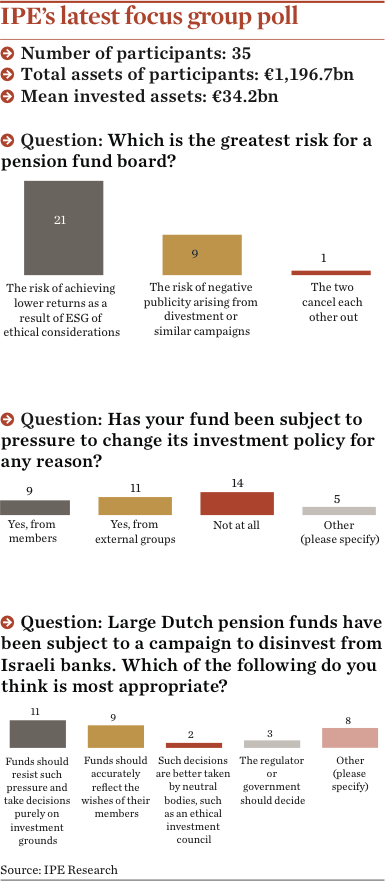 Archbishop Desmond Tutu recently urged the Dutch pension fund ABP to disinvest from several Israeli banks. A third of respondents said funds should resist such pressure and take decisions purely on investment grounds. "Funds can only take decisions purely on investment grounds, because of the diversity of the membership," said a UK fund. "Large Dutch pension funds may have members who, through religious or other conviction, believe the actions taken by the Israeli government are legitimate and support them. Why should their benefits be limited by Dutch pension managers taking a decision on non-investment grounds that those members would oppose?"
In short, this can be one of the most contentious issues pension funds have to deal with. But some useful perspective is provided by one Eastern European respondent, whose fund sold its direct holdings in Russia this year: "We decided that it was inappropriate to invest in country that is hostile and a potential military threat to [our country].