Just half of the participants to this month's Focus Group think diversity on a pension fund board is important – but three respondents ranked it as "very unimportant". "[It is important] both in terms of employer representation, member representation, cultures and gender. Diversity is a key aspect of our communication strategy," said a UK fund.
However, a Dutch fund stated: "It is difficult to achieve. The number of qualified women is still rather limited. Also youth and experience are, of course, at odds."
On average, one-fifth of respondents' board members are women. This ranges from five boards with no women to one UK fund with 10 women to one man. The latter was the only fund where more than half the board members are women. One Danish fund pointed out that its 20%-female board closely mirrored its 25%-female scheme membership.
Only four of those polled think their board is more gender diverse than other funds. "I only meet grey men at other funds," said a Dutch respondent. Eight think their fund is less diverse, and 15 that it is about the same. According to a UK fund: "Gender diversity still has a long way to go. The industries represented tend to be 80:20 male:female, so trustee ratios of four or five to one are actually representative."
Twelve respondents have unpaid trustees/non-executive board members. Seventeen have paid trustees/non-executive board members, while 13 have paid trustees/non executive board members in an expert capacity.
For a third of funds, the level of remuneration is set by the trustees/board itself. For five respondents, it is the sponsor who sets it; for four, it is set by an external party, such as an association; for one, an external consultant/adviser and; for a further eight, the level is set by other bodies, including the shareholders and a joint employer/member committee.
Remuneration for this role ranges from €10,000 to €40,000 per year. An Italian fund commented: "Our board is composed of non-executive members whose activity is limited to participation in board meetings once a month. The remuneration is correct and not more than €10,000 each per year."
Almost half of respondents expect trustees/non-executive board members to spend between one day per fortnight and one day per month on matters relating to their fund. Just four expect more than one day per week, while five expect less than a day per month.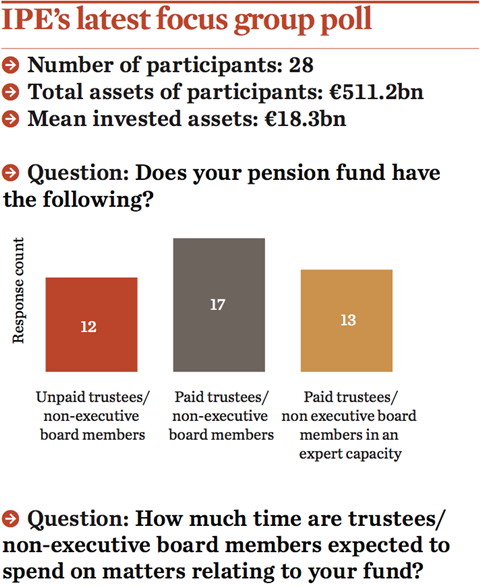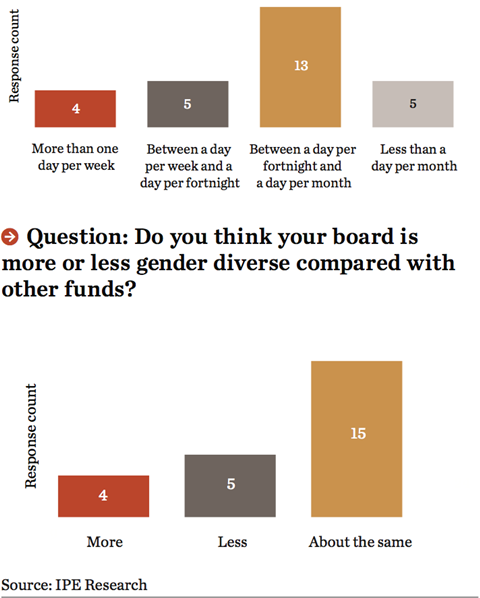 Eighteen funds have arranged training courses in the last year, while trustees/non-executive board members from 14 funds have attended courses organised by a national association, 13 attended courses arranged by a consultant, and 10 attended asset manager-arranged training. "The fund keeps track of continuous education efforts by board members, committee members, consultation bodies and audit committee," stated a Dutch fund.
Respondents employ an average of 25 full-time investment and other staff, with a Dutch fund having the most, at 200. Over the past five years, staff numbers have increased for 10 funds, decreased for three, and remained the same for 14.
Just six funds find it easy to recruit trustees with the right level of knowledge. A UK fund commented: "Skills and knowledge are a focus for continual improvement for all members. It is the capacity to develop the right skills and knowledge that is most crucial, and the bonus is when someone comes pre-equipped."
In the past five years, respondents have increased the time they spend on oversight of investment strategy, broad risk, liabilities and pensions, and ESG, but it has decreased in terms of return and asset manager issues.