We asked a group of European pension funds with total assets of €180bn about their emerging market debt strategies
All respondents to this month's focus group are confident their emerging market debt (EMD) investments can contribute positive returns to their overall portfolio over the next three years. Just over a third are very confident they will.
Those polled are similarly positive regarding the ability of their fund's EMD investments to outperform their developed market investments over the next three years, although just one is slightly less than confident. "They appear better valued and with good fundamentals," says a UK fund.
The average proportion of respondents' portfolios invested in EMD is 7.9%. The largest proportion of a fund's portfolio is 60%.
Nearly eight out of 10 funds invest in EMD for diversification reasons, most for strategic allocation, and half for the long-term economic prospects.
The overwhelming majority say their EMD allocation has been stable over the past three years. One has increased by up to 50%, and one by more than 50%. A Dutch fund says: "[This] position fits with the long-term A`LM [asset-liability management] and strategic asset allocation of the pension fund."

Two thirds are going to leave their EMD portfolio unchanged, while two respondents plan to increase their allocation and two intend to decrease their allocation. One respondent is going to divest its EMD allocation.
Respondents identify idiosyncratic and political risks as the most serious threats to their EMD investments. The private debt crisis, sovereign defaults, and the equity market and real estate bubbles are considered the least serious risks.
"Investing in EMD has always been about idiosyncratic risks, hence an active approach is required," says a Dutch fund.
Those polled are not too concerned about the rise in overall EM debt levels over the past decade, especially when compared with developed market debt.
"Given the strong reserves and balance sheets that many EM countries have built through the years, it is less concerning than [developed market] debt build up," says the lead portfolio manager at a Dutch fund.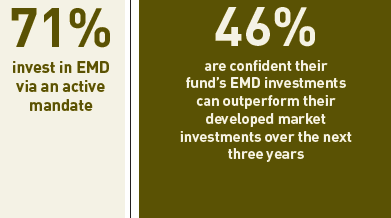 "While we think that EMD still offers value and diversification benefits, we are careful about countries that have not structurally adjusted and may be vulnerable when global yields rise."
Most respondents invest in EMD via an active mandate; half in local currency EM sovereign debt; just less than half in hard currency EM sovereign debt and three in hard currency EM corporate debt.
A UK fund, which invests via a global tactical asset allocation strategy, says: "For a relatively small fund, this is the most convenient means. It also allows expert managers to deal with tactical and strategic asset allocation."
Over the next 12 months, a third of respondents are looking to allocate to central and eastern Europe, Latin America and Asia (ex China and India). Four plan to allocate to India; three to China; and two to the Middle East.