Just over half of the funds polled for this month's Focus Group consider diversity on a pension fund board to be important, although few think it very important and just under half were ambivalent or thought it to be an unimportant factor.
"It is very important to have an input in discussions from a variety of perspectives," said a UK fund. "Different people bringing in different areas of knowledge, expertise, ideas and varying perspective is always beneficial."
Around a quarter of respondents disagree and think diversity is unimportant. An Italian fund commented: "The future of diversity management is not to take care of diversity because it is an issue of the past."
On average, a quarter of respondents' board members are women, compared with a fifth in last year's survey. Four boards have no women, while one Danish fund has nine women on its board. This is one of only two funds with more women than men on the board.
Just three respondents believe their board is more gender diverse than other pension funds. A Danish fund said: "I would say that the number of women is higher than in many other pension funds, but it reflects also the gender diversification amongst scheme participants." Most funds think their board is as diverse as others. "Gender is not important; dedication and expertise are," said a UK fund.
Just under half of the funds have unpaid trustees, while a third have paid trustees and six have paid trustees in an expert capacity.
Five respondents say the level of remuneration is set by the trustees or board; four say it is set by the sponsor; three, by a special committee; two say the level is set by external consultants or advisers and one by an external party.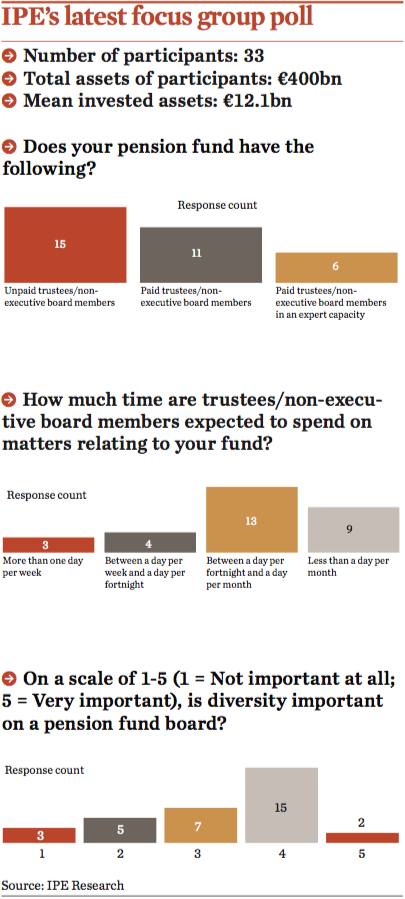 Opinions on the right level of remuneration for trustees range from €5,000 per year, according to a UK fund, to €120,000 per year as stated by a Dutch fund. A UK fund echoed the view of several respondents, saying: "[It] depends on time commitment, expertise needed and complexity of fund."
Just three of those polled expect trustees/non-executive board members to spend more than one day a week on matters relating to their fund, while four expect between a day per week and a day per fortnight. Thirteen expect between a day per fortnight and a day per month, and nine, less than a day per month.
Over a half of respondents expect their trustees/non-executives to spend less than a day per quarter training, 30% expect between a day per month and a day per quarter, while just three expect more than one day per month. Most funds (just under 60%) have arranged training courses themselves in the last year.
"[There is] never enough training given," said a UK fund. "Pension funds encompass a wide variety of issues that need to be looked at in-depth and to be understood. The better the knowledge, the better the decisions will be."
Just one fund finds it easy to recruit trustees with the right level of knowledge. This Dutch fund said: "Trade unions have well-educated people for pension fund boards and large companies provide well-educated candidates for the employers' association. But it is getting tougher to find the right candidates."
Respondents have a variety of views on what boards could do better, such as improving training, focusing on the long-term and making better use of technology.
Respondents employ an average of 21 full-time investment and other staff members. A UK fund has the most employees, at more than 300. Over the past five years, employee numbers have increased for 11 funds, decreased for five, and remained the same for 14.
A German fund highlights the remuneration of management staff. "The industry has to acknowledge that highly trained professionals are needed to manage these vast amounts of capital pools and those do not come cheap. If the smart guys are paid multiples on the sell side compared to what the buy side pays, it's no wonder that the buy side ends up with high fees and shady products that sound good."