Twenty-five (86%) of the investors polled for this month's Focus Group say geopolitical risk has increased over the past 12 months.
However, 12 respondents are circumspect about their ability to play it as a theme. "We consider the market impact of geopolitical risk potentially material," says the general manager of a Dutch fund. "However, we do not actively shift our portfolio risks to benefit from them. I consider geopolitical risk primarily as an 'uncertainty' we need to take into account when assessing our prospects."
For a Swedish fund "it is a risk among others", while an Irish fund says it has been "taken into consideration. However, [it is] mostly about avoidance [to] reduce [the] risk of impact."
Nine funds do consider the impact of geopolitical risk on their strategy. A French fund says: "The world is simply unstable and dangerous today and this can only have consequences for investors but, of course, it is very hard to predict when." A UK fund adds: "Geopolitical risk is a key component of most other risks."
Conversely, seven funds do not consider the impact much and, in one case, not at all. A Swedish funds states: "Geopolitical events tend to have a low impact on financial markets from a strategic perspective, even if they have the potential to shape economic developments over time."
Respondents state that the upsurge in global protectionism, the impact of the Trump administration's foreign policy and euro-scepticism in mainland Europe have the most potential to affect investment returns. Disputes between China and its neighbours and between Russia and the West are considered to have least potential to affect investment returns.
"Brexit, in isolation, would damage UK returns but this is manageable," says a UK fund. "If Brexit occurs in concert with protectionism and the breakdown of the EU, then there is considerably more scope for serious issues. Conflict would also be a disastrous outcome between any set of key governments, whether it be Russia, US, Europe or China. It also ceases being solely a financial/economic problem at that point, so pension deficits will be last of our worries."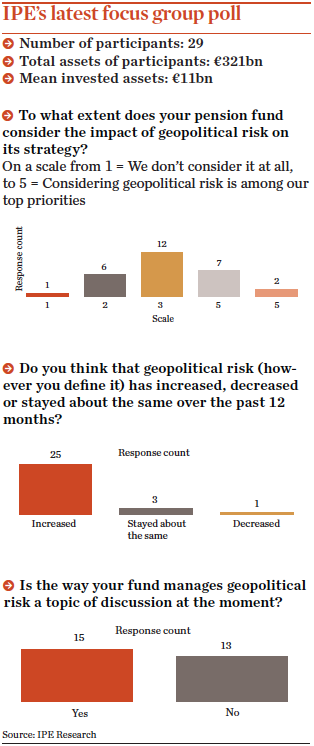 Fifteen respondents say they discussed Brexit in detail in the past 24 months. A Dutch fund has "stopped investing actively in the UK until there is more certainty", while another Dutch fund has also "moved away from British financials". Other geopolitical risk-related topics that have been discussed include the US election, the Italian referendum and Russia.
Just over half of those polled say the way their fund manages geopolitical risk is a topic of discussion. "Scenario testing is increasingly important. [We are] concerned about currency risk," says an Irish fund. A UK fund adds: "The board are always keen to know how we are mitigating risk. [It is] hard to mitigate very uncertain outcomes."
Fourteen respondents say the investment management industry is incapable of mitigating the impact of geopolitical risk on investment returns. A UK fund states: "The mantra is to stay fully invested and sometimes over-diversified for want of capacity in the better risk opportunities, so managers tend to be somewhat unable (unwilling?) to be completely out of risk opportunities."
Just three say the investment management industry is capable of mitigating such risks while 12 funds are neutral. "You can't avoid these risks," says a Dutch fund.
Two-thirds of respondents say pension funds are paying sufficient attention to geopolitical risk. Eight respondents say funds are not paying enough attention, and two too much.
Nineteen funds each say their main sources of intelligence about political and geopolitical risks include the mainstream media and asset manager research. Twelve each point to academic or specialist publications and investment bank research; 10, think-tank research; six, pension consultant research; and three, geopolitical consultancies.