Over three-quarters of the respondents to this month's Focus Group are allocated to strategies that employ risk-factor investing concepts, with four of these considering further allocations. On average, these funds manage 12% of their portfolio in this way.
The CIO of a Swiss fund comments: "We integrated risk factors in 2014 and have increased allocation over the years, both within asset classes (that is, equity factors such as value, momentum and quality) and alternative risk premia (cross-asset momentum, carry strategies). All are developed and managed/controlled in-house."
An Italian fund adds: "At the moment, we are invested only in high dividend equity strategies, but are considering expanding the investments to the main factors (value, momentum, quality, low volatility)."
Two funds are considering allocating to risk-factor investing. A further two are not aware of these products.
Over two-thirds of respondents say the risk-factor investing concept is readily applicable in asset classes other than developed market equity. "I don't see why emerging market equity shouldn't be included," says an Italian fund. "Interesting things are happening in the corporate bond space (that is cross-over, fallen angels, alternative weighting systems). Obviously commodities are an interesting space, just avoid the negative roll yield."
Five funds disagree, with a German fund stating this is the result of "illiquidity and [the] costs of transactions".
Seven funds have allocated to risk-factor products for emerging market equity; five for commodities; three each for government bonds, corporate bonds and currencies; and two for hedge funds.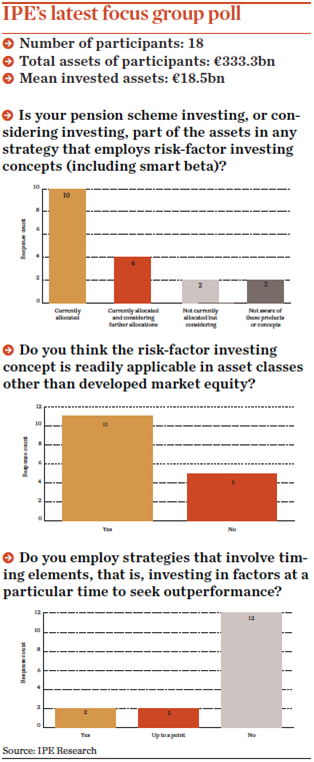 A quarter of those polled say risk-factor investing replaces active investment at a time when true alpha is scarce, expensive and out of reach for pension funds, while three say it is a smarter way of doing passive investment. Just one considers it a cheaper way of getting active investment returns.
A Swiss fund says: "It is all about extracting/adding return sources that also improve portfolio diversification and that are systematic by nature. We doubt risk factors can replace alpha altogether and we continue to seek active strategies in specific areas, while we strongly believe that 'beta' components of the portfolio can be further enhanced."
Just two respondents employ strategies that involve timing elements, while a further two do so up to a point. "The chief financial officer is always allowed to time certain conditions, within a risk budget and grounded on a robust financial and economic view, and implementable at reasonable costs," says a French fund.
Two-thirds of respondents are prepared to accept underperformance of their risk-factor portfolio for one to three years. "We are long-term investors. No factor consistently outperforms," states a UK fund. Just three respondents accept underperformance for more than three years, and two for less than a year.
Risk-factor investing does not affect the governance process for over half of those polled. One respondent finds it eases the process, while six say it introduces more complexity. "[There are] lots of topics for trustees to understand," says the head of pension investment and risk at a UK fund. "Methods for measuring/controlling volatility, long/short strategies, equity style premia (value, quality, momentum), and trend following across multi-assets."
Seven respondents say that, in the long term, factor investing will become more commonplace for institutional investors, due to innovation and increased understanding of how factors work. Three say it will work, so long as investment managers provide credible solutions, while a further three say over-investment in factor-based strategies may distort the market. Two say that in the long term, 'factor crowding' will make factor investing less attractive.