If IPE's Focus Group is anything like a representative sample, European institutional investors do not allocate much to smaller companies. Only about half invest in listed small-caps, and those allocate 5% or less of their assets. About two-thirds invest via private equity but, again, most allocate in single digits. The outliers are an Eastern European pension reserve fund with half of its assets in listed small-caps, and a Swiss family office with 40% in private equity.
Not surprisingly, a third of those polled think their fund's allocation to smaller-company investments is too small. Of these, three would like to increase their smaller-company equity, one their debt, and one both.
A UK fund feels there is a wider issue to consider: "There is a huge unspoken issue in investment. Most investors use large liquid benchmarks which exclude small-cap companies automatically, and thereby around 15% of the market, while thinking they are using the broadest indices possible. Small-cap has to be actively added."
Just one respondent feels their allocation is too large (ideally wishing to decrease their equity allocation), while the remaining nine funds believe theirs to be about right.
"Through thematic global investments or style funds and emerging markets funds, we have enough mid and small-cap companies," said a Spanish fund. "We do not aim at investing in micro-cap companies, except for a very small investment in venture capital in our local market."
A Portuguese fund with very little smaller-company investment added: "We tend to use the most liquid and well-known equity benchmarks in the industry. So far, we haven't considered SME stocks due to liquidity and research expertise constraints. In the domestic market, we do actively invest in Portuguese stocks."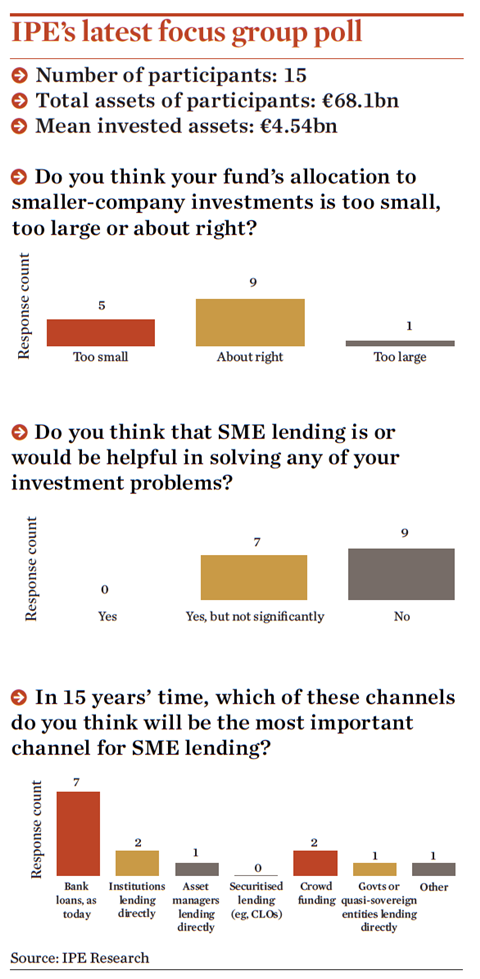 Most respondents rejected supporting the global or domestic economy as the most important reasons to invest in smaller companies, as well as any perception of more direct exposure to the economic cycle or better alignment of interests with management. Instead, six cited the superior performance to large-caps and four went for diversification relative to large-caps.
Nonetheless, a UK fund said: "[The] small-cap effect is still intact and compelling. [It is] also part of our responsible investment strategy, supporting sustainable capitalism, including the real economy."
Another UK fund stated: "We believe small/medium-cap private equity offers the opportunity to buy and build businesses, expand the sales reach and make management teams more professional. All of which is harder to do with a large-cap company that is already professional, has global revenues and has little scope for growth. Investing in smaller, focused private equity funds that operate in small to mid-cap is often more aligned to our interests, as it is not about AUM gathering."
Most investors now accept that it is a good idea to be internationally diversified in their corporate equity and debt portfolios. Although it can be argued that having a close relationship with management is essential when investing in smaller enterprises that present greater idiosyncratic company risk, 10 out of 14 respondents think that the international-diversification principle also applies here.
On average, 26.3% of respondents' smaller-company investments are in domestic markets, 31.3% in overseas developed markets, and 4.5% in overseas emerging markets.
"International diversification is a must, as, domestically, it is not possible to diversify in the most efficient way," commented a Swiss fund.
Looking at the current debate as to whether and how pension funds should get more involved in lending to smaller companies, only three investors have done SME lending, all at very small amounts. More than half of those polled do not think SME lending is helpful at all in easing their investment problems. Seven suggest that it might help, but not significantly.
"Investments must be focused on return,not assisting business growth," explained one UK fund. Another said simply: "We are not a bank!"