Almost a third of investors, seven out of 23 polled for this month's Focus Group, consider a hard landing in China to be the biggest economic or political risk facing the global markets in 2017.
A Dutch fund says: "It will have a big negative impact on all financial markets and will bring much fear [for] the future within the markets."
The implementation of Brexit and the rise of populist parties in Europe were each identified by five respondents as the most serious threat. "Uncertainty on the willingness to continue European economic integration will weaken the potential for productivity gains in the long run, and thus investments and foreign direct investment," says the CIO of a Danish fund. "More markedly, it will, in the short run, increase funding costs for weaker euro-zone governments."
Three respondents highlight geopolitical tensions in emerging markets – a Dutch fund pointing to "unstable commodity prices [and] potential protectionism" – while a further three suggest other risks.
Seven funds say the biggest financial or market-related risk facing investors in 2017 is an intensification of deflation. "As a European investor from the financial sector, our worries are related to our 'commodity' – interest rates for loans and deposits," says a Spanish fund.
The drying up of market liquidity concerns five funds, while three each are concerned by emergent inflation and currency volatility. Five state other risks, such as asset bubbles and tapering by the European Central Bank.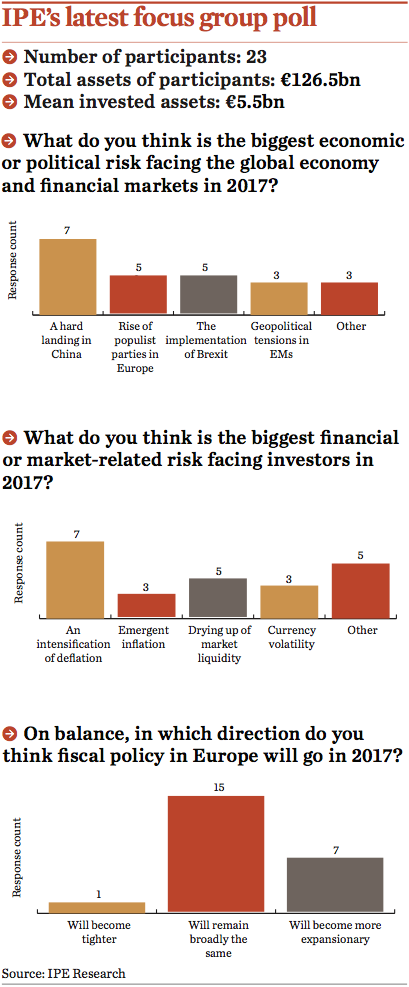 Two-thirds of respondents expect fiscal policy in Europe to remain broadly the same, while one says it will become tighter and seven, more expansionary. "It is hard to see the end of QE and the concerns of the impact of any reversal are growing," says a UK fund.
For 16 funds, protecting the downside is a priority for 2017, while implementing strategies for a low-rates environment is a priority for nine. For seven, the focus is implementing more tactical or dynamic asset allocation; for four, taking advantage of the upside; and for just two, de-risking is a priority.
One Dutch fund's aim is "[to make] the portfolio as a whole more robust, shock-resistant, and yet able to profit from improving market conditions if and when they arise."
Eleven of those polled expect their domestic policy rates at the end of 2017 to be the same as they are today. Eight expect rates to be higher, but only by 1% or less, and four expect rates to be lower than today. According to a UK fund, "a further modest cut seems inevitable".
Just over a third expect their domestic yield curve to have moved very little by the end of 2017, compared with over half in last year. Seven expect it to have remained steep or steepened further from its current position; five, that it will have flattened; and three, that it will have lowered from its current position.
Over half of respondents say current economic conditions make shorter-term, dynamic asset allocation more important. For a Danish fund this is because "market prices currently not only reflect investor preferences and expectations, but [are] markedly influenced by central bank behaviour". Six respondents say it is essential, although five say it is irrelevant, distracting or useless.
Ten funds say today's economic conditions make correlations between asset classes more likely to increase, and a further nine, that it is inevitable. "Because of globalisation, correlations are becoming closer and closer because everything is affecting everything," says a European fund.
Commodities are considered the most fairly valued asset class, having been thought of as the most undervalued in last year's survey. Infrastructure was selected as most fairly valued last year. Emerging-market equities are seen as this year's most undervalued asset class, while domestic 10-year government bonds remain the most overvalued.