Thirteen of the funds polled for this month's Focus Group have formally discussed portfolio carbon or fossil fuel exposure, and 10 of those are signatories to at least one pledge or set of principles covering fossil fuel, carbon emissions or other environmental issues.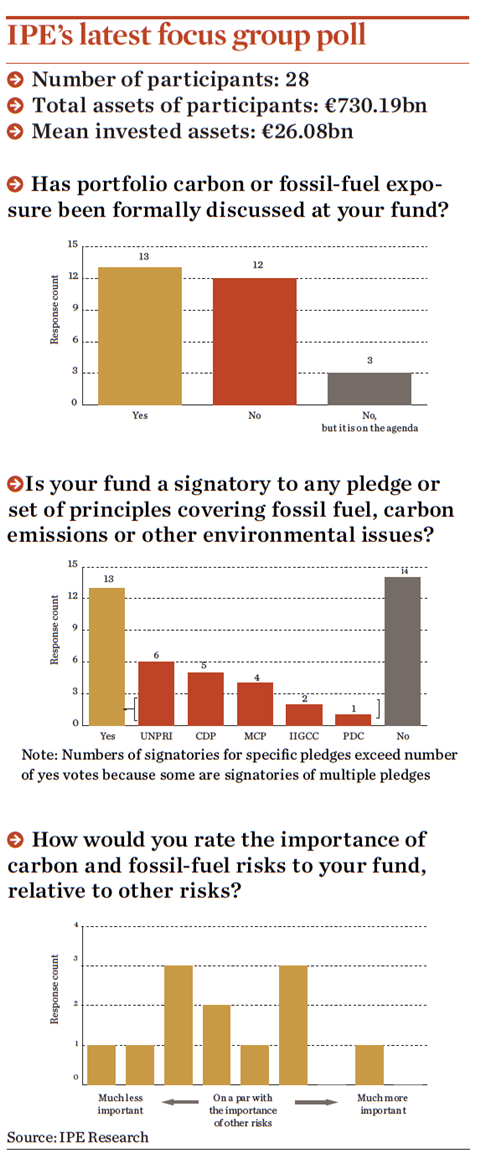 Nine of these 13 respondents have gone on to conduct analysis of their fossil fuel or carbon exposure, and a UK fund explained its process, which found echoes in the processes described by some of the others: "We have undertaken carbon footprinting of our public equities portfolios using external providers on two occasions. We now undertake them on a quarterly basis using MSCI and Bloomberg data. On all occasions the fund has been underweight carbon versus the benchmark."
Several funds' response to carbon and fossil fuel risks has changed greatly over the past five years. For a Dutch fund it has gone "from a small issue, to one of the focus points in our 2015 investment plan". One Danish fund has looked to alternatives to fossil fuels and has made large commitments to renewables.
Why are they doing this? Asked some key questions about their attitudes to carbon and fossil-fuel risk, most prioritised the fact that climate change poses diverse risks to the world in general, including their fund's beneficiaries; and the possibility of exploiting upside risk by investing in technologies designed to tackle climate change. They were least concerned about the potential for cutting carbon exposure to introduce considerable biases and tracking error into their portfolios, and few were convinced that fossil-fuel scarcity could present an upside risk opportunity.
Investors were split on the importance of reputation risk, the 'stranded assets' thesis, and the possibility that carbon exposure might be mispriced. Asked specifically about this, eight of the 13 agreed with its premise but five disagreed – one "strongly". A UK fund said: "The alternatives are not yet sufficient to replace carbon-based fuels, and policy makers have yet to prove that they could act globally to implement appropriate policies to drive a shift to a low-carbon economy." A Danish fund added that there is "no reason to expect that such risks are not reflected [in market pricing] in the same way as other risks".
Positively engaging with the fossil-fuel industry and increasing renewable energy and other carbon-mitigating investments are seen as the best ways to act on carbon and fossil fuel risk. The latter is also seen as the most practical. However, a French fund disagrees: "Investing in renewable energies may be satisfying intellectually, but runs the risk of buying overpriced assets – [it is] better to reduce exposure to potentially overpriced assets – stranded assets."
A Dutch fund acknowledged the increasing demand from participants and NGOs about climate risks and the role of pension funds in addressing climate change. "But the main objective to analyse climate risks is to mitigate the long-term impact on the risk/return profile of our portfolios," it said.
Fifteen funds have not formally discussed portfolio carbon or fossil fuel exposure, but for three of these it is currently on the agenda. Unsurprisingly, only three have signed a pledge on the issue.
Five funds stated that their fund does not recognise it as a serious issue, while a further four said it has only recently been recognised as a serious issue by their decision makers.
A Dutch fund offered its view: "Most colleagues on the board think that our society and economy can't do without fossil fuels for at least the next decade, and so we need [them] and therefore we must invest in [them]. I try to tell them that they are right for the short term, but to focus on the long term and to anticipate the future by not investing in fossil fuels anymore."