Rating agencies perform a vital role in markets by providing a benchmark of borrower credit risk. Similarly, sell-side analysts perform an important function by providing consensus earnings estimates that serve as a benchmarks for corporate performance, driving share prices and ultimately capital allocation. They also assist the deployment of capital to areas like small-cap stocks, which in turn incentivises private companies to list.
MiFID II changes the business model for sell-side research in the EU. The sell side must now charge separately and the buy side must decide how to account for it. This is leading to a price discovery process that will continue through 2018.
There is certainly much inefficiency in sell-side research: large-cap stocks are over-researched while small and mid-cap companies receive relatively little attention.
There have been some gloomy prognoses around MiFID II. Some think it will force a clearout as buy-side clients boycott bloated, overpaid banks providing too much me-too content and too little original insight. Coverage of whole sectors, like small-cap stocks could diminish.
Although some managers initially said they would pass on the cost of sell-side research to clients, most have since stated that they will absorb the cost.
There has been much focus on active management of late as firms seek to defend traditional franchises that have been eroded by passive, smart beta and quant. These, usually fundamentally focused businesses are still the core client base sell-side research.
Both sides need to up their game. Overall, buy-side research spend is likely to increase as managers seek to enhance their traditional active equity offerings, but the focus is likely to be on technology. Asset managers, like sell-side houses, are seeking innovative ways to deploy data and technology.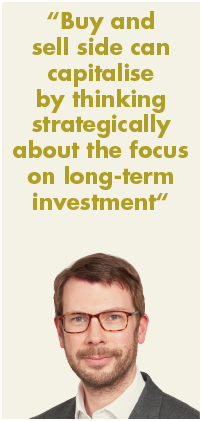 Buy and sell side can also capitalise by thinking strategically about the focus on long-term investment. Some companies, notably Unilever, have withdrawn from providing quarterly earnings guidance, in part to remove market noise and channel capital more effectively. Recasting the investment focus in this way challenges all sides to think differently.
Previous asset-owner initiatives, like Enhanced Analytics, under which institutional investors pooled resources to fund long-term focused sell-side research, are also noteworthy. There is potential for asset owners to pool resources in specific areas.
Some think MiFID II could eventually serve as a blueprint for the rest of the world. This would add even more firepower to innovative thinking and approaches that leverage the best the sell-side community has to offer. It would sharpen the focus of investment research on its end goal: channelling investment dollars for the purpose of effective long-term wealth creation.
Liam Kennedy, Editor
liam.kennedy@ipe.com