The new PACTE law will transform pension saving in France
Key points
Three new savings plans are available from this month
The plans increase choice on type of payout, early withdrawal and provider
Investment choice will increase, including riskier classes such as illiquid assets
The changes will stimulate competition between asset managers and insurers
This summer, France set the seal on a shake-up of its retirement savings system, enacting the Loi Pacte (PACTE law, or action plan for business growth and transformation), and publishing an ordinance containing detailed provisions.
The aim is to encourage pension saving by making it more flexible, simple and standardised. It is also intended to encourage investment in the domestic economy, thus stimulating growth.
A new vehicle, the Plan d'Epargne pour la Retraite, or PER, is on offer from this month for defined contribution (DC) plans.
Within this framework, there are three variants: PERin for individuals, and two collective schemes (universal PER and categorical PER), although companies will be able to combine these products into a single retirement savings plan.
Certain features are common to all three variants, including the ability to choose an annuity, a lump sum (but only from voluntary contributions), or a combination on retirement.
Members also have the option of withdrawing savings (again, only from voluntary contributions) early, in order to buy a primary residence. There is a default investment option based on lifestyling. It is also easier to change provider. Meanwhile, tax relief on voluntary contributions is aligned.
So what new products will be launched and how will they differ from existing products?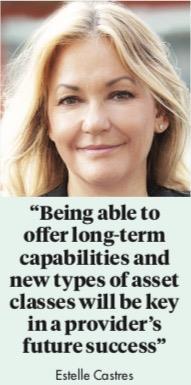 Estelle Castres, executive managing director, head of insurance channel and GKIC Group, Natixis Investment Managers (NIM), says: "The investment horizon will now be much longer than for some of the current products. This will clearly open the door to riskier assets such as listed equities, but also new frontier asset classes such as illiquid real assets like infrastructure."
Castres says the CIO of a Natixis client told her that this might be a big game changer for the PACTE law, along with the PER's tax incentives.
"Being able to offer long-term capabilities and new types of asset classes will be key in a provider's future success," she says. "Besides focusing on real assets, we are also working with our affiliates and clients on ESG/energy transition products in the new PER or FRPS format. This therefore aligns the government mission of funding the real economy and ESG/climate change issues in the long term, along with retirement savings under the PACTE law."
She adds that the new products will imply, by default, a manager-guided fund or target fund, or – such as in current life insurance contracts – a general account (fonds euro) and unit-linked offer.
"This is clearly a strong added value with our NIM multi-affiliate model being able to address all types of investments in those new products," she says. "For the PERin, savers will be able to transfer their current life insurance contract into the new PACTE law version with a tax incentive, and by 2022 those will be ring-fenced."
BNP Paribas also have products on the launchpad. "As the changes provided by law are significant, it provides us with a good opportunity to review our customer journey and experience," says Cécile Besse Advani, director of strategy & development, BNP Paribas Epargne & Retraite Entreprises. "We are therefore initiating practices to reinforce the customer experience, and to build a new investment path consisting of tutorials, advisory, self-assessment and dashboards."
BNP Paribas has also transformed its core lifecycle funds to fit not only with PACTE law requirements, but also to bring additional values: reinforcing accumulation/decumulation strategies, making them greener and introducing innovative investment management solutions such as 'isovolatility' funds in collective schemes (which ensure that volatility remains at a certain level).
Xavier Collot, director of employee savings and retirement at Amundi, says: "We expect providers to transform current products into PERs, to expand voluntary contribution opportunities and tax deductibility, and to equip companies that have no supplementary retirement plan. The reform also allows investment into new asset classes such as real estate and private equity in order to increase diversification and potentially increase yield."
However, others are not convinced that the PACTE law will lead to groundbreaking changes.
"It is not a revolution," says Christel Bonnet, principal at Mercer. "The government would like more uptake on retirement savings, but we don't know if that will happen. However, the new system will open up the marketplace to asset managers like Amundi, which will be able to run both 'epargnes salariales' [occupational group savings schemes] and PERs."
The new framework breaks the link between plans and providers, stimulating competition between asset managers and insurers.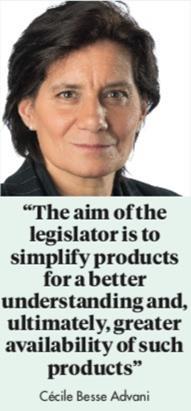 So will the PERs allow asset managers to successfully challenge providers of insurance-based 'assurance vie' contracts and regulated bank savings accounts?
"Harmonisation allows easier comparison between providers and should increase competition and help to reduce costs," says Collot.
Laure Delahousse, deputy CEO of AFG, the French asset management association, says that as the new pension products can be designed as asset management or insurance products – making them more attractive – they will probably challenge more traditional savings products such as 'assurance vie'.
But she points out that their objective is different. Assurance vie is a liquid medium-term savings product, while pension products are less liquid, allowing an asset allocation consistent with a long-term horizon and giving better long-term performance.
Assurance vie is generally invested in guaranteed assets, and real returns are poor because of the current low interest rates.
"Pension products will be invested in lifecycle funds, with some rules fixed by law," says Delahousse. "They will be allowed to invest broadly in stocks, the proportion of stocks decreasing when the retirement date approaches.
"Asset managers have already developed lifecycle solutions for the [existing collective occupational scheme] PERCO, and they have proved to be good value for savers. Increases in pension assets will allow easier diversification of investments towards illiquid assets like private equity."
New retirement vehicles and what they do
The PACTE law establishes a new defined contribution (DC) savings product (plan d'épargne retraite, or PER) which has three variants:
● Group retirement savings plan: Open to all employees, this supersedes PERCO, the current collective savings plan for retirement;
● Corporate retirement savings plan: Open to certain categories of employees (generally for executives and managers, and supersedes the Article 83 contract (PERE);
● Individual savings plan: Takes the form of a securities account or an insurance contract, replacing the PERP and Madelin individual savings plans.
Common characteristics
● Each PER has three components, for:
a) compulsory contributions
b) payments from payroll savings;
c) additional voluntary employee contributions;
● Early withdrawals allowed from voluntary savings to buy primary residence, or as a precaution in case of disability or unemployment,
● Choice of lump sum (for voluntary savings), annuity or a combination, at retirement
● Choice of investment, otherwise default investment on a lifecycle basis
● Greater range of investments
● Easier to switch product provider than under previous regime.
Tax regime
● Voluntary contributions tax-deductible up to 10% of taxable salary
● Non-voluntary contributions (employer's contributions) tax-deductible up to 8% of total salary, with maximum salary of €324,192
● Annuity payouts subject to income tax
● Lump sum payouts taxed if tax relief on contributions has been claimed; if not, only capital gains are subject to income tax.
Besse Advani says: "The aim of the legislator is to simplify products for a better understanding and, ultimately, greater availability of such products. The PACTE law will bring disruption, bearing in mind the retirement reform background.
"We believe that over time the market will align on a limited number of core retirement products. Realignment of providers could also be a consequence, as PACTE involves development costs, and as it favours combined asset management and insurance products."
But will there be a realignment of providers through, say, mergers?
Collot says that the main employee savings and retirement providers should be the first beneficiaries of the PACTE law. "But we imagine that a few fintechs and new international financial service providers could try to enter the new PER market," he says.
"We will always have bigger players – there are already huge French insurers and asset managers," says Bonnet. "It is doubtful if there will be any mergers, apart from with much smaller companies."
She adds: "It is more about alignment of services – for example, some providers are without effective internet connections. So we might see partnerships between companies, collaborating over their service provision."
Meanwhile, the future marketplace for 'fonds de retraite professionelle supplémentaire' (FRPS) – supplementary pension funds – has remained quiet.
The FRPS framework allows providers to manage both individual and occupational arrangements.
But so far – although Aviva France, Malakoff-Mederic and Sacra are planning new vehicles – other providers have not shown the same enthusiasm.
"Insurance companies will have to set up new companies, which is very costly," says Bonnet. "So I don't think the new vehicle will change anything. It may be, however, that some asset managers will set them up as an 'epargne salarial'."
However, Collot considers the FRPS market could expand, as they benefit from solvency constraints deriving from IORP II, which is less burdensome than Solvency II.
"This makes them competitive in the occupational pensions market, given that insurers providing occupational pension services will, before December 2022, have to choose between creating an FRPS in order to benefit from these provisions, or applying Solvency II provisions," says Collot. "So the coming years will be decisive for the development of the FRPS."
France: PACTE changes the landscape
1

Currently reading

France: PACTE changes the landscape

2

3

4