Agirc, the second-pillar pension scheme for private sector executives is planning to merge with the employees' scheme, Arrco. Gilles Pouzin reports
At a glance
• The recent Agirc-Arrco agreement was designed to overhaul the second-pillar pensions scheme.
• From 2019, there will be a 10% cut in pension payouts during the first three years of retirement, even for those with a complete record of contributions (43 years).
• The Agirc scheme for executives will merge with the employees' Arrco scheme in a new unified regime by 2019.
It earned the title of 'the reform of last resort'. When social partners started a new round of bargaining over complementary pensions reform last year, Agirc-Arrco, the pay-as-you-go (PAYG) scheme covering 18.1m private sector workers and 12.2m retirees, faced a grim outlook, according to the Cour des comptes, the Court of Auditors.
Three forces eventually caused the break up of the French second-pillar pension system for private sector employees (Arrco) and executives (Agirc). While the economic crisis put pressure on contributions, with low employment and low wages, demographics increased both the number of retirees and the cost of pensions. France now has only 1.3 contributing workers for every retired person. The economic crisis also worsened financial conditions.
In October 2015, social partners reached an agreement to save the complementary pensions system – it meant the end of Agirc-Arrco. Agirc, the scheme for executives created in March 1947, will be merged into a new fully unified entity with Arrco, the employees' scheme created in December 1961.
Agirc and Arrco were haemorrhaging money, the managers' scheme had a deficit of €2bn, while the employees scheme had a €1.1bn shortfall. If nothing had been done, Agirc-Arrco's total deficit was projected to balloon to €8.4bn in 2020.
Agirc reserves were also disappearing, with only €6.7bn remaining by the end of 2014, just a quarter of the scheme's €24bn annual pensions burden. Its future was under threat.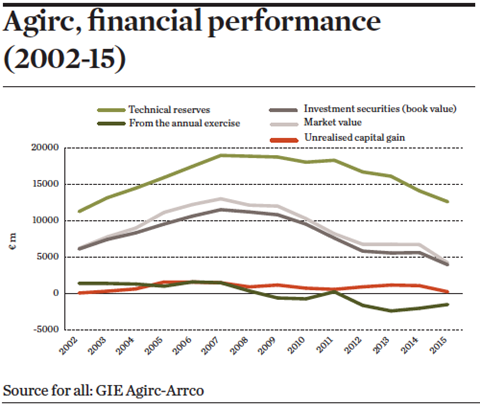 "The 2008 financial crisis took us by surprise, making previous inflation and interest rates forecasts obsolete," says Pierre Chaperon, director at GIE Agirc-Arrco.
Social partners had high hopes for the 2013 pension reforms but these vanished with worsening economic and financial conditions. For instance, Agirc-Arrco expected to save €8bn by de-indexing pensions, or increasing them by one percentage point less than inflation. But deflationary conditions derailed this plan, as inflation fell well below 1%, pensions could be frozen but not reduced by a full percentage point.
"The 2008 financial crisis took us by surprise, making previous inflation and interest rates forecasts obsolete"
Pierre Chaperon
A bolder reform programme was agreed in October 2015. It was finally accepted that pensions had to be reduced rather than just frozen. For the first time in the history of French complementary pensions, the social partners agreed to a 10% penalty on payouts for those reaching retirement age with their full rights intact.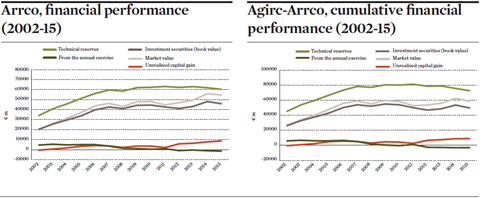 As of 2019, new retirees will suffer a 10% cut on their pension during the three first years of retirement. If people want to avoid this they will have to work one year beyond what was previously required for full retirement rights. Such a move will also entitle them to additional complementary pension rights, as they will buy more pension points.
In addition, a safety net has been designed for the poorest, to ensure social justice is achieved. People whose reference income (after tax and deductions) is below €10,900 a year, will be spared the 10% cut on their pension when they attain full retirement rights.
"Two key factors were at work in the negotiations – confidence and commitment," says François-Xavier Selleret, managing director of GIE Agirc-Arrco, the central body for the schemes. The idea was to design a reform programme which would require a commitment from all parties (employees, retirees and employers) to restore confidence in PAYG pensions.
The 10% 'solidarity factor' is supposed to fulfil this goal. It will help in rebalancing the private sector second-pillar pension system, as it will work as a 'nudge' to unofficially increase the retirement age.
As a result of previous reforms, the minimum retirement age has already risen to 62 years for people born since 1955 (reaching 62 in 2017), with 42-43 years of contributions to get full retirement rights (depending on birth year). In comparison, only 37.5 years of contributions were required to get full retirement rights at 60, prior to the 1993 Balladur reforms. Making a simple calculation, the generation born in 1932 which had started to work at 22 could retire at 60 in 1992. In contrast, those born in 1973 will get their retirement rights at 65, if they started to work at 22.
Under previous reforms, the employment rate among those nearing retirement has risen steadily. The proportion of people from 55 to 64 years working jumped from 33% in 2003 to 47% in 2014.
And if younger generations have to work longer to get their retirement rights, they will ultimately get a better pension than their parents, according to some experts.
"People retiring these days have paid a higher retirement contribution on their salary than people before them," says François Ringaud, director of complementary pensions at AG2R La Mondiale. "But people acquire more pension points through their working life than before, and it will continue to grow, even if they buy them at a higher price."
Cutting future pensions was not enough to solve the fund's entire deficit. Hopefully, Agirc-Arrco can rely on its reserve cushion before the money runs out. But it might not last long. Arrco still sat on €54.6bn long-term reserves at the end of 2015; there was only €4.2bn left at Agirc.
One bold decision in the 2015 agreement to restore confidence was to merge Agirc with Arrco before they both run out of money and forge new rules to consolidate the new entity's future.
This will be completed by 2019 and the Agirc-Arrco name will be changed into Régime Unifié (Unified Regime).
As part of the 2015 agreement, the private sector second pillar will adopt guidelines to protect its reserve cushion in the future. The new rules put a floor on financial reserves which did not officially exist before. To preserve financial flexibility, it will be compulsory for the Régime Unifié to keep long-term reserves representing six months of pensions payments, or about €30bn and more, as a buffer to adjust pension parameters when needed.
Other key points still need to be addressed in the wake of the merger. And there will be plenty more changes to follow, as new bargaining and agreement will be needed by 2020, as the lower reserves will require closer monitoring of retirement parameters with a three to five years strategic management. The doors seem open to more significant pension adjustments in the future.
How Agirc-Arrco manages its money
Despite deficits threatening its reserves, Agirc-Arrco retains a significant cushion. At the end of 2015, long-term reserves amounted to €58.8bn (€4.2bn for Agirc and €54.6bn for Arrco) versus €62.5bn at end 2014 (€6.7bn for Agirc and €55.8bn for Arrco).
The performance review for 2014 (the last year for which data is available) tells more about the portfolio structure.
Long-term reserves were split between 66.6% in fixed-income products, 31.4% equities, with the remaining 2% in alternative assets.
The performance of long-term reserves was 7.2% in 2014, a little higher than in 2013 (6.9%) but underperforming a monthly rebalanced composite index composed of 30% MSCI EMU and 70% Barclays aggregate bond index (accounting for Arrco's financial rules and rating constraints), as this composite index gained 8.49% in 2014. The underperformance was attributed to a lower sensitivity of Arrco's bond exposure.
As far as investment is concerned, 16% of overall reserves retained by retirement institutions (not managed at GIE Agirc-Arrco's central level), were invested in open-ended funds, either directly or via dedicated funds.
French securities represented 39.1% of all investments, or €24.5bn. A home bias toward French securities was stronger in fixed income (41% bonds, of which 17% was in French government bonds, versus 22% in a global index), than for equities (33.9% versus 32% in MSCI EMU).
Arrco spent €150m in management fees in 2014, representing 28bps of its €53bn under management, a decrease from 32bps in 2013. At decentralised retirement institutions, average fees varied from 49bps to 17bps, pointing to greater savings through an optimised management structure.
Pensions In France: Change of tack on pensions
1

2

3

Currently reading

France's first-pillar pensions: Embracing the last resort

4