Investing in frontier markets can bring rewards but investors should pay attention to risk
Key points
• Frontier markets are those that are neither developed nor emerging.
• It includes former emerging markets that have fallen from grace as well as countries that have undergone profound structural reforms.
• Risk should not be ignored when it comes to such plays.
• The strongest case for frontier markets is based on their potential for future growth.
Argentina has given us the pope and arguably the world's greatest football player. Lately it has also boasted one of the best performing stock markets on the planet. The Buenos Aires Exchange's Merval index gained more than 45% in the first nine months of 2017 and has joined Pope Francis and Lionel Messi among the reasons why Argentina deserves excited mentions in the media. It has also boosted interest in frontier-market securities, an asset class that draws some investors for its promise of high returns but freaks many more out because of the high levels of risk that it entails.
Frontier markets are economies that, generally speaking, are not classified as 'developed' or 'emerging' by capital markets. It is a heterogeneous group that includes former emerging markets, such as Argentina, which have fallen from grace and are now trying to rebuild their reputation.
It also includes up-and-coming economies that have undergone profound structural reforms, such as Vietnam and Romania. More adventurous investors will take a look at positively exotic markets, such as Paraguay, Rwanda and Tajikistan, the last of which met strong demand for its debut in international bond markets in September. The bravest of the brave may feel tempted to make a bet on places such as South Sudan and Zimbabwe, where the Industrial Index of the local Stock Exchange rose more than 270% in the 12 months to mid-September.
"Frontier markets remain undiscovered and, as such, they are undervalued and underpriced," says Bill Stoops, the CIO at Dragon Capital, an independent asset manager based in Vietnam. "If you can live with the risk, you can achieve strong returns there," he says. A growing number of fund managers say they can, with companies such as HSBC Global Asset Management resuming their frontier market offerings in recent months.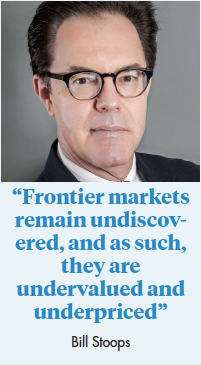 Risk should not be ignored when it comes to such plays. Qatar, one of the best-performing markets, provides a good example. The MSCI Qatar index delivered returns of 30% in 2013 and almost 17% the following year, thanks to a stable political environment, strong economy, large balance sheet and a dollar peg. But it has lost momentum lately as stocks have become more expensive and in June it was hit by a shock, when Saudi Arabia and allies accused Qatar of financing terrorism. US president Donald Trump appeared to subscribe to the accusation, and the Qatari market duly plunged. By the end of September, the Qatar Exchange index (DSM) was almost 20% down over the year.
The mixture of good and bad stories is a constant in a group of economies that are extremely varied and have few if any connections with each other. "Frontier markets are a series of individual opportunities, not an asset class," says Dominic Bokor-Ingram, who runs the Magna Frontier fund at Charlemagne Capital, a specialist emerging and frontier markets manager. "They tend to be going through either a positive or negative economic reform process, which is what is driving the economy."
In a portfolio of frontier market securities, the argument goes, risk is mitigated by the absence of correlation between the economies involved. This characteristic differentiates the group from emerging economies, for example, where a Chinese slip tends to bring all markets down.
Furthermore, as few international investors have frontier markets in their portfolios, and local investors are more concerned about domestic conditions than with global trends, frontier markets enthusiasts say they are not exposed to herd behaviour when negative sentiment occurs. This could change, however. The International Monetary Fund published a paper last year claiming that portfolio flows to frontier markets are following a similar pattern to those that head into emerging economies.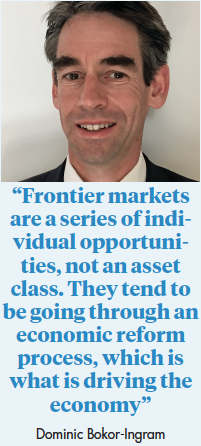 Some investors may fret about not having access to reliable data on securities listed in frontier markets, as levels of governance in many of them leave much to be desired. But Asha Mehta, the lead portfolio manager for emerging and frontier market strategy at Acadian Asset Management, says this fear is not as valid as it used to be.
She says, for example, that more than 30 of the economies included at MSCI's Frontier Markets index have adopted International Financial Reporting Standards, which puts them in line with the expectations of many investors. "This is a pretty big shift from where data was a decade ago," she says. "Quality of data has improved significantly."
The same cannot be said, though, about the lack of liquidity, another important characteristic of a frontier markets investment. Few companies are listed in the targeted economies, and the volume of equities floating in local exchanges is limited, which prompts investors to also look for companies traded in Johannesburg, London or New York that have high exposure to frontier economies. Also, the lack of hot money flowing into them reduces the availability of buyers when it is time to sell a position.
"It takes us two weeks to fully trade our positions in frontier market, whilst we can rebalance our portfolio in developed or emerging markets in only one day," Mehta says. "Given that liquidity is low, transaction costs can be extremely high. So although it is a high alpha asset class, if a manager is not sensitive to transaction costs, that alpha can deteriorate rapidly."
Performance is achieved by several means, the most important of which is domestic stories that point to strong future growth, potentially built on the structural changes that emerging markets went through a couple of decades ago. This is the case with the likes of Vietnam and Sri Lanka, where urbanisation is increasing rapidly, boosting the growth of a middle class eager to consume. It is also improving the prospects of sectors such as construction, retail, pharmaceuticals and financial services.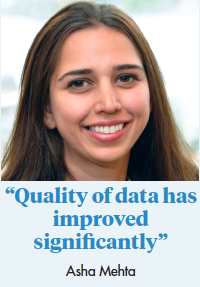 "Frontier markets as an asset class are like emerging markets 20 or 30 years ago," says Andrew Brudenell, manager of the Ashmore Emerging Markets Frontier Equity fund. "There is an unprecedented number of economies going through structural change, which is delivering great opportunities linked to high-quality businesses in those economies."
Having a geopolitical sugar daddy also helps. Romania, for example, is receiving vast resources from the European Union to improve its infrastructure. The country is catching up after having being hard hit by the global financial crisis. Structural reforms that are just starting to bear fruit. Oliver Bell, who heads frontier markets equities strategy at T Rowe Price, points out that the country had to endure a 25% reduction of public sector wages as part of the recovery process, but now has become the fastest growing economy in the EU. "The combination of rising wages and infrastructure investments is fuelling a very strong economy," he says.
Some countries gain the market's favour by simply cleaning up their own mess. This was the case with Argentina, which in the 2000s and early 2010s implemented a period of unorthodox economic policies that spooked investors, depressed growth and fuelled inflation.
The 'innovations' by the governments of Nestor and Cristina Kirchner earned the country a demotion from emerging market to frontier market status by MSCI in 2009. By the end of 2015, however, new president Mauricio Macri started to implement market-friendly reforms that re-engaged investors, enabling the stellar stock-market performance of 2017. In June, MSCI indicated that Argentina could return to its emerging market index if the country remains on the market economy trail. But there are fears that Macri will be unable to win re-election in 2019, and that groups akin to the Kirchners may take power and reverse the progress made in the past two years.
"You must not fall in love with anyone's particular structural story because, unfortunately, things can change," Brudenell says.
Emerging Market Equities: Heading for catch up
1

2

3

Currently reading

Frontier markets: Exploring new frontiers

4