I generally agree with Helena Morrisey, head of personal investing at Legal & General Investment Management (LGIM), about what's wrong in the world. But we often seem to disagree about the solutions. Could this be changing?
She now seems to be having doubts about her strategy to get women into top jobs. "There's a real sense of fatigue," she told the Financial Times in an interview in October. One reason is "it looks like it's only about me, me, me, the women, women, women, and that's not very attractive". In the US, the backlash is even clearer with a display of patriarchy and misogyny that has surprised many. And all this in a world of strongman leaders. So what can investors learn?
First, the business case approach has limits. Diversity advocates hoped that data showing that gender diversity was linked to outperformance would build top level support, which was a reasonable assumption given what (male) decisionmakers said they needed. The reality is that it hasn't had that much effect. The main problem is that senior execs simply do not see this as a priority.
Second, having one or two women acceptable to their male colleagues may be the worst of all options. Chances are they won't be able to deliver culture change – just look at the proportion of female CEOs in the US (4.8%). And if they are assertive, these women could indeed disrupt a cosy all-boys club without the compensatory benefits that comes with genuine gender balance.
In the UK there been disappointing progress on other diversity agendas. Just 1% of fund managers self-identify as black while this figure across the country is 3%; and 14% in London, where most fund managers are headquartered. Why? The generous answer is that women who come first are fighting their corner and don't have time for much else.
So what should concerned investors do now? This question is particularly relevant to those who consider themselves responsible, who want to attract younger or female clients; even more so to ESG investors, given their mission but also because of the over-representation of women within the ESG community.
First and foremost, investors should accept that there has been more than enough time to sensitise boards. Now is the time for brave leadership. Investors should either set stretch targets or ensure fit-for-purpose transparency. Both could have the desired effect, but there are some important caveats.
If it's disclosure, the current fudge that now operates in the US is exactly what should be avoided. According to a recent report, the New York Stock Exchange and the NASDAQ have fallen behind exchanges in other countries in working to increase gender diversity and inclusion. Rather, we should follow the example set by New Zealand and require companies to provide details on the diversity of its boards of directors and officers in their annual reports, not just in private meetings.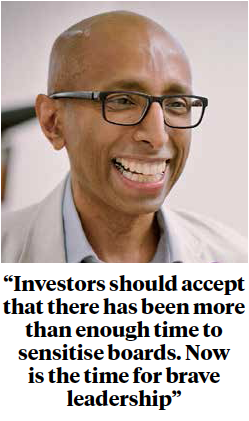 Faster change will happen if investors set targets. In the developed world, full gender balance at the top means half of board members should be women by 2030. This is in line with the UN's Sustainable Development Goal number 5. Less ambitious targets for developing world markets (25–40%) may be needed. But in all cases, there should be full commitment to realise the targets by 2030 with action starting now, if it hasn't already.
If investors can't or won't set clear and time-limited targets, they should expect governments to set quotas, as has happened in Norway and now California. And there is growing data that quotas actually do help.
Hopefully investors can set aside ideological debate about voluntary versus regulatory approaches, and choose to engage with targets or quotas. Thankfully some who opposed targets/quotas are taking a more pragmatic approach, recognising that investor-set targets (or regulator-imposed quotas) and corporate leadership are the best way forward.
Second, investors should really take to heart what Morrisey has learnt. As she said in the Financial Times last month: "You have to change everything …. If you have a diversity programme on top, but everything else just carrying on the same, how could that ever change anything?"
This means recruitment, promotion and all aspects of human resources. It means being concerned about how women and men lower down the ladder are supported to balance careers with domestic responsibilities. Getting gender balance at senior executive level is the now the next big challenge. This systemic approach is critical but investors cannot micromanage such culture change. That is what a gender-balanced board must hold the CEO and chair accountable for, and investors should make this clear when approving appointments.
Investors should also indicate they want chairs of nomination committees to have competence in high-level recruitment. And, even more important, they should target laggards and vote against management at AGMs.
Given the difficulty in assessing private engagement activity, and given also how long this issue has dragged on, voting is the only reliable indicator of genuine investor intent.
Interestingly, one US law firm, well known for being corporate-friendly, has implied corporates should be ready to face difficult AGMs if they resist. And it is doable: one top 10 global investor – LGIM – has been voting against all-male boards in the UK since 2015 and extended this to apply to the US in 2017.
None of the pushbacks I've heard convince me. What isn't said seems to be that patriarchy is rife in the investment world itself as New Financial's recent report, Diversity in Portfolio Management, shows. Investors are also conflicted: as one informed commentator notes, these managers tend to "wield their big sticks like wet noodles". It is only a matter of time before parliamentary committees begin to ask the hard questions in public with further loss of confidence in the industry.
Investors can avert this by taking action now, even if they have weak track record on gender diversity internally. All they need to do is acknowledge this gap and be seriously committed to doing what is needed, including transparent reporting. In fact, they could share learning with investee companies as peers.
This high road won't appear spontaneously. It will take pressure from all progressive staff at these firms. ESG teams should lead the way and investment consultants can be the catalyst. Concerned asset owners could also play a big role, as a small UK foundation, the Joseph Rowntree Charitable Trust, has shown. What's your excuse for sitting on the fence?
Raj Thamotheram is chair and founder of the responsible investment think-tank Preventable Surprises