What assets will insulate investors from the geopolitical risks of the future?
Key points

Trade war between the US and China is a pressing risk
The Middle East is a constant risk
Growing pressure to increase taxes on cross-border internet companies could either be a drag or an opportunity for arbitrage
Rate cuts could be supportive for fiscal stimulus
While it is known that the supposed Chinese adage 'may you live in interesting times' comes from anywhere but China, investor perceptions of risk nevertheless converge on the old Middle Kingdom – or, rather, its altercation with the US. This issue has elbowed its way to the front of the queue: there is a lot of competition for headline threat to portfolios.
"The US/China trade war is the most pressing geopolitical risk," says Seema Shah, chief strategist at Principal Global Investors. However, she says, "I don't think it will get much worse, given the approach of the 2020 elections in the US and with China's economy slowing."
A prime engine of global growth, China's GDP grew by an annualised 6% in the third quarter of 2019: below consensus forecasts for 6.1%, and the 6.2% of the previous quarter. Indeed, Chinese growth is at its lowest since the early 1990s.
Given this weakening, and the enduring dominant position of the US, consensus has been that it is the former that stands to lose most from the spat. That, however, is not necessarily the case, argues Shah: "China is in quite a strong bargaining position." Both the Chinese government and markets had already anticipated such weakness, she argues, whereas neither the Trump administration nor markets had foreseen the depth of the trade war impact on the US: "What's more, while China still has many more stimulus levers to pull, the US is almost running on empty with monetary and fiscal policy measures."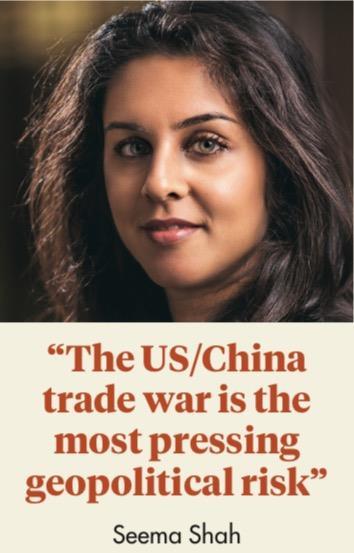 There could be advantages in this for China, says Jeroen Blokland, head of multi asset at Robeco, as the trade dispute gives its government a reason for its slowing economy – "but it's slowing anyway, because of the limits of its credit-fuelled growth model, ageing demographics, and so on. This in part explains why China is prepared to take more pain than the US expected."
The concern is that this is more than a cyclical phenomenon. Marc Franklin, head of flexible multi asset at NN Investment Partners (NNIP), cautions that this goes beyond trade and into military, technology leadership and global influence. Even a change of US leadership come 2020 would be unlikely to alter things, as there "is bipartisan agreement between Republicans and Democrats that China is a strategic threat. On the other hand, President Xi wants to reassert China's supremacy, which he sees as being temporarily disrupted over the past two centuries"
On a shorter-term perspective, Shah sees Asia as a growth area, with China becoming self-sufficient in technology, and urges building up "a long-term strategic position, using dips as a buying opportunity". Currently, she says, Vietnam, Thailand, Indonesia and Malaysia look set to benefit from supply chains being diverted from China.
Stable instability
Franklin says NNIP is concerned about rising Saudi/Iranian tension, "either by proxy – such as in the Yemen, Syria and Lebanon – or, increasingly, directly", cautioning that "this could drag in global superpowers". He draws a comparison with the Yom Kippur war in 1973, and global growth could be hit should the conflict deepen, just as the earlier war prefigured a world recession.
While Blokland sees the Middle East as a constant risk, "it's not possible to say when and what way this will break out". He says, gnomically, that "instability is a stable factor – so long as it stays within a certain bandwidth". Shah agrees that risks in the region are notoriously hard to predict, so "investors should avoid sitting on the sidelines and instead focus on global fundamentals".
It is not all great power politics that is keeping asset allocators awake, however. One area says Franklin, is the growing pressure to increase the taxes on cross-border internet companies: "If – and it's a big if – countries coordinate, then this could be an issue. Otherwise, it's an opportunity for arbitrage. Investors don't like regulatory uncertainty, so this could be a drag on such companies," he says.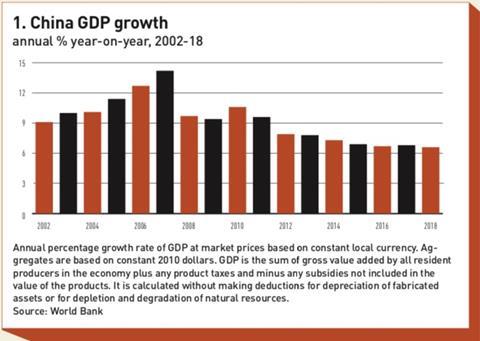 This has interesting asset allocation implications. While growth over value has outperformed for some time, there are signs that this might be reversing, reckons Franklin. This, combined with the tax risk to tech, could manifest itself in region/country relative performance, given the high weighting of tech in the US. "That makes us, at the margin, more constructive on more cyclical regions such as Europe and less negative on Japan, leading to us spreading our geographic positions more evenly," he says.
Mitigants
While there is certainly lots of bad news out there, that does not mean the hot investment is a nuclear bunker in the Nevada desert. "Rather than a recession, we expect a stabilisation in growth in Q1 of next year," says Shah. One reason for this is the aggressive and synchronised monetary easing by central banks, and she expects that by the first quarter, these measures should have fed through to the real economy, "and the trough in global growth should be in the rear-view mirror".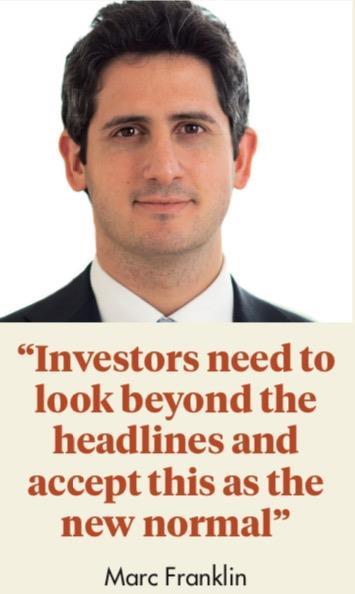 Franklin agrees that rate cuts could be supportive for fiscal stimulus, with money cheap: "That's a potential cocktail for global recovery but so far we have not seen a great deal of conviction by governments to accelerate spending."
Nevertheless, there is only so much wriggle-room available, as "given how low rates were to start with, the marginal effect is low", cautions Blokland. Nevertheless, he says that the US Federal Reserve has more room to lower rates, and the economy still has capacity: "Late cycle is not end cycle, and we see 2021 rather than 2020 being a more likely time for recession."
Responses
So how should investors respond? Overall, says Shah, they would be advised to remain fully invested on risk, but adopt a cautionary position: something of a barbell risk approach, with Treasuries as an – albeit expensive – necessary hedge. She says Principal Global Investors favours defensives, in particular real estate investment trusts, which perform well in a low-inflation, low-rate and low-growth environment.
Robeco's multi-asset team has two positions: overweight equities and underweight high yield. The former is because, although Blokland expects growth to slow and earnings worsen, this will not lead to recession, and PMIs will stabilise. "Trade wars could spoil this, otherwise we see earnings strengthening in Q2 next year, and central banks will continue to add liquidity," he says. However, late in the cycle, defaults tend to rise, and there has already been an increase from 1% to 3% , hence the high yield underweight. Shah, too, tips investment grade over high yield, favouring companies with strong balance sheets.
Ultimately, says Franklin, investors might have to accept structurally higher volatility in financial markets. "This doesn't necessarily mean greater caution," he says: "Markets have absorbed a higher risk premium and have managed to move forward. Investors need to look beyond the headlines and accept this as the new normal."