Georgia's second-pillar auto-enrolment pension system, which came into effect at the start of the year, has been challenged in the country's constitutional court.
Human rights organisation Georgian Democracy Initiative (GDI) launched the case on the grounds that it breaches Article 11 (Right to Equality) and Article 19 (Right to Property) of the Georgian Constitution, according to a report from OC Media.
Under the funded pensions law, which parliament passed in July 2018, employers and employees each pay a contribution of 2% of pre-tax wages. The state adds a further 2% for those earning less than GEL24,000 (€7,941) a year, and 1% for those on GEL24,000-60,000.
GDI argued that the system's mandatory nature interfered with citizens' property rights. It has also challenged the 2% employer levy, which, unlike the employee portion, would not be returned in any way to the contributor.
The campaign group also called for the court to rule whether the contributions qualified as a new tax. Under Georgia's constitution new taxes must be first approved by a referendum.
Neighbouring Armenia's pensions overhaul faced a similar challenge in 2014.
Boosting retirement and capital markets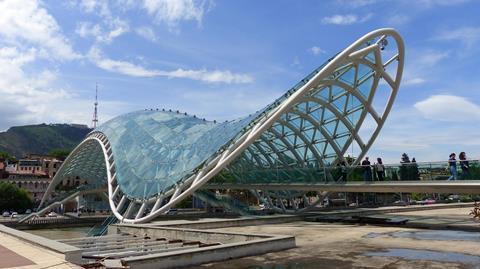 Georgia's new defined contribution (DC) system was designed by the ruling Georgian Dream government to supplement the existing universal pension, a flat-rate GEL200 a month, financed out of the state budget irrespective of contribution levels and employment history.
At times the universal pension has fallen below the minimum subsistence level, and provides a low replacement rate even for those on average wages.
The auto-enrolment system is mandatory for all employees up to age 40 as of August 2018, and voluntary for those older than 60 (men) and 55 (women). Those in between can opt out within five months of enrolment, but no earlier than three months.
Participation is also voluntary for the self-employed – more than half of Georgia's workforce – who pay in 4% of their earnings.
Georgia's new system also aims to boost local capital markets.
The auto-enrolment law established a separate legal entity, the Pensions Agency, whose functions include administering the system and providing investment services. Participants can use either the agency or an approved financial company to manage all or part of their pension assets.
The new law provides for three types of investment portfolio – high, average and low risk – with participants free chose their own portfolios or default to one of the three depending on their age.
Investment limits in both equities and foreign-currency denominated assets range from 20% for low-risk portfolios to 60% for high-risk ones. Prohibited investments include derivatives (except for hedging purposes) and real estate.
External bodies such as the International Monetary Fund have long supported the new system, including the establishment of the Pensions Agency, as a means of stimulating domestic savings and the local currency capital markets.
Dollarisation in the economy, while on the decline, is still high, accounting for significant shares of loans and deposits.
As credit rating agency Moody's stated last July: "The accumulation of pension assets will complement Georgian authorities' efforts to tackle the issue of high dollarisation in the economy and support a plan to develop domestic capital markets by introducing a demand element for long-term lari [local currency] assets."