Institutional investors have maintained their confidence in Spezialfonds through the regulatory changes of the past few years and providers can look forward to a good 2015, according to Till Entzian
The German Spezialfonds industry crossed the €1trn asset threshold in 2013. This was largely due to record net inflows of €82bn (compared with €72bn in 2012), resulting in total Spezialfonds assets of €1.03trn. Including market returns, this was indicative of a 9% growth in assets over the course of the year. This is a good rate of growth, even if stronger markets in 2012 meant growth exceeded 16%. This growth should be seen as especially significant in light of continuing trends in the German mutual fund market, which saw assets decline for the third consecutive year, albeit by only €10bn to €644bn.
Bad supervisory regulation continues to cause a decline in mutual fund assets. Luxembourg which, unlike Germany, traditionally transposes European laws without including its own restrictions, was able to record 10% growth over 2013, with the market hitting €2.6trn. The argument put forward by the German federal finance ministry (BMF) and regulator BaFin – that investors are better protected by 'stricter' supervisory rules – can easily be disproved. Internationally, Luxembourg UCITS rather than German funds have grown to become a brand in their own right, one that is trusted by investors and regulators alike. In comparison, German investment funds need to be explained to investors and when they are, comparability with Luxembourg UCITS is highlighted. Most importantly, it should be held against BaFin that the Luxembourg approach to supervision has neither triggered nor facilitated any scandals.
Why do German Spezialfonds nevertheless continue to be so successful and why are institutional providers and investors not migrating to Luxembourg? Institutional investors pay close attention to both the vehicle type and its domicle, while retail investors may not even notice the domicile of a fund. A natural home bias develops if other corporate departments, such as legal and tax, are involved. Finally, the use of domestic Spezialfonds has become the norm, meaning that any deviation has to be justified.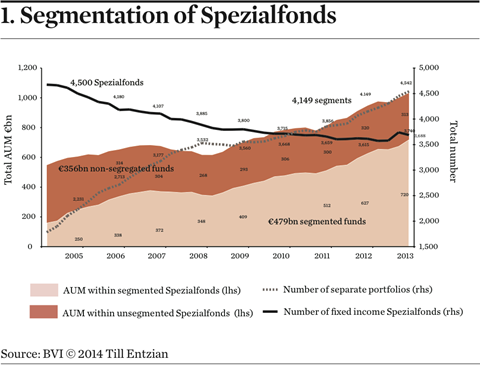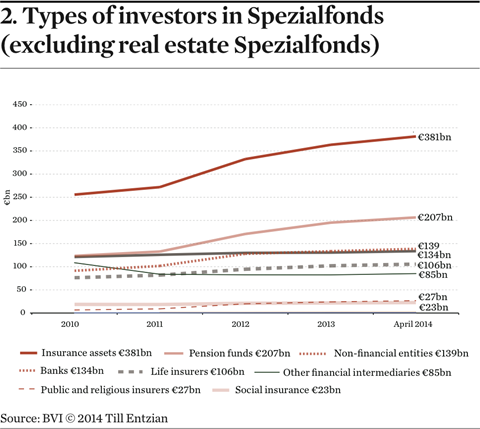 The ever-evolving regulation first and foremost impacts providers, who have learned to deal with any changes. Providers also have the opportunity, as long as this is agreed with investors, to sidestep many of the new regulations that are binding for retail investors. The shift to the new investment law (KAGB) means that investors will be offered a new sales document that they never knew they needed, which fails to offer any new insights and which therefore can be put to one side without second thought. As long as investors are not affected by the regulation, the impact of the KAGB is limited and manageable.
Mutual funds frequently receive negative press from politicians and the media. Thanks to mutual funds' high levels of transparency it is easy to identify costs and risks, so that a journalist skimming the surface of the facts can quickly compose a critical article, or a politician looking for a new pet peeve can soon find one. That mutual funds in fact offer fewer risks and lower costs is very often not addressed, simply because of the lack of transparency for alternative products. Many retail investors therefore have a negative view of, or are uncertain about, investment funds – a development that has not occurred among institutional investors.
Number of Spezialfonds increases over fear of launch ban
The increase in the number of Spezialfonds from 3,901 to 9,975 – the first such increase since 2001 – is traceable to petty drafting of transitional regulation for the switch to the KAGB. Under the new law, a KAG has been unable to launch a new Spezialfonds since July 2013 until it has been approved as a KVG, the new legal entity created by the law. It would have been possible to issue the KAGs with new licences immediately – after all, they have long been fully complaint with UCITS regulations, which are very close to the new alternative investment fund KVG rules.
Instead, the authorities have decided to insist on the submission of a mountain of documents that, depending on the business involved, can number in the five to six figures. Such a volume can neither be swiftly compiled nor swiftly approved by BaFin. To be able to offer customers new Spezialfonds during this transitional period, 200 new vehicles were launched as a precaution – temporarily boosting the number of funds above 4,000, although this has since declined due to the continuing trend to merge funds under a single master-KAG structure. In August 2001 there were 5,592 Spezialfonds, a figure that had reduced to 3,890 by the end of May this year.
From an asset manager's perspective, the number of mandates is significantly higher as around 70% of Spezialfonds assets are held within segmented Spezialfonds that are subject to differing investment targets or restrictions. Fund accounting also captures these segments as individual, separate assets.
The advantages of the master-KAG structure over individual Spezialfonds include unified reporting, but also the reduced risk of undesirable drawdowns due to the increased diversification in a larger portfolio. For pure asset management providers lacking a full KAG licence, the Spezialfonds market was only made accessible by the master-KAG, and the use of external management of assets by a third party has became the norm.
In turn, this step allows the selection of asset managers from a larger pool of providers. However, it does result in dual book keeping requirements and the need for interaction between the two. The classic KAG, offering both fund management and administration can, notwithstanding the quality of asset management, usually set up a leaner shop. From the perspective of investors, the advantages outweigh the drawbacks, and the number of segmented mandates outpaced total Spezialfonds even in 2010, increasing to 4,542 by 2013, with assets of €720bn.
Insurance companies and pension institutions remain the most important investor groups, both measured by total assets and revenue. Insurance companies alone accounted for €363bn of Spezialfonds assets, with life insurers accounting for €102bn of those assets. The larger share, €261bn, is owned by other insurance firms, likely reinsuers. From these other insurers the funds had inflows of €42bn over the course of 2013, with a further €14bn in the first five months of 2014.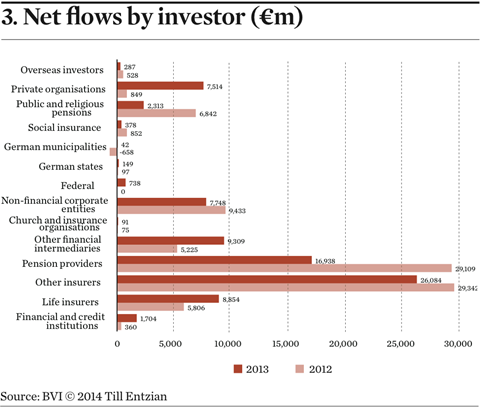 Spezialfonds are of ever increasing importance to insurance companies. Unchanged is the growing investment need of this sector, which is caught in the bind between low interest rates, long-term return expectations of customers and regulatory demands leading to an ever shorter investment horizon. Assets under management for the whole insurance industry rose by 12% over 2012 and 2013, with assets from primary insurers increasing by 9.3% over the same time period.
While primary insurers invested around a quarter of their assets through Spezialfonds at the end of 2011, this share increased to 28% by the end of 2103. Looking at the share across all funds, including mutual funds and insurance firms (as well as reinsurers), an even stronger trend emerges – a rise from 27.6% to 31% over the same period.
It is also noteworthy that banks, which at the end of 2013 held assets of €134bn in Spezialfonds, registered fund volumes of €523bn with the Bundesbank (this increases to €1.4trn when including customer deposits). It appears that banks have around €390bn in mutual and non-domestic funds (see figure 3).
The relative weight of assets belonging to the various investor groups is broadly stable, although there have been greater fluctuations in the inflow figures. Here, pension investors surprise with a reduction by nearly half. While this group was responsible for inflows of €29bn in 2012, on par with the 'other insurance company' category, this fell to €17bn in 2013. Insurance inflows remain stable in the overall figures. Life insurers committed €3bn more than the previous year, up to €9bn, and inflows from other insurers were €26bn, a €3bn decline.
There has been a noticeable increase in the area of 'other financial intermediaries', up from €5bn to €9bn in inflows, and an even more noticeable increase from private institutions, where inflows rose from under €1bn to €7.5bn. Non-domestic investors still lack enthusiasm for Spezialfonds, with inflows falling from 2012's €500m to €250m.
Changes in market share
The overview of market share by members of German fund association BVI shows a continued strong market position for Allianz Global Investors, which remains the largest single provider in all three areas. Within the traditional model, portfolio management and administration from one provider, Allianz was able to grow its share by €13bn to €197bn. Exclusive assets under administration business grew by €6bn to €152bn, while portfolio management shrunk by €3bn to €139bn. All figures also include assets outside of Spezialfonds, so the free asset management business, which at Allianz stands at €150bn sits in the area of 'portfolio management with administration'.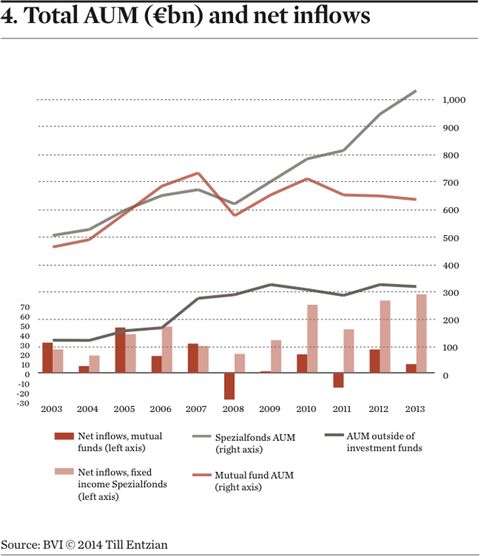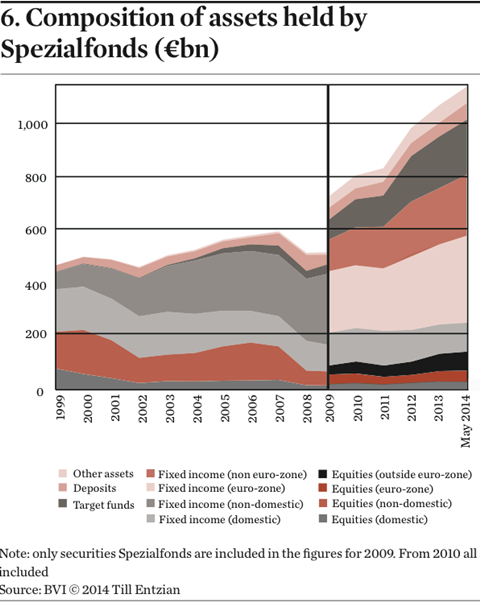 The use of third-party administration is very rare for the pure portfolio management of free assets. The total volume of assets here is €50bn, of which €19bn is claimed by LBBW, a further €16bn by Deutsche Asset & Wealth Management and €10bn by DEKA. The pure administration of non-Spezialfonds assets is even rarer and only amounts to €9.5bn, with €4bn each at Bayern-Invest and Universal Investment. All-in free asset management, at €309bn, is a sizable business, within sight of the €407bn of the Spezialfonds managed on an integrated basis. However, for portfolio management 60% of total Spezialfonds assets are outsourced.
Universal Investment has risen from fourth place to second place over the course of 2013, mainly thanks to an increase in its administration business by €15bn to €130bn. The company is therefore the only one able to even come close to competing with Allianz Global Investors.
HSBC was able stay in third place, while DeAWM slipped to fourth – largely the result of a €10bn decline in its administration business to €18bn. In the two other areas, DeAWM was able to increase asset volume, but it lagged behind the growth of its competitors. An explanation for this could be stabilisation following the merger of Deutsche Asset Management and DWS. Where the portfolio management of individual Spezialfonds or their segments was handled by DWS, the assets were sometimes counted twice, both by DeAM as pure administration and by DWS as pure asset management. Following the merger, the assets are only counted once.
The double counting of portfolios in which administration and portfolio management is split, is reflected in the figures. Spezialfonds businesses alone have over €1.3trn in the three areas mentioned, despite the overall assets under management only measuring €1trn. Were the external asset managers, which are not KAGs and not BVI members, accounted for in the figures, the total asset count would increase further.
The biggest change in rank was achieved by Metzler Investment, which rose four places to number nine. The main driver was less pure administration business, up by €3bn to €39bn, but rather a fivefold increase in portfolio management from €4bn to €20bn. It is notable that Metzler – uniquely among the large and medium-sized KAGs – does not have a single mandate where it is responsible for both administration and portfolio management. This demonstrates a systematic split in responsibilities between the KAG and the asset management entity and a double counting of mandates.
Société Générale Securities Services (SGSS) has risen three places to eleventh, with €14bn in growth in the administration business (now standing at €49bn) responsible for the change. The 50% increase was achieved, in part, by the acquisition of UBS's fund administration business. After SGSS acquired Credit Suisse's KAG in 2011, the German funds of both large Swiss banks are now administered in Munich.
Three securities fund businesses handed back their licence in 2013. As already mentioned, one was DeAM, which has merged with DWS to create DeAWM. The tradition of setting up businesses dedicated to Spezialfonds stopped a long time ago, aided by the desire of institutional clients to invest in mutual funds, requiring a business able to offer both products. Additionally, some companies are only establishing their mutual funds abroad, due to the 1.2m pages in documentation needed to convert in Germany, which means a standalone mutual fund company in Germany cannot be justified.
The second company to hand back its licence was Invesco KAG, after the firm decided only to employ master-KAGs for Spezialfonds and Luxembourg and Irish vehicles for mutual funds. Finally, the ETF provider of the Sparkassen, ETFlab Investment, merged with Deka Investment.
No new competitors joined the market in 2013 and minor consolidation continued. Early in 2014, KAS Investment Servicing transferred responsibility for its Spezialfonds to other KAGs and then closed. The remaining Wiesbaden base of the Dutch KAS Bank will instead focus on custodian business, hoping to entice both Spezialfonds and pension clients.
However, at least in theory, new businesses could join the market. At time of writing, BaFin had granted 11 existing KAGs permission to act as a UCITS KVG, and a further 16 companies that in 2012 were not yet active as KAGs.
It should be expected that the newly licensed KVGs that were not KAGs at the end of 2012 should soon be able to offer both UCITS-compliant funds and Spezialfonds. Some of the names will be known as former providers of closed property funds, others are new.
A further 59 companies have so far been given the go-ahead to become registered AIF-KVGs.
Newly licensed KVGs that were not KAGs end of 2012
• Alceda Asset Management
• AVANA Invest
• BonVenture Management
• DeWert Deutsche Wertinvestment
• Doric Emissionshaus
• Dr. Peters Asset Finance
• DSC Deutsche SachCapital
• Hamburg Asset Management HAM
• Hamburg Trust REIM Real Estate Investment Management
• HANNOVER LEASING Investment GmbH, Pullach i. Isartal
• HKA Hanseatische Kapitalverwaltung
• KGAL INVESTMENT MANAGEMENT
• MHC Marble House Capital
• Prime AIFM
• Real I.S. AG Gesellschaft für Immobilien Asset Management
• Timberland Investment.
Former KAGs now licensed as KVGs
• BlackRock Asset Management Deutschland AG
• Commerz Real Kapitalverwaltungsgesellschaft
• Credit Suisse Asset Management Immobilien Kapitalanlagegesellschaft
• IntReal International Real Estate Kapitalverwaltungsgesellschaft
• Lupus alpha Kapitalanlagegesellschaft
• MEAG MUNICH ERGO Kapitalanlagegesellschaft
• Meriten Investment Management
• NORD/LB Asset Management
• Real I.S. Investment
• Union Investment Institutional Property
• Universal-Investment.
Little change in underlying assets
The asset composition of Spezialfonds continues to show that investors do not have the risk appetite to increase their equity exposure, averaging 12.5% across all funds (figure 5). This is particularly disappointing from the perspective of cash-value life insurers, which have no other real way to achieve higher returns for their customers. This is despite their investment horizon, between 10-40 years, making them the perfect match for a higher equity allocation – an ability hampered by stress tests, Solvency II restrictions and other regulations.
One might wonder why the investment industry should be singled out for unnecessary and petty regulation that damages the interests of investors. The danger arising from such rules is the pressure to invest in higher-yielding assets that are approved or even encouraged. Such assets often contain risks that cannot be quantified and therefore captured in the existing risk management models. For example, the risk of haircuts to the debt of PIIGS nations cannot be measured by its volatility, given that political decisions are key.
Similarly, investors seeking higher nominal yields have faced risks that were harder to assess ex ante. Over the years, these have included structured products, newly-listed companies and structured products, such as asset-backed securities. Catastrophe bonds, whereby insurers pass on their risk to third parties, have avoided significant losses to date. With such strategies, a provider can, of course, fairly precisely assess the risk of which the investor might have little understanding.
One current offering is contingent convertible bonds (CoCo bonds), issued as subordinate debt by financial institutions, which yield above prevailing market rates. To counteract the higher yield, the investor takes the risk that interest payments or the complete repayment will not occur. Such a default or haircut is triggered when the capital ratio of a bank declines, although sometimes a committee has to decide that a cut is needed.
CoCo bonds are convenient for financial institutions because they are able to transfer losses to investors and strengthen their capital adequacy ratio. From a fiscal perspective, the risk that an institution will require a taxpayer bailout is reduced, but, based on past experience, it is hard to measure whether investors are adequately rewarded for the risk.
In any case, investors would be well advised to acquire such instruments through Spezialfonds, where they can benefit from the expertise of the KAG, whose scale of assets and existing risk management procedures allow the acquisition of expertise more quickly than for individual investors. In the past, many KAGs have been better placed to avoid crises than some institutions investing directly.
For the rest of this year and next, the sector can look forward to some pleasing developments, especially in light of the proven robustness of Spezialfonds despite regulatory changes. The hope that it will be able to withstand future regulatory upheaval seems justified, continuing its strong growth.
Till Entzian's annual review of the Spezialfonds market follows the tradition started more than 30 years ago by Dr Hans Karl Kandlbinder, the originator of the Spezialfonds concept. IPE has published an English version of this report each year for more than 10 years. A German version of this article appears in the August edition of the Zeitschrift für das gesamte Kreditwesen, published by Fritz Knapp Verlag. Till Entzian is a lawyer based in Frankfurt and advises on Spezialfonds
German Asset Management: The devil's in the details
1

2

Currently reading

German Asset Management: Robust in spite of regulatory change

3