German pension funds must review their strategic asset allocation to avoid headwinds in the fixed-income market, writes Carlo Svaluto Moreolo. External pressures may finally lead them to abandon outdated strategies and embrace complexity
German pension funds, on average, appear on the conservative side of the institutional investment spectrum. The Mercer EU Asset Allocation Survey of 2014 found a 65% allocation to bonds, 14% to equities and the rest in property and alternatives. Corporates have a higher weighting to equities at around 30%.
More importantly, there appears to be a an emphasis on sovereign bonds, investment-grade corporate credit, euro-zone equities and domestic real estate, with little space for the alternative or illiquid strategies that are gaining Europe-wide popularity.
But this is slowly, albeit steadily, changing, as pension funds face up to rock-bottom interest rates, euro-zone quantitative easing and divergent economic paths in Europe and the US.
In a study published last year, Towers Watson found that the average portfolio, at current market conditions, would earn little over 3% median return over the next decade. This figure, says Nigel Cresswell, Towers Watson's head of investment consulting in Germany, is lower than what investors say they want to achieve.
At a glance
• German pension funds on average have maintained a traditional asset allocation.
• In order to fulfil return expectations they need to re-think their overall strategies.
• Investors are beginning to diversify their credit allocation and there is strong interest for multi-asset and smart beta products.
• The toughest questions concern funds' fixed-income portfolios, particularly corporate bonds
The fundamental conclusion is that corporates need to start re-thinking their asset allocation. Cresswell believes there are questions to be asked about fixed- income portfolios, as the survey suggests 50% of investors are making little or no adjustment to their fixed-income portfolios despite the pressures faced by the asset class.
But there are clear signs of positive change. Although there is little evidence of changes to overall risk budgets, Cresswell says investors are warming to non-traditional strategies and broader diversification within asset classes, and that LDI has increased.
Stefan Arneth, managing director for institutional clients at MEAG in Munich, sees that investors, unable to use long-duration government bonds to hedge out liabilities, are moving towards riskier credit assets. His company focuses on absolute-return products based on a multi-asset approach, a combination that is attracting interest from pension funds.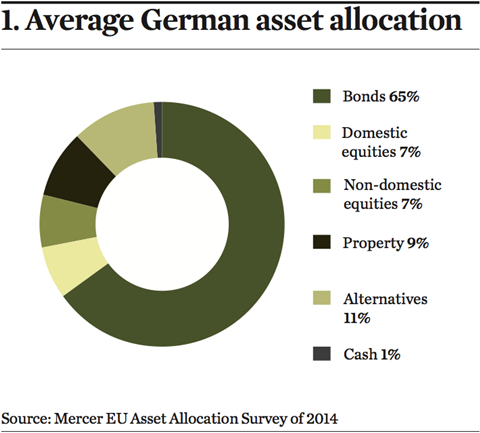 Georg Schuh, board member and global chief strategist at Deutsche Asset & Wealth Management, believes that the economic situation, coupled with central bank action, will compel investors to reassess their government bond portfolios. "The question investors might ask is, why should they maintain a 15-year duration in my portfolio, when 10-year Bund rates are nearing zero?"
The discussion has begun, he says, and it will take time for action to follow. Nevertheless, strong selling of long-duration bonds is on the cards although, given the support of the ECB programme, the effect on the bond market may be limited.
As well as focusing on LDI, investors are starting to restructure their overall fixed income portfolios. Having liquidated short-term fixed-income positions, investors are looking at multi-asset-strategies, which are now back in demand.
Tobias Löschmann, co-head of institutional business at Pioneer Investments in Germany, believes that multi-asset strategies will regain popularity as fixed-income portfolios are repositioned. He says: "We see demand in strategies that come with a target income derived from multi-asset exposure. Investors feel these strategies allow them to earn more return than traditional fixed income." He adds that fixed absolute-return strategies are registering significant inflows.
But Schuh believes that multi-asset strategies may still face resistance, as they do not allow investors to get full portfolio transparency. "These strategies still struggle with reporting and look-through, so they may not be suitable for investors that want a clear day-to-day asset allocation and risk profile of their pension fund."
Schuh sees shifts towards non-traditional fixed-income asset classes – ones that have not hitherto figured in German investors' portfolios in large quantities.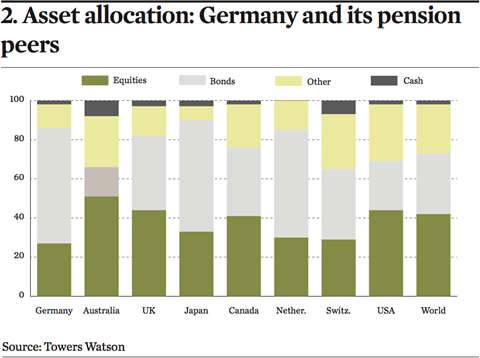 There is, he says, increased interest in US investment-grade corporate bonds and emerging market credit, as well as an increase in demand for high-yield credit.
But Schuh is worried that investors trying to rebalance their portfolios will be looking to sell their euro-zone corporate bond holdings, potentially leading to liquidity issues. "In the corporate bonds sphere, what investors may fear with good reason is that rushed, large-scale selling could be met with a liquidity squeeze," he says.
He points out that EU investment grade corporate bonds make up a large part of investors' portfolio, a situation partly due to regulatory reasons – IFRS accounting uses a discount rate based on ultra-long corporate bonds to value pension funds' liabilities.
"If pension funds see asymmetric risk of corporate bond spread widening, then they may think it is time to divest, independently from fundamentals," he says. "This is the trickiest question now."
It is difficult to test that hypothesis. But, what is clear is that a rebalancing exercise for German pension funds is desirable. Andreas Hilka, head of pensions for Europe at Allianz Global Investors (AGI) believes regulated Pensionskassen, will face difficult choices if the markets do not turn. "If the current scenario holds for the next few years, the Pensionskassen will have to reduce pension benefits in order to keep up with funding regulations."
Investors will be forced to reflect upon the composition – particularly the risk and diversification – of their return portfolios.
"On the equity side, the focus is on dividends," adds Löschmann. "German investors are more conservative than others, and making a transition from fixed income to equity is difficult. A dividend-based approach, therefore, would be most popular."
AGI, says Hilka, is seeing inflows into smart beta equity as well as systematic and unconstrained strategies. "These are the strategies that attract clients. They see the value that active management can add when it is combined with systematic strategies. These solutions are able to generate consistent outperformance based on a structured investment process," he adds.
As in other European countries, German investors are assessing the opportunities in the illiquid space. But regulatory restrictions and the scarcity of expertise mean those opportunities are limited.
"Investing in an illiquidity premium has always been of interest for pension funds, and it has become more relevant," says Hilka. "However, there are restrictions. Pension funds need resources in order to invest in assets such as private debt, private equity or infrastructure. But, there are questions on what the vehicles would be and on the supply of investment opportunities. Also, the tax regime is not favourable. There is a missing link."
Sector fund proposals: A new tune for German pensions?
1

2

Currently reading

German funds under pressure to review asset allocation

3

4

5

6

7