German Versorgungswerke have the go ahead to increase infrastructure lending – but a shortage in supply hinders growth, finds Barbara Ottawa
It took the German government two years to agree on a compromise regarding new investment guidelines in the wake of its implementation of the Alternative Investment Fund Managers Directive (AIFMD). But it is here now and for German investors falling under the AnlV-E directive there is an opportunity for infrastructure financing.
The Kapitalanlagegesetzbuch (KAGB), with which Germany implemented AIFMD, restructured the domestic fund universe, making closed-end structures more accessible to institutional investors while placing them under greater regulation.
Along with the new alternative investment guidelines, the investment directive applicable to insurance-like vehicles also had to be amended. Last year, it looked like only UCITS structures would be allowed to be held in real estate portfolios; the rest would have had to be included among the newly created 'alternative strategies' label, capped at 7.5% of the portfolio.
This provision has since been relaxed and Versorgungswerke (first pillar funds for professional groups), Pensionskassen and insurers can continue to invest up to a quarter of their portfolio in real estate Spezial-AIF funds.
At a glance
• Closed-end structures are now more accessible to institutional investors through an amendment to the KAGB legislation, which could facilitate infrastructure debt investments.
• Germany's Versorgungswerke, first-pillar pension funds for professional groups, continue to search for illiquidity, complexity and duration risk premia.
• Like other institutional investors, they are already facing tough competition for lending deals in a low-yield environment.
Michael Schneider, managing director at IntReal, says the amendments to the regulation were "clear and successful" and "very important for the further development of the industry". Insurers and pension funds are also allowed to invest in real estate via a closed-end Investment-KG, a new vehicle created under the KAGB. These will probably be used in club deals, which have grown in popularity with Versorgungswerke.
This is confirmed by the ABV association of Versorgungswerke. But Hartmut Kilger, chairman of the ABV board, says he does not see a trend towards consolidation in the sector or collective investment arrangements like the BVK covering 12 Versorgungswerke. Additionally, a number of smaller Versorgungswerke have appointed larger funds to take on asset management. One case in point is the €7bn Ärzteversorgung Niedersachsen, which administers the investments of the €1.4bn Ärzteversorgung Sachsen-Anhalt and the €1bn Ärzteversorgung Mecklenburg-Vorpommern.
Last year, the €2.7bn WPV pension fund for German auditors and chartered accountants, outsourced its back office for direct investments and appointed BayernInvest as master KVG. "This could become a trend but so far there are only a few others to have taken that step," says WPV chief executive Hans Wilhelm Korfmacher. Fund investments were structured into several master fund structures and BayernInvest is reporting over all investments. "Outsourcing this part of the administration allows us to use economies of scale," explains Korfmacher.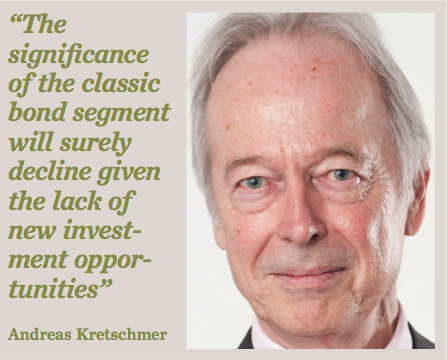 Matthias Thomas, chief executive of INREV, the European Association for Investors in Non-Listed Real Estate Vehicles, thinks club deals might just be a fad for smaller investors. "If you want to have influence and control over the investment you need HR resources, as well as market knowledge," he points out. Many smaller institutions were looking into club deals and joint ventures and "trying it out", but he questions whether they would continue to invest in this way. The €11bn Ärzteversorgung Westfalen-Lippe (ÄVWL) confirms to IPE it will continue to "lend its experience to smaller Versorgungswerke if it makes sense for the parties involved".
ÄVWL has grown its expertise in the areas of infrastructure, ship and aircraft financing in recent years. However, Andreas Kretschmer, CEO of ÄVWL, sees the market tightening. "The margins have come under severe pressure over the last months which is definitely due to the growing interest by institutional investors," he says, adding that ÄVWL continues to look for new segments before they are overcrowded.
Kretschmer says flexibility in the timing of cashflow expectations and a long-term planning horizon have both helped the ÄVWL in negotiations to win deals over other investors.
Unlike the BVK, Kretschmer says ÄVWL is not looking at municipal debt as yields are too low for it to be interesting. For VBV's Korfmacher, municipal debt – just like many other investment opportunities – is interesting if the fund has know-how or can find experienced external advisers. He cautions that it is necessary to understand investments and not just climb the risk ladder. For the BVK, which can offer lending on a much larger basis, municipal debt is one part of a three-fold lending strategy.
"If you want to have influence and control over the investment you need HR resources, as well as market knowledge"

Matthias Thomas
"The limited number of secure and attractive debt investments for Versorgungswerke presents a natural limit to the engagement in this segments," says Kilger at the ABV.
The question is whether the new legal provisions for investing in infrastructure loans might stimulate offerings in this area.
"The possibility to invest in non-securitised loans such as infrastructure loan receivables allows for the launch of specific funds, which will also allow smaller institutions to invest in infrastructure," says Sonja Knorr, senior analyst at Scope Ratings.
European Long-Term Investment Funds (ELTIFs) could be attractive for long-term infrastructure investments of large insurers, Knorr adds.
Schneider also welcomes the fact that the new regulations put infrastructure investments on a solid legal basis, although details are still to be finalised by the supervisory authority BaFin. These include the limits to debt financing in certain fund vehicles. Under the new regulations, institutions will also be able to invest in high yield corporate debt, capped at a 5% quota.
At ÄVWL, Kretschmer explains the dynamics behind the growth in the lending segment. As it continues to search for yield and predictable cash-flow – within its strategy to collect premia for illiquidity, complexity and long duration – assets from maturing bonds are re-allocated to areas like real estate or infrastructure. "The significance of the classic bond segment will surely decline given the lack of new investment opportunities," he says.
Kilger points out that Versorgungswerke have been solid partners in financing and are well positioned for a future in which banks continue to withdraw from lending under Basel III-regulations. But off the record, some Versorgungswerke stress they do not see themselves as competitors to banks but "complementary lending facilities".
The BVK's ongoing quest for investment opportunities
Barbara Ottawa
The largest German Versorgungswerk is continuously growing its lending strategies in its search fo r returns.
Very soon, the Bayerische Versorgungskammer (BVK) will have reached €70bn assets under management. Since interest rates fell six years ago, it has been struggling to find attractive investment yield for the assets it manages on behalf of 12 first-pillar funds for various professions.
One solution has been real estate, which the BVK first did in 2011. The institution has also lent to German municipalities. Demand for these forms of financing and the associated know-how has grown among institutional investors over recent years. "We are able to find sufficient investments for the assets of our Versorgungswerke, but it is becoming more difficult recently," confirms Constantin Echter, head of fixed-income investments at the BVK. "Everywhere you look in the lending market there is massive competition."
This means the lending strategy is moving beyond the traditional scope of real estate and municipal debt into infrastructure, residential property, and even new markets.
"It is a three-way strategy of lending in the fields of real estate, infrastructure and municipal debt plus city-owned companies [Stadtwerke]" Echter explains.
The BVK has built up experience in real estate. Echter notes that the real estate lending team has been supported by the property specialists within the BVK from the beginning. Last summer, BVK and the mortgage bank Deutsche Hypo teamed up with two BNP Paribas REIM German credit funds to finance a Berlin shopping mall.
As a next step, residential financing will be added to the portfolio. "Maybe we will look beyond the core markets of Germany and Austria into French offices, but only maybe," Echter says cautiously. "Overall, we want to be financing around €500m in real estate projects each year".
And although infrastructure is new for the BVK, Echter notes that the initial target is a total financing volume of €1bn to start with, growing to €2bn over the long term. Last November, the Versorgungskammer bought a €60m finance facility from German DekaBank secured on a German wind farm portfolio. The BVK continues to work together with German banks to "make the asset class a significant component of its fixed-income portfolio".
To achieve this it has signed an exclusive infrastructure debt deal with two banks. The BVK is keeping all options open and exploring markets outside the euro-zone in developed markets including the UK, Canada, US and Australia for infrastructure debt, Echter confirms. "I get the impression that more and more institutions are going beyond real estate lending into infrastructure debt", he adds.
In the municipal debt segment, the market is opening to new providers of financing as mortgage banks are constricted by regulation such as Basel III. This January, for instance, the BVK set up an eight-figure privately placed debt instrument, known as a Schuldscheindarlehen, with a maturity of 10 years for an unnamed large city in North Rhine-Westphalia. Also interesting for the Versorgungskammer is municipal infrastructure via city-owned companies such as electricity or gas companies. "We have already provided financing to such institutions and will continue to do so," confirms Echter.
The advantage of being as big as the BVK, Echter points out, is that many people looking for financing want as few lenders as possible. "Hardly any bank can still do a €500m lending on their own anymore in real estate debt, but we can," he explains. From a compliance point of view the individual Versorgungswerke within the BVK are the partners signing the contracts. But the joint asset management capability of the BVK handles the transaction as a single unit.
The BVK's lending strategy is likely to grow despite the competition with other institutional investors and given the persistent low-interest rate environment. "If the spread levels for companies are increasing again then maybe we will also be looking into investing in corporate loans in a few years," says Echter. "But, as always, the risk-return profile has to be right."
Sector fund proposals: A new tune for German pensions?
1

2

3

Currently reading

German Versorgungswerke: Infrastructure, here we come

4

5

6

7