A year into the implementation of Germany's BRSG law to strengthen occupational pension schemes many legal uncertainties remain
Key points
Various measures under the new legal framework are awaiting implementation
Legal uncertainty over the BRSG has halted pension plan changes
Opinions are split on the usefulness of new subsidy scheme
No doubt the new law to strengthen occupational pensions – the Betriebsrentenstärkungsgesetz (BRSG) – will sound to most non-Germans like a typical German tongue-twister. The statute that came into effect in January 2018 contains several changes to second-pillar regulations. It adds further complexity as legal uncertainty remains with several new ways of doing things.
"The klaxon for the BRSG has sounded but as yet (almost) nobody has started running," the authors of a joint study by the research institute of the Frankfurter Allgemeine Zeitung (a German daily newspaper) and Generali insurance wrote. In late 2018, they surveyed 200 small and medium-sized enterprises. One of their main findings was that "the internal communication about occupational pensions is rendered even more complex by the BRSG". Similarly, consultancy Willis Towers Watson found that 70% of companies expect the new legal framework to make occupational pension plans more complex.
One of the new statutory provisions is the obligation for employers to top up deferred compensation plans known as the Entgeltumwandlung – but only if a Pensionsfonds, a Pensionskasse or a Direktversicherung, that is an individual insurance plan, is used to accrue these assets.
Critics of the old system argue that employers are saving on costs such as social contributions when employees are converting parts of their salary to a pension plan. Therefore, employers have to pay at least 15% of savings they make on labour-related expenses when employees are converting parts of their salary to a pension plan (Entgeltumwandlung). Some companies already have such top-up schemes but for others this means restructuring the pension plans they set up for the deferred compensation. This has been compulsory for new entrants since January and for existing members it has to be implemented by 2022.
According to Michael Karst, director legal, tax and accounting at Willis Towers Watson Germany, this new obligation might prove difficult for some employers. "What about closed pension plans or if the provider does not accept additional contributions to the plan," he said at a conference in Berlin in February. Karst also mentioned the Caritas Pensionskasse which had been banned from taking on new business by the supervisor BaFin (see Dwindling membership in the second pillar).
"Would this additional contribution count as new business?" asked Karst. Additional uncertainty is generated by the fact that the new innovation requirement is not applicable to all employers, especially those without external pension providers.
Another new statutory provision is the state subsidy for lower earners (amending section 100 of the income tax law EStG). Under the BRSG, employers paying at least €240 annually into an occupational pension plan for people with a monthly income below €2,200 get to keep 30% of the tax on wages. But as Karst points out, cost calculations of this measure are difficult for employers "as the threshold is fixed but wages will fluctuate over time".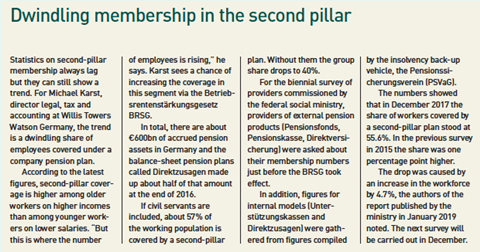 This measure was welcomed by over 40% of the SMEs surveyed for the FAZ/Generali study – but that was before federal the social minister, Hubertus Heil, proposed a 'basic pension' for everyone in Germany at the beginning of 2019. He would like the state to pay a minimum pension to everyone who contributed to the first pillar for at least 35 years. It has not yet been decided how this will be financed. For Karst this debate "leads to uncertainties regarding subsidy models for lower earners in occupational pension plans".
Amendments to the way private plans and company plans under the state-subsidised 'Riester-Rente' are treated could open a Pandora's box on an old pension debate. With the BRSG, pensions paid from Riester contracts used to set up company pension plans are exempt from contributions to health and care insurance. This had always been the case for private, third-pillar Riester plans since they were introduced in 2003.
"Until the BRSG came into effect it did not make sense to use occupational Riester plans for Entgeltumwandlung because of the contributions issue – but this has finally been resolved," says Robert Dickner, head of product management at the life insurer Volkswohl Bund. He also welcomed the increase in the state subsidy for Riester contracts.
But Karst points out that there are several other cases of pension payments not being exempt from contributions to health and nursing insurance. Several of them have been challenged in court but have been rejected. "One idea would be to halve the contribution rate to the health insurance in the payout phase as this would drive returns in the second pillar," he says. But apart from this being "politically very controversial" it would mean that existing contracts would have to be altered – and this is something the German legal framework does not allow easily. "But it would be an exciting discussion to have about future contracts."
The BRSG also meets a long-term demand from pension industry representatives – the tax-free limit for contributions in an deferred compensation was raised. Instead of 4% of the income threshold used to calculate the state pension, now 8% of that amount can be deferred as pension. But on the additional 4% employees still have to pay health insurance. For Dickner this measure "is ideal for people with higher incomes" but he noted "they have a lot of (private) alternatives for supplementary pension savings". He says moving the bar for health contributions on deferred compensation payments from 4% to 5% would have made more sense for getting lower earners to save for their retirement.
On the other hand, he welcomed the fact that under the BRSG "poor retirees" no longer have to declare all of their income from an occupational pension when claiming the Grundsicherung (basic income). This was introduced in 2005 to help people with an insufficient pension or others who are unable to top up their income or subsidies by working. The basic income would be a bit higher and linked to previous continuous payments into the first pillar.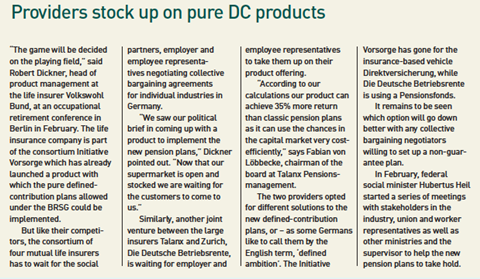 The allowance for pensioners seeking Grundsicherung means that it also makes sense for people in lower-income jobs to save in an occupational pension plan. "Finally this target group that really needs it gets rewarded for taking the initiative," says Dickner.
In short, no one knows whether the BRSG is a blessing or a curse – probably a bit of both.
Germany: BRSG beyond the new DC plans
1

Currently reading

Germany: BRSG beyond the new DC plans

2

3

4

5