As yet no social partners have adopted the latest pension model in an already highly complex system
Key points
The details of IORP II implementation need to be finalised but the government has pledged to take the needs of the pension sector into account
Talks continue on new DC-style industry-wide pensions but without any concrete proposals so far
Government seeks more data on retirement provision
Germany is waiting for four things in particular when it comes to retirement provision:
• The first non-guarantee industry-wide pension plan (Sozialpartnermodell) to be set up by worker and employee industries under the Betriebsrentenstärkungsgesetz (BRSG).
• The German financial supervisor BaFin to clarify a few changes the IORP II directive brings to the country's law on insurance supervision (Versicherungsaufsichtsgesetz).
• The comprehensive report and reform proposals the pension commission (Rentenkommission) set up by the government in 2018 promised for March 2020.
• The government to come up with a plan for a multi-pillar pension dashboard (säulenübergreifende Renteninformation).
The most remarkable characteristic of the German occupational pension sector is its incredible complexity. Larger companies can, after acquisitions, end up with several different pension plans they cannot easily merge. Individual workers might end up with several different pension claims from different companies which all might have used different vehicles (Durchführungswege) to set up their pension plans – from the in-house direct pension promise (Direktzusage) to the insurance based (Pensionskasse). The latter can either be run by the company itself or be outsourced to a multi-employer provider. Last year also saw the first cases of Pensionskassen being sold to run-off providers. First was the Axa's Pro bAV, followed by C&A's owner Cofra Group, which sold its German pension fund.
Such transfers add more complexity to a pension system in which the protection of consumers and pensioners is sacrosanct. Existing pension contracts cannot be altered if the amendment might be even slightly detrimental to the beneficiary.
No regulatory slack for ESG
There will be no regulatory bonus for institutional investors integrating ESG into their investments. This was one of the main messages the German financial supervisor BaFin stressed at its first conference on sustainable finances in Berlin in May.
In a panel discussion, Frank Grund, executive director for insurance and Pensionsfonds supervision, said the financial sector "has to participate in restructuring the real economy towards more sustainability". However, he added, "sustainable investments are not per se less risky" than traditional ones.
"There must be no regulatory bonus for sustainable investments," he said. Unless there is a fact-based reason for an investment to need less supervision.
This complexity has also grown organically with every new occupational pension vehicle introduced to the system (such as, Pensionsfonds in 2002). But at the time of writing there was as yet no sign of it growing further by the addition of a Sozialpartnermodell.
None of the unions and employer representatives have committed to set up this new vehicle, which only they are allowed to create jointly. In autumn 2019, in the next round of annual collective bargaining agreements, several industries are expected to put the topic on the agenda. There have been media reports that at least one large insurance provider might introduce the model for its employees to serve as a blueprint for others and as proof that its own no-guarantee pension product works.
Meanwhile, companies are busy implementing other parts of the BRSG. These include employers paying at least 15% of labour-related costs they are saving when employees convert parts of their salary to a pension plan (Entgeltumwandlung). Other measures to strengthen the second pillar include subsidies for smaller companies or for those setting up pension plans for lower earners.
IORP II and the aftermath
It is mainly two sections of the Versicherungsaufsichtsgesetz (VAG), the legal framework for supervising insurance companies, that still need BaFin interpretation to be applicable to Pensionskassen and other insurance-based retirement providers.
In Germany, close ties between an employer and its pension plan have a long tradition and shared operational roles are more the rule than the exception. Under the EU's IORP II directive, such possible sources for conflict of interest are to be limited or at least made more transparent.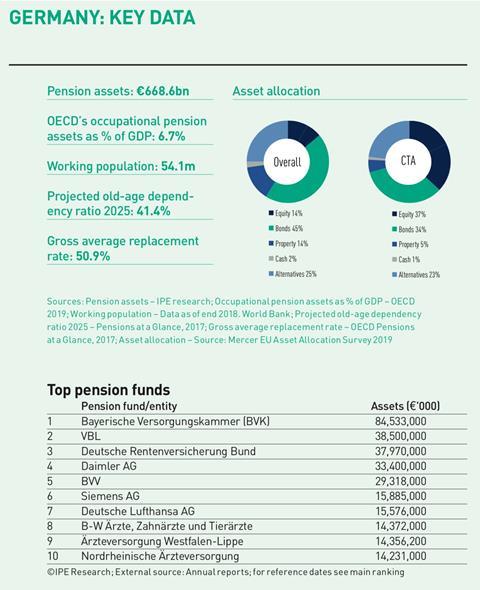 The regulator BaFin has promised to issue a clarifying circular some time in 2019. At the annual conference by the pension fund association aba in May, Frank Grund, executive director for insurance and Pensionsfonds supervision, promised that the circular will "take the special situations of pension funds into account". No further details had been revealed at the time of writing.
At the aba conference, Grund also announced a second circular to clarify how IORP II's own risk assessment is to be applied by German pension providers. But he stressed "it will not contain concrete guidelines, nor rules on how to calculate risks" as this would "contradict the character of own risk assessment".
He also tried to appease one of the greatest fears of German pension funds: "Let me be very clear," Grund said. "Contrary to widespread fears, BaFin will not demand pension funds use the Common Framework developed by EIOPA for their own risk assessment."
"Individual workers might end up with several different pension claims from different companies which all might have used different vehicles to set up their pension plans"
Grund noted the new risk assessment is "strengthening" what the BaFin has been trying to achieve with pension funds that "are in a difficult economic situation or might soon be": Under the revised legal framework, pension funds have to review their assessment of liabilities for sponsor companies and possible support mechanisms.
Last year, BaFin closed two Pensionskassen, Caritas and Kölner PK, for new business. In spring 2019, both Pensionskassen announced substantial cuts to their reserves and pension payouts. This is uncharted territory for the German pension industry as well as the supervisor. There are still a few Pensionskassen at risk but intense talks and renegotiations with plan sponsors have eased the situation. In summer 2019 about 30 Pensionskassen remained under "intensive supervision" by BaFin compared with 45 the year before.
Thirst for information
Part of the new regulations triggered by IORP II also cover how pension fund members are to be informed about their retirement plans. But the German government wants to go a step further and is considering the introduction of a cross-pillar retirement information service.
At the time of writing, it had not moved beyond the stages of a 180-page report commissioned by the government. In the report, researchers at the consultancy group Aon and the Institute for Insurance Science at the University of Ulm proposed a centralised 'pension dashboard' to give savers a calculation of their total accrued pensions in the first and second pillars.
Overall, the number of surveys on and research projects into the second pillar has increased in Germany since the global financial crisis, starting with a comprehensive Alterssicherungsbericht (old age security report) in 2016. In early 2019, the government presented its first comprehensive survey among providers and in the latter part of the year it is requesting input from beneficiaries. All of the collected data might be accumulated to underpin recommendations to be made by the Rentenkommission in its report scheduled for March 2020.
However, the bulk of data available for the second pillar still comes from commercial providers' initiatives such as insurers and consultancies. And then there is Joachim Schwind, former long-term board member at Hoechster Pensionskasse who is also on the board of aba. Since at least the 1990s he has been compiling information on the asset levels in the various Durchführungswege in Germany for the aba member magazine BetrAV.
The latest data is for the end of 2016: assets stood at €593.8bn, which was 3.3% more than in 2015. By far the largest portion of these assets remain pension reserves within companies for Direktzusagen (€297.6bn). The second-largest vehicles were Pensionskassen (€160.1bn). Pensionsfonds (€35.6bn) remained in last place but reported the highest asset increase of 9.2% year-on-year.