The CEO of the Global Impact Investing Network, an organisation dedicated to promoting impact investing, talks about the need for 'baseline expectations'
KEY POINTS
The GIIN has concerns about the damage that undeserved labelling of investment strategies as impact investing could do
It has identified four "core characteristics" of impact investing as minimum expectations for a credible practice
It is an early April day in The Hague, a short distance from the Peace Palace, headquarters of the International Court of Justice. Amit Bouri, co-founder and chief executive of the Global Impact Investing Network (GIIN), starts talking to conference delegates about Aesop's fable about the tortoise and the hare.
After a brief summary of the story, Bouri delivers his twist. "Slow and steady does not win all races," he tells the delegates who have gathered to close the first day of Impact Summit Europe, an impact investing conference held by consultancy Phenix Capital.
"Slow and steady is definitely not the right strategy when it comes to addressing the world's social and environmental challenges," he says.
From there, Bouri outlines the GIIN's four "core characteristics" of impact investing (see box).
Their purpose is to guard against 'impact washing', a term that is frequently heard in discussions about impact investing. It essentially related to deceptive marketing, both knowing and unknowing.
In his speech, Bouri emphasises that the impact investing market needs to grow with integrity to ensure "impact at scale" rather than just "capital at scale".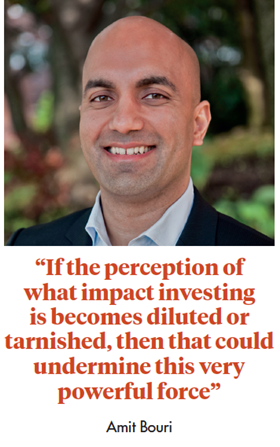 He elaborates on this later in conversation with IPE. "The risk with impact washing," he says, "is that if the perception of what impact investing is becomes diluted or tarnished, then that could undermine this very powerful force that's driving so much capital to contribute to a better world.
"From the GIIN's perspective, we are launching the core characteristics, in part to facilitate more growth of impact investing and also in part to mitigate against the risk of impact washing.
"If you are employing the core characteristics for an impact investment fund and investors are holding you accountable to that, it will create a very powerful mechanism that reinforces integrity in the market."
The core characteristics are there to serve as "a set of baseline expectations about what good impact investing looks like," Bouri says.
"We are very clear about there [being] a lot of ways that investments can affect different social issues, but impact investments are very much focused on having a positive impact, from intention all the way through to results."
In practice, the thinking is that the characteristics could be helpful for pension funds when they are evaluating fund managers, or for fund managers themselves when they are developing their strategies and operational practices.
Bouri adds: "Our hope is that it creates a self-policing mechanism where an investor or many investors would look at an opportunity and ask: How are you adhering to the core characteristics? Do you intend to make an impact? Are you using evidence in designing the investment? Are you managing towards impact throughout the course of the investment process?
"And anyone with an impact investment opportunity should be able to make a strong case for how they're doing that well, and that's a conversation we want investors to be having with investees."
GIIN's core characteristics of impact investing
Intentionality:
• Is at the heart of what differentiates impact investing from other complementary practices that focus on avoiding harm or mitigating risk.
• Means actively setting out to positively contribute to social or environmental solutions by establishing clear impact objectives and thorough strategies to achieve these goals ahead of execution.
Evidence-based investment design:
• Utilising empirical data and research in the design of impact strategies.
• Establishing impact objectives and validating results on the basis of empirical data and research from finance and other industries and disciplines, including social and environmental sciences.
Impact management:
• Committing to impact measurement and managing an investment towards meeting objectives and delivering impact.
• Using feedback loops whenever possible, to increase positive impacts over the life of the investment and decrease risks or unintended negative consequences.
Contribution to industry growth:
• Impact investing necessitates a practice that is grounded in shared conventions and standards for describing impact goals, strategies, and performance.
• Share non-proprietary and non-private positive and negative lessons learnt, evidence, and data, so others can benefit from their experience.
Asked about the possibility that the emphasis on integrity might deter some investors – for fear of being seen to fall short – Bouri is clear that the GIIN's set of core characteristics is there to help, and indicates there is appetite for the clarity and guidance they are meant to provide.
More importantly perhaps, he indicates that institutional investors themselves are signalling a desire to carry out impact investing "with integrity", with the big question being how to do so.
"The GIIN's approach to that is to embrace newcomers but also own a responsibility of helping to uncover what good impact investing looks like," he says. "The core characteristics play that role, and then we also turn to our members as experienced impact investors and advocates for the market to both lead by example."