Global dividends hit an all-time quarterly high in the second quarter of this year, with Belgium, the Netherlands and Switzerland all posting new records, according to Janus Henderson.
The asset manager raised its forecast for 2017 to a record $1.208trn (€1.06trn), up by $50bn since its preliminary forecast in January, as a result of the strong quarterly growth.
Global dividends totalled $447.5bn in the second quarter on the back of a 5.4% year-on-year increase.
Dividends grew in every region of the world except the UK, due to the currency devaluation in the middle of last year after the Brexit referendum.
Underlying growth – which accounts for changes in exchange rates, one-off special dividends and other factors – was 7.2%, the fastest rise since 2015, according to the asset manager's annual Global Dividend Index.
In the UK, underlying growth was 6.1%, despite a headline decline of 3.5% in dollar terms. Janus Henderson said the second quarter should be the last quarter to be impacted by sterling's devaluation, which masked increases in dividends paid by UK companies.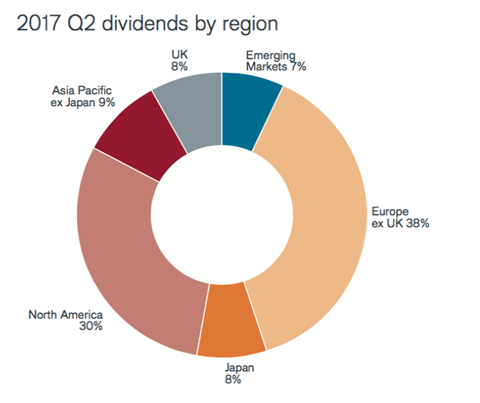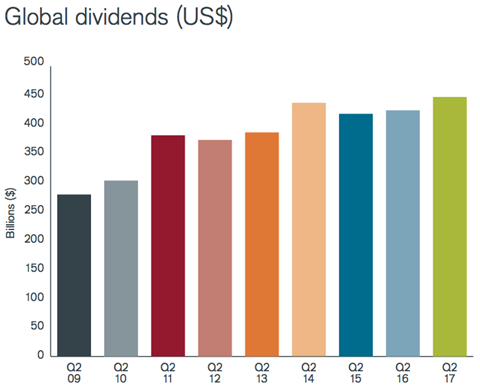 Europe dominated the second quarter as most of the region's listed companies make a single annual payment rather than quarterly, Janus Henderson said.
European firms paid out $149.5bn in dividends, two-fifths of the global total, with 86% of the companies raising or maintaining their dividends year-on-year.
The largest increases were in smaller countries, such as Austria, Portugal, Belgium and Finland. In Belgium, for example, dividends were up 19.1% on an underlying basis to $5.9bn, after banking group KBC made its second consecutive semi-annual payment. It cancelled its dividend this time last year.
US payouts reached a new record of $111.6bn, up by 9.8%, and 5.9% on an underlying growth basis.
At $31.6bn, there was also a new record in Japan, where the second quarter is "crucial" as payments account for roughly half of the year's total payout, Janus Henderson said. More than three quarters of Japanese companies raised their dividends in yen terms.
Dividends also reached a new record in South Korea, while Indonesia, Brazil, Russia, and Mexico were among the best performers in emerging markets.
Alex Crooke, head of global equity income at Janus Henderson said: "The global economy is very supportive for company profits and dividends at present, and helped drive record payouts in many countries around the world.
"The improvement reflects a normalisation in dividend growth, following two years during which it has been rather subdued. The first half of 2017 has been stronger than we expected, and the second half is looking promising too."
According to Mercer's 2017 European asset allocation survey, European pension plans had on average a 30% strategic allocation to equities, two-thirds of which was to foreign equity and one-third to domestic equity. On the whole, they were expecting to continue reducing allocations to equities.