Joseph Mariathasan assesses the outlook for active management in a global equity sector beset by excessive liquidity and volatility
At a glance
• At first sight, the opportunities for active managers in global equities appear poor.
• There are opportunities for institutional investors with long-term time horizons.
• A key decision is whether to be overweight or underweight emerging markets.
• Ageing populations are a key theme.
Given the challenges involved in investing in global equities it is unsurprising that index tracking or hugging are so popular. Liquidity driven by quantitative easing (QE) and unpredictable Chinese reforms have had such an impact that bottom-up stockpickers find the environment challenging.
Many active managers also find the current state of the markets daunting. The US equity markets are overvalued; China has suffered volatility and emerging markets (EMs) have fallen, while the relative valuations of growth and value, large-caps and small/mid-caps all suggest there should be opportunities for active managers.
For institutional investors with a long-term view there may be one way to achieve outperformance. This is at the expense of retail investors whose horizons are shorter and driven more by news headlines rather than fundamentals. This year there were huge outflows from emerging markets driven by a strong dollar, volatility in China's equity and currency markets and weak commodity prices. Yet these flows have been from retail mutual funds.
Sam Rhee, co-head of the Asian Equity team at Morgan Stanley Investment Management, tells a different story: "We haven't seen any outflows. Our clients – who tend to be sovereign wealth funds, endowments and other long-term investors – are very steady, but this could be due to the strong relative performance, as emerging market active managers have generally outperformed the benchmark."
A key enigma for investors is whether to be overweight or underweight emerging markets with their younger populations and potential economic growth. "Asia-Pacific and Latin America are two regions where valuations have now been very discounted," says Satya Pradhuman, CEO of Cirrus Research. Yet the growth of the middle-income consumers in emerging markets represents a powerful investment theme. It will drive GDP growth across emerging markets, as well as providing markets for developed world companies to exploit.
Yet, as Rhee points out, developed markets have outperformed emerging markets in recent years. "It has not been easy to get excited about emerging markets and the news items on EM countries from Brazil to Russia have dampened sentiment. A slowing of China's growth means that it is difficult to be aggressive on emerging markets," he says.
But in China there is the necessity to distinguish between economic and stock market performance. China's A share market has experienced a bubble, but Hong Kong-listed H shares have traded within a range for the past seven years, says Rhee. The movement of the pricing of A shares has diverged from that of the economy. During the 2000s, when China was growing annually at 10%, A shares languished.
"It has not been easy to get excited about emerging markets and the news items on EM countries from Brazil to Russia have dampened sentiment"
Sam Rhee
For long-term investors, the issue may not be whether China is going to have a hard landing, but the policies it implements as it transitions from a public sector centrally-driven economy to a private sector consumption-led economy.
Markets may have overreacted to China's currency devaluation. Nick Niziolek, senior portfolio manager at Calamos Investments, sees the devaluation as a targeted measure to allow the renminbi to float more freely. This move was designed to enable it to become a global reserve currency and join the International Monetary Fund's Special Drawing Rights scheme.
While China may have spooked retail investors, it does represent a buying opportunity for institutional investors with long-term horizons. It certainly will for some. For institutional investors looking beyond the headlines, it is long-term themes and the valuation anomalies that matter. If markets are not efficiently pricing risks and returns, looking for long-term opportunities plays to the strengths of long-term institutional investors.
For fund managers catering to retail investors, the mass flows based on sentiment can be a challenge. Lombard Odier Investment Managementhas two global thematic funds: one focuses on the emerging market consumer and the second, focuses on the theme of ageing populations in developed markets. Its Golden Age UCITs has a bias towards healthcare, consumer and financial sectors in the developed markets, says portfolio manager Johan Utterman. Not surprisingly, it has a 55% exposure to the US with 28% in Europe and 10% in Japan.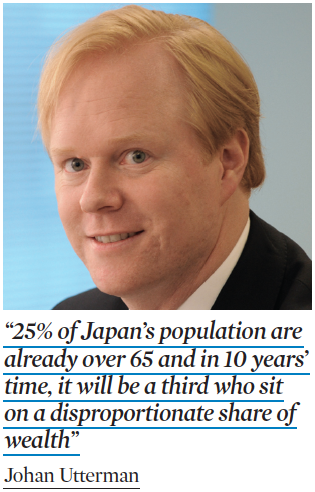 Utterman sees Japan with its ageing population as a laboratory for ideas on sectors and stocks that play to the theme. "Twenty-five per cent of Japan's population are already over 65 and in 10 years' time, it will be a third who sit on a disproportionate share of wealth," he says. It is a theme that may match the importance of emerging market consumers.
"An average of three months is being added to life expectancy every year and experts estimate there could be a million centenarians across the world by 2030," says Dylan Ball, a portfolio manager at the Templeton Growth fund. It should be no surprise that his fund is overweight in healthcare. "The turnaround in healthcare has been quite amazing if you look at what has been going on there during the last three years. In 2007-08, the healthcare sector was trading at single-digit price/earnings ratios. Patent expiry was looming for many drugs, the R&D pipelines were drying up and nobody wanted to hold shares such as Sanofi , GlaxoSmithKline and Hoffmann-La Roche .
"We thought they would diversify into emerging markets, buy the generic drug producers there and that would be sufficient to double our money back in 2007. But what was happening unbeknown to us were breakthroughs in genetic research and human genome sequencing, which led to the US Food and Drug Administration approving more drugs last year than they had approved since 1997."
The tail winds pushing healthcare sector include the fact that healthcare expenditure is 18% of GDP in the US but only 5% in China which also faces a rapidly ageing population, Ball adds.
Themes such as ageing and the emerging consumer represent secular trends that can last decades and suit long-term investors. Calamos Investments has seen healthcare and global consumers as key themes for many years. That exposes them to both developed and emerging market growth in the use of consumer technology through mobile phones and the internet. But Calamos, like many active managers, is also aware of the shorter-term cycles of value and growth. Niziolek says: "Growth has been outperforming value since 2009 and we are seeing many growth opportunities. In an environment of global deleveraging, which is less credit-fuelled, with lower inflationary pressures, growth has been more subdued. As growth seems scarce, we can identify companies that are innovating and doing well despite the macro headwinds against them."
Despite the outperformance of growth, Ball is still hopeful of a value turnaround. "Value is late turning up in this cycle. We are three years into what should be a five to seven-year cycle of value outperformance, he says. In his view, the prospects are looking good for active value managers. "For the first time in nine years the stars are aligning with rising bond yields, very attractive European opportunities, and an attractive environment for active management with a wide dispersion of returns and value management coming back."
It may be that success will come to those who are willing to stake their claim by taking a strong stance based on absolute valuations rather than index overweights and underweights. Templeton, says Ball, had a 70% exposure to Japan at the start of the 1980s when the MSCI index had a zero exposure. By 1989, the MSCI index had 29%, Templeton had 3%, having moved those exposures to the US.
The herd behaviour of investors away from emerging markets seems perplexing. Young consumers in emerging markets are not going to disappear any more than the wealthy elderly in the developed markets. Yet, while both are themes that will play out over decades, it does seem illogical that sentiment towards investing for younger consumers in emerging markets can change so rapidly compared with sentiment towards investing in products for the wealthy elderly in developed markets.
It is perhaps just another example of how markets are driven by irrational human behaviour as much as fundamental valuations. Perhaps there lies the opportunity for active managers prepared to keep their head.
Global Equities: Ecology of a mega-cap
1

2

Currently reading

Global Equities: Where is the treasure?