Index providers are eager to show their governance processes are robust and transparent
Key points
Index providers' decisions affect trillions of assets
Governance is increasingly discussed as a result
Providers show awareness of their influence
Governance processes ensure the quality of index methodologies and manage or avoid conflicts of interests
The addition of China A-shares to MSCI's emerging market and global equity indices, scheduled for June 2018, is one of the most anticipated market events of the past decade. It is not a game-changer in terms of asset flows into China, but it raises questions about the growing influence of index providers.
Indices calculated and disseminated by providers such as MSCI, S&P Dow Jones Indices (S&P DJI) and FTSE Russell, along with smaller players, are the basis for trillions of euros of passive investment globally. The providers' decisions about the inclusion or the exclusion of stocks have a sizeable impact on countless institutional and retail portfolios. At the same time, such decisions can impact on the index providers' business performance.
Given the growth of passive investing, index governance will become a topic that is increasingly debated. Investors will want to ascertain that the methodologies used to calculate indices are robust and transparent. They will want to be involved in conversations about such methodologies, while demanding that index providers are independent in their decision making. Pressure on providers to offer competitive pricing for index licensing will likely grow.
Index providers recognise that governance assumes greater significance as passive investment grows. Christopher Woods, head of policy and governance at FTSE Russell, says: "Good governance is good business practice. It would be necessary even without the huge growth of passive investing. But, the rising number of indices and the growth of assets tracking these indices certainly emphasises the importance of index good governance."
Further benchmark regulation
An increased focus on governance is a direct result of the European Benchmark Regulation, which took effect in January.
This is a response to the 2012 Libor scandal and allegations that other benchmarks in the forex, commodity and energy sectors have been manipulated. It has prompted FTSE Russell to review its governance arrangement to ensure they comply, according to Woods.
FTSE Russell's governance is based on the well-known three lines of defence framework used in risk management.
The Product Governance Board – which constitutes the first line of defence – makes decisions on changes to existing index methodologies or creation of new ones. Decisions are informed by reports from internal and external advisory committees. Internal committees have to ensure that changes to methodologies or new ones can be managed with the resources available. External committees make sure that such changes are supported by clients and stakeholders.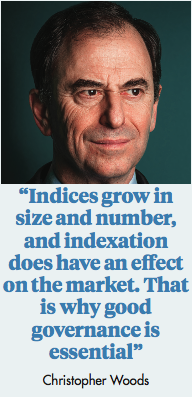 The second line of defence is represented by the risk and compliance functions, which are part of a larger Oversight Committee. "The Oversight Committee's duty is to check and challenge the first line's decisions," says Woods. "It is also a duty of the second line body to report on any suspicious behaviour with respect to benchmarks, perhaps coming from those contributing data to benchmarks. Furthermore, the committee deals with complaints from clients or other stakeholders."
The audit function of the oversight committee represents the third line of defence.
At MSCI, four committees provide overall oversight and governance for the company's indices. Governance of indices is handled by a Risk and Regulatory Committee, an Index Policy Committee and an Equity Index Committee. The latter makes decisions on changes to methodologies and the creation of new ones, as well as maintaining the indices. "All of the committees are staffed solely by MSCI group company employees with extensive relevant experience. MSCI believes that its editorial and operational independence is critical to its objectivity, efficiency and avoiding conflicts of interest," says MSCI's website. The existence of several, separate committees guarantees independence of intellectual work and decision making.
"The decisions on inclusion and exclusion and weight changes are truly rules-based. We do not use any discretion"

Pavlo Taranenko
Similarly, S&P DJI's Index Committees serve as the index governance body within the company and oversee the design, maintenance, and publication of the company's indices. "All Index Committee members must meet specified core competency, tenure, and experience requirements," according to a S&P DJI spokesperson.
Index providers strive to show that their index governance processes are of the highest quality. Pavlo Taranenko, executive director for index research at MSCI, says: "The decisions on inclusion and exclusion and weight changes are truly rules-based. We do not use any discretion whatsoever. We have a very thorough process for the development of methodologies and regular review of methodologies."
Among the objectives of MSCI's index governance processes, says Taranenko, is to reflect the most up-to-date views of market participants on a given market. "For the China A-shares reclassification, we had a huge numbers of meetings and interactions with various market participants to understand their thoughts," he says. But, the ultimate challenge is to take into account all the factors that come into play, including market accessibility for foreign institutional investors.
"It is about identifying all the necessary details and balancing between being sufficiently proactive and reflect the opportunity set properly, and at the same time including in the index something that is accessible to the foreign investor, so that indices are replicable. That is the general philosophy," Taranenko says.
Intellectual property
Naturally, users of indices and other stakeholders are involved in the launch of new indices or changes to existing ones. However, as Taranenko points out, providers like to take ownership of methodologies. "Even when we take inputs from market participants who express initial interest or ideas in a new methodology, in the end it really become an MSCI methodology, because we put a lot of intellectual work into making sure that the specific methodology really works. We are happy to stand by the results," says Taranenko.
Robust governance is necessary not just to ensure the intellectual quality of an index provider's work. It also serves to identify and manage conflicts of interest arising from providing indices. Although the kind of equity indices provided by the three major players were not involved in the recent benchmark-related scandals and allegations, the potential is there.
FTSE Russell's Woods says: "Anything we do has to be cognisant of the conflicts of interest it may present. That includes our ownership structure. Since we are part of an exchange group, we have to recognise and manage the potential conflicts this creates. There may also be conflicts between desires of constituent companies in indices versus the desires of the users of those indices or of other stakeholders such as investment consultants. It is absolutely essential that we recognise and manage those conflicts."
Index providers maintain that commercial matters are kept strictly separate from index management decisions. The S&P DJI spokesperson says: "All S&P DJI employees on the commercial side of the business have neither access nor influence on the index committees' decision making. S&P DJI adheres to the IOSCO [International Organization of Securities Commissions] Principles and has done so since its inception, publishing our Management Statement of Adherence since 2014. We have had practices, policies and procedures that address many of the standards set forth in the IOSCO Principles, including by way of example, the separation of our commercial and governance functions as well as methodology transparency, long before the IOSCO Principles were published."
MSCI's Taranenko says: "There is a 'Chinese wall' structure within the company. Information on index methodology changes is shared on a need-to-know basis even within the Chinese wall. People outside the Chinese wall have no access to price-sensitive information. Confidentiality is critical because decisions are potentially sensitive and have a significant impact. Until announcements are made public, only a limited group of people who are involved in a given decision are aware of it. Decisions have to be made public at the same time for everyone."
FTSE Russell's Woods adds: "The entire governance process and arrangements we have in place are there to address the potential conflicts of interest and to ensure that all decisions are taken equitably, with the interest of clients' indexes and other stakeholders in mind."
The need for confidentiality on decision processes is not up for debate. Generally, investors seem content with the insight they get on methodologies and decisions concerning methodology changes. The European Benchmark Regulation, in theory, ensures standards of transparency on index methodologies. However, there are questions on whether index providers effectively have undue control over market participants' investment behaviour.
It is a complicated issue, linked to a debate on the role of benchmarks in active as well as passive investment. As Woods points out: "On one level, it is true that index providers are making investment decisions on behalf of passive investors. When it comes to inclusion of new stocks or exclusion of existing ones, we are indeed making important decisions. But, it should not be construed that we are taking control of strategies. We are largely responding to client demands when we create new strategies.
"Beyond everything, the index is either reflecting price movements in the market or an investment strategy that clients were already pursuing. As such, decisions are driven by clients' needs, rather than any view that we might have as to what might or might not produce investment returns."
Woods concludes: "We have to answer these questions. Indices grow in size and number, and indexation does have an effect on the market. That is why good governance is essential."
A new breed of index provider to challenge encumbents
Despite recording outstanding revenues last year, index providers are not known to be under pressure to reduce fees. Investors target asset management fees, including those charged by exchange-traded funds (ETFs), rather than index licensing fees, which are paid by managers. That is not to say that there is no competition among providers. The barriers to entry in the sector are high, but the three giants – S&P Dow Jones Indices, MSCI and FTSE Russell – are facing challenges.
Although the stature of the three brands is unrivalled, smaller providers can gain market share by competing on fees. One way is to charge fixed fees rather than ad valorem ones. Solactive, a 10-year-old, Frankfurt-based index provider, has risen to prominence thanks to this strategy.
Yet the company offers more than just a fixed fee alternative, says Steffen Scheuble, its CEO. Its strategic focus is on IT infrastructure, which allows Solactive to automate index management functions and empowering clients. Scheuble explains: "There is a standard way to adjust indices for cash dividends. Traditional index providers tend to use a single way. At Solactive, we have automated the many possible different ways to adjust for dividends. All the adjustments are carried out automatically by our IT systems." This is possible because of strong IT investment, of which Solactive pursues a higher ratio compared with other providers.
"In our philosophy, we believe index businesses can be run in two different ways. One is to focus on building a very strong brand, and charging clients a lot for using that brand. Another way, which is what Solactive does, is to invest heavily in IT and to implement an IT infrastructure that allows us to run an index in a cheaper way. Investment in IT gives us a cost advantage and therefore a competitive advantage", argues Scheuble. Clearly, Solactive's operating margin is lower than those of the main providers. But the CEO is confident that by keeping high levels of IT investment, and by spreading its message, Solactive will continue on its growth trajectory.
Solactive has attracted clients by offering 'thematic' indices, for example one tracking example companies that are active in the big data space. Scheuble adds that in areas such as emerging markets, Solactive's methodologies produce similar results to more popular indices, despite different methodologies. "Our methodologies are 100% rule-based. We classify some emerging market countries differently, but essentially we achieve the same results", he says.
Major index providers are also facing pressure from their biggest clients. Several ETF providers have begun compiling their own indices, a practice referred to as 'self-indexing'. This is an emerging trend that does not pose a threat, but shows that their position is being challenged.
State Street Global Advisors' $588bn (€481bn) SPDR ETF business is among those offering self-indexed ETFs among its US product range. Noel Archard, head of global product at SPDR, says: "Self-indexing is a tool that we can use judiciously when it makes sense to do so. If a firm believes they can bring a credible benchmark to the marketplace, based on their insight as an asset manager, that expresses a view that might be unique to them, then it might be possible to bring it to market at a more appropriate price point, as something that you wouldn't necessarily get from a third-party index provider. But we view self-indexing as a tool as opposed to an end state. The client ultimately chooses what benchmark they are running their portfolio against."
Self-indexed ETFs are growing in popularity in the US market, mainly among retail investors, whereas European institutions tend to be more benchmark-focused, according to Archard.
Indices and benchmarks: Let a million more flowers bloom
1

2

3

4

Currently reading

Governance: Big friendly giants