US Treasuries have slumped in value but still have the allure of a safe haven
Key points
• There is a 2%-plus differential between US and euro-zone rates, for the first time since before the financial crisis
• US Treasuries have slumped in value as a result of rate hikes by the Federal Reserve
• The cost of hedging dollar-denominated assets has increased as a result, making European bonds relatively more attractive, despite lower yields
• The exception may be for unhedged US exposure, but dollar volatility makes this a risky bet
Global markets were a one-way street in the years following the global financial crisis – loose monetary policy and ultra-low rates. Then global markets showed signs of getting off life support. As usual, the US was ahead of the cycle, its growth accelerating first. Add to this ultra-hawks taking control at the US Federal Reserve, and global monetary policies have begun to diverge.
As a result of stronger inflation in the US and divergent policies – US tightening, the euro-zone still hanging loose – there is now, for the first time since 2006, a 2%-plus differential between US and European rates (see figure).
In a recent commentary, Krishna Memani, CIO at US-based Oppenheimer Funds, said "higher rates are unlikely to be sustained", so the disparity may not be long lived. However, it seems a minority opinion. "With growth feeding through in the US," says Jon Jonsson, manager of the Neuberger Berman Global Bond Absolute Return fund, "that is not only supported, it will increase."
Three factors look set to drive rates higher, according to Guilhem Savry, head of macro and dynamic allocation at Swiss asset manager Unigestion: "First, the deficit to GDP ratio is due to go from 1.5% to 3.5% over the next couple of years." This is a result of the extensive stimulus package being rolled out in the US, unprecedented in a developed market in an expansionary phase. "We think this will add between 20 and 40bps to long-term rates," he says.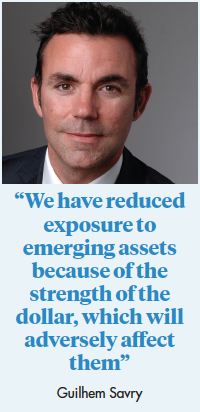 The other two factors are rising inflation expectations, which Savry estimates is responsible for half of rate increases, and the growth in the US economy. "In regard to inflation," he adds, "we're a strong believer in the effect of the Phillips Curve [which shows a trade-off between unemployment and inflation], and a tightening labour market will feed through to higher prices, as will a continuation of the commodity cycle."
This has had a substantial negative effect on US bond markets. US Treasuries are down more than 2% for the year to date, as yields balloon as a result and investors look to reduce duration across bond portfolios. US investment grade has been hit worse, down 4% for the year-to-date.
Contrasts with the European market are stark. Benchmark 10-year Treasuries are yielding more than 3%, compared with the German Bund at little more than 0.5%. To illustrate how much differentials have opened, the yield to maturity on euro-zone investment grade credit is under 1%.
Intertwined with the effect of rising rates is the changing demand situation for government and investment grade bonds, as the Fed first put the brakes on quantitative easing. Globally, central banks expanded their balance sheets by almost $2trn (€1.7trn) in 2016 and 2017. This year, that has been reduced to less than $500bn and in 2019 the figure is expected to turn negative. "So fixed-income markets will have lost a $1.5trn buyer of bonds, and the Fed is already reducing its balance sheet this year," says Jonsson: "This is a big change for fixed-income markets."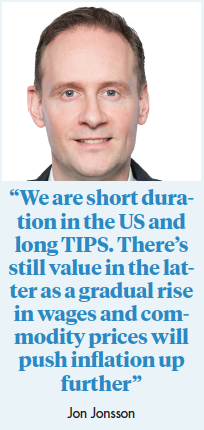 The US yield curve has steepened, with the long end underperforming, indicating rising inflation expectations and economic growth as investors compensate for inflationary losses on long-dated debt. "Strong growth, higher commodities and rising inflation will likely see the curve steepen further," adds Jonsson.
Will this lead to a bloodletting in US fixed-income markets? Yves Longchamp, head of research at Switzerland's Ethenea Independent Investors, says it is unlikely, given the safe-haven nature of the investment: "As this highly sought-after asset offers the highest returns among its peers, there is good reason to believe that a massive sell-off is unlikely." This, he says is because "the combination of 'too high' US rates and a 'too strong' US dollar dampen the worldwide growth and inflation outlook, the very reason why yields are increasing in the first place". Nevertheless, he still reckons that yields could rise to 3.5% this year.
Does the yield pick-up then represent a buying opportunity for European investors? After all, if the yield on the world's safest asset (in theory, at least) is more than three times what you get on European corporates, then the risk-return trade-off should be tempting. Well, yes and no.
"A 3% yield is attractive for euro-based investors, in particular in an environment where the dollar is strengthening against the euro"

Yves Longchamp
Longchamp frames the yes argument: "To get a 3% yield is attractive for euro-based investors, in particular in an environment where the dollar is strengthening against the euro. This could encourage investors to buy Treasuries unhedged, strengthening the dollar further." So it is a potentially good return in unhedged terms, depending on the movement of the dollar. And that is far from being a one-way bet.
Unhedged, it is a different story, and, in contrast, makes European bonds attractive to foreign buyers. One consequence has been a flow out of US investment grade into high yield. Many investors are constrained from doing this, however, and are looking to reallocate to investment-grade assets elsewhere. "Japanese investors, big buyers of US credit, are reallocating to the European market," says Jonsson.
Savry agrees that the cost of hedging exposure to US assets is "very high" at 3%-plus. "That represents a negative cost for non-US investors, and so a great opportunity to buy European bonds and hedge back into dollars for US investors," he says. "That's the reason why we are seeing flows out of US fixed-income assets into European." This, in turn, should see European yields squeezed even further, and could widen the spread in the chart further still.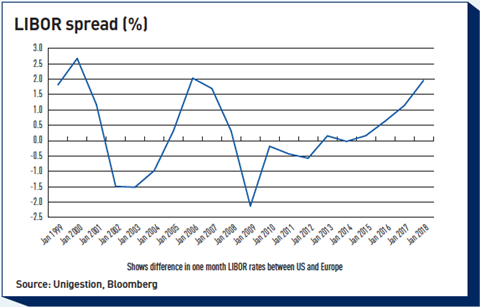 Such market movements are causing substantial shifts in European portfolios. Jonsson says that his Neuberger Berman fund has reduced its US credit exposure substantially: "We are short duration in the US and long TIPS [Treasury Inflation Protected Securities]. There's still value in the latter as a gradual rise in wages and commodity prices will push inflation up further. Any further rally in the dollar would have a negative effect on this, but we don't think this has much more to run."
Unigestion, too, has lowered duration, according to Savry, alongside increasing allocation to real assets, as inflation hedges, and break-evens – the difference between the yield of a nominal bond and an inflation-linked bond of the same maturity. "We have reduced exposure to emerging assets because of the strength of the dollar, which will adversely affect them," he says: "There were major inflows into EMs [emerging markets] last year, which will begin to unwind as a result of these pressures."
Longchamp agrees: "The first effect we observed in recent weeks when the yield passed above the 3% mark was a strengthening of the US dollar. This is a toxic combination for many emerging countries, whose debts are denominated in US dollars."
Given the massive expansion of EM debt over the past five years – more than any other asset class – the US rates story may have its biggest impact there. For European investors in US fixed-income, the base rate differential is likely to remain a deterrent, unless they are happy to take on the currency risk.
Government Bonds: Attractions on both sides of the pond
1

Currently reading

Government Bonds: Attractions on both sides of the pond

2

3