A taxonomy for sustainable investments is a key element of expert proposals
Key points
• The EU's Sustainable Finance Action Plan is deliverable by 2019
• A 20-member high level expert group has recommended a "robust classification system" for green investments
• It has also called for integration of ESG in investment decisions
The European Commission (EC) took an ambitious step when it published its Sustainable Finance Action Plan in March. Some aims underlying the plan involve no less than a reform of the financial system so that it can "address the lessons of the financial crisis".
The idea is that finance will contribute to sustainable and inclusive growth, and will incorporate ESG factors into investment decision-making. In practice, this means taking climate risk into account, mitigating climate change and environmental degradation, building environmental and socially responsible industries, and integrating longer-term perspectives into conventional financial structures such as standards, mandatory disclosures and accounting. All the action in the plan is due by 2019. The package of measures includes:
• An EU-wide classification system (taxonomy) to provide businesses and investors with a common language to identify what economic activities can be considered environmentally sustainable.
• A new benchmark category for low carbon and positive carbon impact benchmarks.
• A harmonised EU approach to the integration of ESG risks and opportunities in the procedures of institutional investors, asset managers, insurance distributors and investment advisers.
• A request to the European Securities Markets Authority to include provisions on sustainability preferences in its guidelines on suitability assessments made when investment firms evaluate which products are 'suitable' to meet their clients' needs. This is aligned with requirements MiFID II and the IDD that firms evaluate which products are 'suitable' to meet their clients' needs.
The plan followed a campaign by executives from financial organisations, which led to the establishment of a group of experts to produce recommendations. Insurer Aviva, which was represented in the group, is one company that claims to have influenced the EC. "We were delighted when the European Commission subsequently set up a High-Level Expert Group (HLEG) on Sustainable Finance," says Patrick Arber, senior analyst of global public policy at Aviva. Sustainable finance is not the only topic addressed by an HLEG. For example, another HLEG has been formed to consider and make recommendations on artificial intelligence, for instance. Another has been set up to look at pensions.
Campaigning pays off
As a result of campaigning by finance organisations, the commission also included a significant section on sustainable finance in the Capital Markets Union (CMU) interim report, although its initial report included very little on the matter.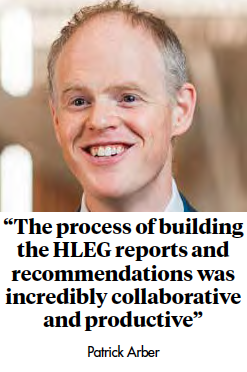 The sustainable finance HLEG consisted of 20 senior experts from civil society, the finance sector, academia and observers from European and international institutions. The 12 members from the finance field included representatives from banks, stock exchanges, pension funds, asset management, insurance and ratings companies across the EU.
The HLEG, all of whose recommendations are adopted in the EU Sustainable Finance Action Plan, called for a technically robust classification system at EU-level to provide clarity on what is 'green' or 'sustainable' – more commonly known as the sustainability taxonomy. A second HLEG recommendation was to clarify that asset managers and institutional investors should integrate ESG factors in their investment decision process and enhance disclosure to their end clients in that respect.
It also recommended that investment preferences of end investors on sustainability objectives be taken into account along the investment chain and in the advisory process. Another recommendation was on benchmarks, for which, in the HLEG's view, greater transparency and guidance on sustainable benchmarks is needed.
Aviva is one of the organisations that says it pioneered the idea. The company has been advocating for sustainable capital markets for several years. In 2014, for example, it published a Roadmap for Sustainable Capital Markets. This was aimed at UN policy makers and encouraged them to harness capital in the markets to help them achieve the Sustainable Development Goals (SDGs).
It also produced a Sustainable Capital Market Union report, which was aimed at EU policy makers and advocated that the CMU be sustainable. The company had been promoting sustainable finance through public events, roundtables with policy-makers and industry, bilateral meetings with EU policymakers; and insurance trade association discussions.
Aviva's Arber says a few items could have been better emphasised by the Commission, such as the effect of (sustainable) finance on the average citizen. For example, he contends it could show support for measures such as the World Benchmarking Alliance, which will build free public league tables on the performance of the world's largest companies in delivering the UN's Sustainable Development Goals. "The process of building the HLEG reports and recommendations was incredibly collaborative and productive, both between the experts and with the able support of the Commission," he says.
HLEG proposals
• A classification system, or 'taxonomy', to provide market clarity on what is 'sustainable'
• Clarifying the duties of investors when it comes to achieving a more sustainable financial system
• Improving disclosure by financial institutions and companies on how sustainability is factored into their decision-making
• An EU-wide label for green investment funds making sustainability part of the mandates of the European Supervisory Authorities (ESAs)
• A European standard for green bonds