Is the sell-off in high-yield bonds an indicator of broader weakness, or an opportunity for contrarians to pick up yield? As Christopher O'Dea reports, the story is a bit of both
At a glance
• The summer sell-off dashed the enthusiasm of yield-starved investors for high yield bonds and returned the market to fair value.
• That has created pockets of opportunity in certain sectors and rating tranches for investors willing to sift through company balance sheets and bond covenants.
• But the market already expects defaults to rise in the next 12 months, and that could portend a five-year period of above-trend defaults.
• The high-yield market developed during a period of declining interest rates – and the onset of rising rates will take the high-yield sector into uncharted waters that could boost innovative high-yield strategies.
The summer sell-off in high-yield bonds returned the sector to territory that had become unfamiliar – fair value. And while some investors and fund managers see opportunity in specific sectors and rating levels of the high-yield market, there is growing concern that the sell-off is just the first phase of a longer adjustment process in the market for credit to riskier, growing companies.
Based on historical metrics, the adjustment process could be protracted – and painful to investors that venture into the high-yield market before companies restructure their operations and capital structures to reflect slower growth and rising rates. High-yield bonds emerged as a distinct asset class in the early 1980s, at about the same time interest rates began their long decline. With only one brief period between 2004 and 2006 to provide a guide to the behaviour of lower-rated credit when rates rise, the end of the decline promises to send the high-yield market into uncharted waters – and potentially boost innovative strategies that can capture the junk bond credit spread with minimal exposure to interest rates.
The sell-off marked the end of a boom in high-yield issuance. According to data from Bloomberg, by mid-2015 companies had sold $2.3trn (€2.1trn) of high-yield bonds in the US since the start of 2009, as investors sought higher-yielding assets while the Federal Reserve held interest rates near zero in its effort to pull the global economy through the financial crisis. High-yield bonds gained nearly 150% during that period, according to the Bank of America Merrill Lynch US High Yield index.
The retreat took high-yield debt back to fair value. With market risk at present levels, US high-yield bonds are fairly valued when the option-adjusted spread (OAS) of bonds in the Bank of America Merrill Lynch US High Yield index is 571 basis points over Treasury yields, says, Martin Fridson, chief investment officer of Lehmann Livian Fridson Advisors, which specialises in income portfolios.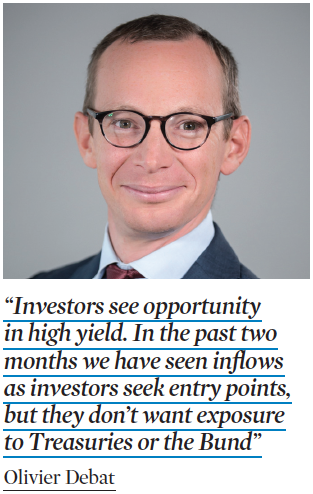 Fridson generates a monthly fair value estimate for the index's OAS based on five variables that explain 82% of the historical variance in the spread. By late September, the spread of 598bps indicated high-yield bonds were slightly cheap, Fridson says. "High-yield bonds have been extremely overvalued in 2015," Fridson says. The retreat left the market "at fair value for really the first time since a brief period in January".
The turmoil has created more opportunities in high-yield bonds than at any time in the past three to four years, on both the long and short side of the market, says Craig Ruch, a portfolio manager at MatlinPatterson, which manages $7.5bn in assets. "There's money to be made in credit," he says.
In energy, commodity-related and emerging market names, "there are definitely a lot of short ideas", Ruch says, and the macro environment will continue to exert pressure on those hard-hit sectors. Many investors thought energy production would be cut rapidly last year as prices fell. But as oil prices dipped into the $40 per barrel range – and Goldman Sachs predicted crude could fall as low as $20 per barrel – reality set in and junk bonds of energy issuers tumbled. "The optimistic case is slowly melting away to a view that prices could stay low for an extended period."
While "it's tough to find a high-yield bond that's not down for the year", Ruch sees opportunities in first and second-lien high-yield debt from US issuers with B and BB ratings. While not able to disclose specific names, Ruch says some bonds in the telecom, pharmaceutical, homebuilding and services sector offer value. "These are areas of the market that aren't directly related to energy, but have been depressed" by the rapid decline of prices on energy and commodity-related bonds. "You can find well-covered bonds, with asset protection, with reliable 8% to 9% yields," he says. Prices could dip slightly, he says, "but there's little downside and you can sleep at night".
But high-yield investors will not be able to rest for long. The inherent risk of investing in bonds of faster-growing or speculative companies long suppressed the willingness of yield-starved investors to buy risky debt even at lower than normal coupon rates. But it has returned to centre stage.
Even as fund managers went bargain hunting, weakness had begun to spread beyond the energy, mining and commodity sector, says Joy Ferguson, a high-yield analyst at S&P Capital IQ Leveraged Commentary and Data (LCD). "More sectors are being affected," Ferguson says. The technology, media and telecoms (TMT) sector started to feel the pain in mid-September, she says, with Moody's two-notch downgrade of Sprint's credit rating, from B3 to B1 for the company and Caa1 from B2 for senior notes.
Some analysts expect ripple effects. "The trends are definitely negative," says Michael Lewitt, founder of Credit Strategy Group, an investment firm that publishes The Credit Strategist, an institutional advisory service. Global economic weakness that first affected companies dependent on Chinese commodity demand is beginning to bite – enough so, that the basic industry sector of the Barclays High Yield index reached an 11% yield late in the third quarter, matching the energy sector. "Credit is telling you there are problems in the economy, and in these companies," says Lewitt. "They can't borrow at these low rates forever."
Companies that need to refinance outstanding debt in the next several years are most at risk, Lewitt says. The current run of below-trend default activity stretches nearly six years since the credit crunch crested in December 2009, and may be drawing to an end, according to S&P Capital IQ LCD. Since the modern era of high-yield finance began in the mid-1980s, two prior periods of low defaults on high-yield bonds ran for six years, and one such period lasted eight years.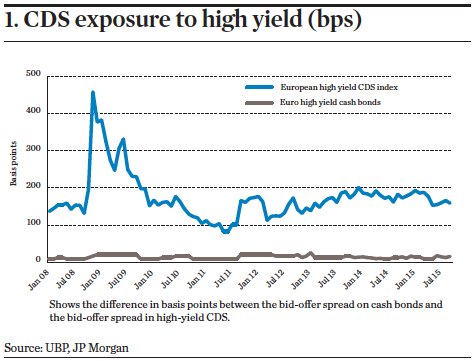 In fact, says Fridson, the market is predicting the high-yield default rate will rise to 4.8% over the next 12 months, higher than the 3% rate projected by credit rating agency Moody's. "That a pretty sizable gap," he says. Moody's lower rate is a function of the quality mix of outstanding high-yield bonds, he says, and tends not to capture the impact of a sector in recession. When the credit cycle turns negative, says Fridson, the high-yield market typically suffers a period of four to five years in which the default rate runs at 6-7% annually, compared with the 4.5% average rate. That means about 30% of the high-yield debt outstanding at the start of a stress period could default. "It's not out of the question that 2016 could be the start" of the next default wave, he says.
The onset of rising rates will take the high-yield sector into uncharted waters, says Fridson. Since the high-yield bond market developed in the early 1980s, the Fed raised interest rates in only one period, from March 2004 to June 2006, which lifted Treasuries from 3% to 5.34%. High-yield B and BB rated issues suffered principal losses during that period, but posted positive total returns of 6.88% and 4.75%, respectively. "There's no guarantee it'll work the same way," Fridson says, "but it's the best basis for comparison."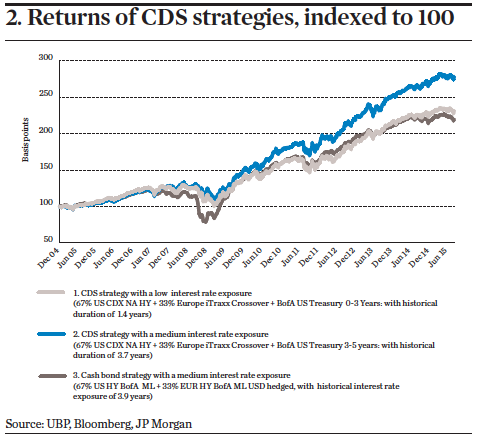 To capture the spread over sovereign debt that high-yield bonds pay because of their lower credit rating, without taking interest-rate exposure or single-bond risk, Union Bancaire Privée (UBP) in 2010 launched a global high-yield strategy using credit default swap indices. The strategy consists of baseline allocations of 67% to the US CDX High Yield index and 33% to the European iTraxx Xover index. The over-the-counter indices involve no counterparty risk, as they are cleared through ICE Clear Credit, the Commodities Future Trading Commission (CFTC) and Securities and Exchange Commission (SEC) regulated subsidiary of publicly-traded IntercontinentalExchange. Index positions are unfunded, and invested assets are invested mainly in short-term Treasuries, leaving residual exposure to 1.5-year US Treasuries.
Now ranked as the top strategy over one year, three years and since-inception in a universe of 50 global and US high-yield funds by Bloomberg, the $3.8bn UBAM Global High Yield Solution delivers just over a 6% yield through a fund vehicle that offers institutions daily liquidity to tailor high-yield exposure to their current outlook.
With rates set to rise, the strategy looks well suited to capture high-yield spreads without exposing investors to interest rate levels (see figure 1). And with high-yield bond defaults likely to increase as well, the use of credit default swap (CDS) indices provides exposure to high-yield returns without paying the illiquidity premium that's priced into the sector's bid-offer spread on cash bonds (see figure 2). "Investors see opportunity in high yield," says Olivier Debat, senior investment specialist, global and absolute return fixed income at UBP. "In the past two months we have seen inflows as investors seek entry points, but they don't want exposure to Treasuries or the Bund."