This year high-yield investors will have to weather not only the winding up of quantitative easing but additional political challenges
Key points
The European Central Bank's asset purchase programme is ending
Demand for high-yield debt remains low
Default rates are expected to be low
Italy could be a greater risk for the market than Brexit
The announcement by the European Central Bank (ECB) that it would end quantitative easing (QE) at the end of 2018 could have far-reaching consequences. They go well beyond the investment-grade bonds and government bonds that were within the scope of the bond purchasing strategy. The ECB has been purchasing corporate bonds for almost two and half years. The end of this programme could result in higher borrowing costs for high-yield issuers who had benefited from the QE-induced tightening of spreads. Indeed, the objective of QE was to encourage investment in riskier assets.
Should high-yield investors be concerned about QE ending?
Naturally, QE had the greatest impact on European government bonds, particularly German Bunds where investors are seeing negative nominal yields going out to five-year maturities. On the corporate-bond side, Chris Higham, a senior portfolio manager at Aviva Investors, points out that the ECB has been active in the primary and secondary markets.
The ECB had been purchasing on average 20% of all new primary issuance in the investment-grade market. Consequently, it has been a substantial player and a large new marginal buyer in the market. As a result, investment-grade investors had been dipping into the high-yield market, particularly BB-rated bonds, says Marina Cohen, head of European high yield at Amundi.
A big theme of 2018 was the transition from QE to what is envisaged to be a period of quantitative tightening (QT) as the ECB unwinds its positions. "QT has so far been mainly a US phenomenon, but with the ECB announcing the end of its QE programme, and with market expectations that it will be increasing interest rates by late summer 2019, we are seeing the turning point for the QE/QT transition," says Higham.
The ECB tapering of QE explains why BB-rated bonds underperformed in 2018. "Clearly we have seen investment-grade investors have sold part of their exposure to European high yield, giving rise to higher volatility," says Cohen. She adds that the European high-yield market has already experienced two years of outflows with about 7-8% in 2018 and a similar level for 2017. So some investors are already repositioned for the end of QE.
In 2019, Cohen foresees investment in high yield by investment-grade investors as limited. She does not expect inflows, so envisages that the technicals will not be supportive of the market, and as a result expects more volatility in 2019 than last year.
Moody's, however, is more positive. In November the credit rating agency said even at the near-record issuance in 2018, investor demand was higher than deal supply. It expects this will remain the case in 2019, although perhaps tempered by the end of the ECB corporate bond purchase programme.
Has the ECB been successful in its QE programme? Would yields still be where they now are regardless of QE? This is an interesting question, says Higham. He points out that while government bond yields have been lowered by QE, corporate bond spreads were low even before the ECB started buying. "The US Fed is unwinding its balance sheet, but they were much more proactive in their response to the global financial crisis, they instigated QE much earlier and they have undertaken many other actions that Europe has not done, such as injecting capital into banks, so the US is much further down that path."
The problem, though, is that while the ECB instigated QE to lower bond yields to encourage business investment and consumption, it has had limited success. An important reason for this, argues Higham, is that the political uncertainties in Europe, including possible Italian elections and Brexit, have not encouraged 'animal spirits', despite the opportunity to borrow money at close-to-zero levels of interest. "The train is now in motion with central banks across the globe, apart from in Japan, winding down any QE programmes, but that is not to say there is not a chance that they will reintroduce the policies at some point if needed."
The main risk for US and European high-yield investors is a slowdown in growth, and the risk associated with central banks is that their actions may be wrong or come too late. Moody's forecasts that the ECB's policy rate will approach 1% from the previous 0%, and the Bank of England's (BoE) rate will approach 2% from 0.75% over the next three years. However, it adds that there is a risk of contagion from more aggressive policies in the US that could dampen investor confidence. "If the ECB decides to increase rates in summer 2019 and growth is much slower than currently expected, it could be an issue," says Cohen.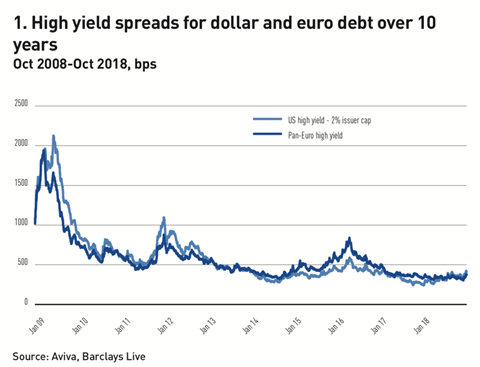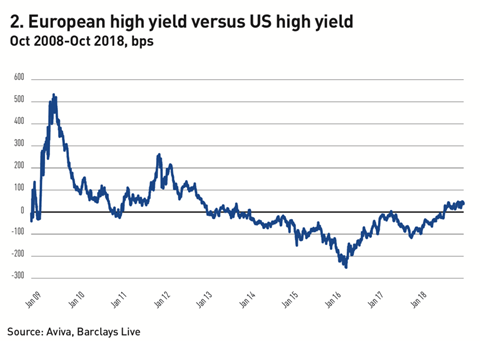 The US Federal Reserve faces similar risks. There has been a rate increase already but the US economy is strong, so it is arguably justified.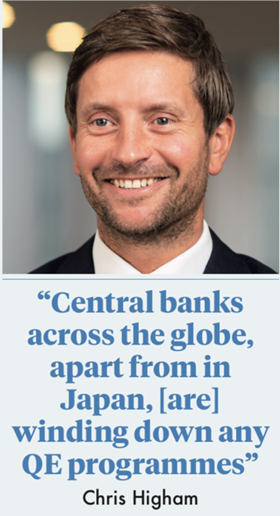 At the end of November, high-yield valuations looked attractive with spreads widening by more than 130bps since the beginning of 2018 and default rates have remained low. Moody's forecasts that the European high-yield default rate will stay at about 2% in 2019 and liquidity will remain strong.
The financial data is supportive for European high-yield issuers, says Nolwenn le Roux, head of satellite credit at Ostrum Asset Management. "Leverage is still limited amongst high-yield bond issuers although it is increasing amongst borrowers of loans driven by demand from CLOs [collateralised loan obligations] and supply from LBOs [leveraged buy-outs] who can access all the funding they need from loan markets without having to tap high-yield bonds." As a result, the high-yield bond market is seeing companies with moderate leverage and interest cover improving.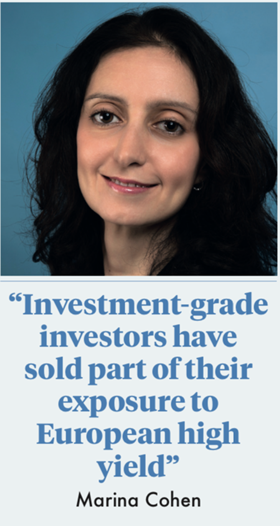 Companies have taken advantage of a strong primary market by issuing new debt at lower coupons and longer maturities to repay existing debt. So there is limited amount of bonds maturing in 2019 and 2020 and less requirement for refinancing, which reduces default risk.
Investors face not only the end of QE but political challenges in 2019, particularly Brexit and possible Italian elections. A no-deal Brexit would impact high-yield issuers more than investment-grade, argues Higham. They have a speculative grade rating for a reason as they tend to be smaller companies in more cyclical industries operating with higher leverage in sectors like autos, chemicals, paper, and packaging, which are all likely to be hit by disruptions in supply chains and just-in-time manufacturing. Italy raises potentially more serious risks.
"If Italian banks are in difficulty, it could harm the whole banking sector in Europe and hence European growth so that the QE programme could have been done for nothing," says Cohen. The future actions of the ECB might still prove to be critical for high-yield investors.
High yield: Coping with a new environment
1

Currently reading

High yield: Coping with a new environment

2

3