Martin Steward finds the diversity of high yield reflected in three very different kinds of risk run behind similar-looking headline exposures
The performance numbers from Mercer 's universe of US high yield portfolios hint at the turmoil in that market in the second half of 2014. Of our three featured strategies, one top-two contender over three years gave a huge amount of relative performance back during Q4, slumping to 133rd out of 142 portfolios; and another, which just squeaks into the top quartile over the longer time horizon, shot to the top of the charts.
Do the respective credit-quality exposures of these portfolios explain their six percentage point dispersion in Q4? Both are underweight the highest-rated, BB part of the high-yield spectrum, overweight single-B, and underweight CCC and below, but the Manulife Asset Management portfolio is undoubtedly more aggressive than that held by MFS Investment Management (see figure on page 75). Nonetheless, they both report exactly the same portfolio-level yield-to-worst, at 6.3% – not far off the market yield. There is clearly something more strategic in their differences.
David Cole, investment officer and portfolio manager at MFS, insists that only something approaching equity-level returns can compensate for the "notably asymmetric" risk of high yield – and yet he also warns against stretching for yield. "We believe that when you own the riskiest part of the market all you do is add volatility, with any extra yield given up through credit and downgrade losses," he says. "Therefore, this portfolio may be a bit more conservatively positioned than some others. Having said that, we will be opportunistic with the riskiest part of the market – and given today's lack of market intermediation, we want to be in a position to provide liquidity when the market needs it."
When spreads compress MFS will resist the temptation to drift down the quality spectrum, preferring to stay in the more solid parts of the market until a sell-off presents better value. While it shares the consensus underweight in BBs, it holds more bonds there than its peers and is happy to hold on to names that have been upgraded into BBB, like Kinder Morgan. This is why the strategy tends to languish on the cusp of first and second-quartile performance and can lag its peers for months at a time.
"That was certainly the case during 2013 and into the beginning of 2014," Cole concedes. "The only reason to own CCCs then was for carry and that is absolutely the wrong reason to own CCCs. We are willing to under-yield the market at the top of the cycle because we think we make all of that up plus some when the market turns. When we had the US downgrade and debt ceiling issues in 2011 we posted very good relative performance, and again in 2012 when we had the euro-zone problems. The 'tale of two halves' nature of 2014 really helped our investors appreciate our 'through-the-cycle' approach: we made up all of the underperformance of the first half of 2014 in the second half."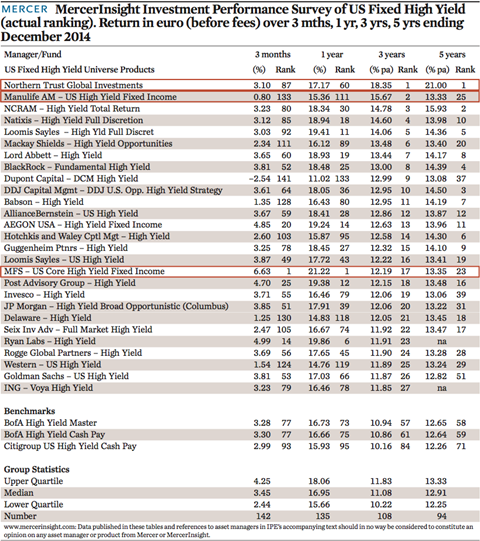 This is quite different from the deep-value, contrarian, catalyst-oriented approach pursued by the Manulife team. Its portfolio tends to focus on one of two types of opportunity: downgraded issuers that have a clear path back to cash generation; or bonds likely to be upgraded because of corporate acquisitions.
"We are really trying to isolate execution risk in these companies," explains John Addeo, managing director and portfolio manager. "We will be looking for a roadmap from management that shows us that they are not putting the company at risk and have a path back to de-leveraging through free cash-flow generation."
A good example of the first type of opportunity was General Motors, where Manulife traded against the negative sentiment on both the firm and its industry, initially in preferred shares that were refinanced in 2013, and later in both unsecured bonds and common equity, where it still holds positions in anticipation of a return to investment-grade rating.
But, of course, that deep-value, contrarian bet was the product of a trough in the credit cycle. "Back in 2009-11 we were significantly overweight CCCs but as the credit cycle has elongated we have moved up the spectrum somewhat," says managing director and portfolio manager Dennis McCafferty.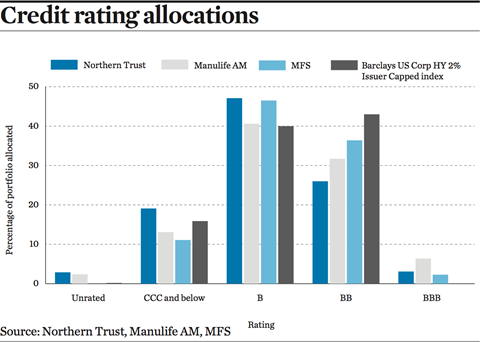 The M&A-related opportunities tend to dominate the portfolio near the top of the cycle, where we appear to be today. The search for acquisition targets informs the overweights in sectors like pharmaceuticals and wireless. Two notable recent successes for the strategy have been the chemicals company Rockwood, acquired by Albemarle, which assumed Rockwood's debt, leading to an upgrade; and oil and gas pipeline company Access Midstream Partners, acquired by Williams Partners. "The hunger for yield in the investment-grade market means these upgraded bonds get a significant boost," says Addeo.
Energy
And so, despite a clear difference in their natural appetite for credit and value risk, strategy differentiation still does not account for the extent of dispersion in Q4 returns, because it is at this point in the cycle that these two strategies most resemble one another.
Not surprisingly, it is in energy sector positioning that we find the key determinant. The headline sector allocations do not tell the story – both strategies were neutrally-weighted in 2014 (and indeed Manulife is now meaningfully underweight). But exposure within the sector contrasted sharply.
"In June 2014 we were neutral energy in terms of capital, but on a risk basis we were slightly overweight," explains Addeo. "We were underweight the midstream and processing sub-sector because it's higher-quality and doesn't offer enough yield, and we were overweight both E&P [exploration and production] and services. That positioning was a little more aggressive than a benchmark's would be, and then the 2014 interest rate rally benefitted the higher-quality, longer-duration midstream issues, too."
It was the exploration and production firms and, especially the oil and gas service companies, whose bonds were ravaged as the oil price plummeted. In contrast with Manulife, MFS came into that period slightly underweight E&P, and substantially underweight service companies and overweight midstream pipeline providers. "One of our key portfolio biases is towards quality long-term assets with fairly fixed, predictable cash flows, and within energy the pipeline providers fit that bill," explains Cole.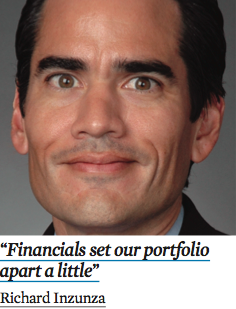 The Kinder Morgan bonds MFS holds were an important part of this tactic, bought at spreads of 300-plus basis points and upgraded as a number of MLPs [master limited partnerships] were rolled-up into Kinder Morgan Inc itself: the day of the consolidation saw the bonds rise by 15 points, Cole recalls. Where MFS did own E&P it was through names like Athlon Energy, whose bonds got a boost after being acquired by Encana in Q4 2014.
So what was Manulife's thinking in energy in the second half of last year? Addeo admits that his team agreed with the high oil price consensus, but adds that positioning was based not on that, but rather on individual asset quality, the potential for cash-flow growth and de-leveraging, and for industry consolidation – the cornerstones of the Manulife high-yield philosophy.
"The smaller players go in and consolidate acreage, taking on the geological and drilling risk, and when they have de-risked those assets they often find their way into better-capitalised strategic businesses," Addeo explains. "Of course, given the precipitous decline in the commodity price that argument is probably off the table for now, but even so we think we did a good job of identifying good assets – diversified in terms of hydrocarbon-type, with good reserves in the right basins, owned by companies with good hedges and revolving credit to maintain liquidity."
As a result of that good credit work, Addeo says that most of what Manulife held has bounced back during the first quarter of 2015. However, he says that presents the team with a dilemma. Some of Manulife's energy bonds have risen by 10-20 points while the oil price has merely stabilised. Has the market run ahead of itself?
Addeo thinks it might be a good idea to sell into current inflows on a few of Manulife's riskier bonds, not least because he believes that the oil price shock has probably damaged some balance sheets. A number of companies' revolving credit facilities have been reduced because the assets supporting them have lost so much value, and they are choosing to replace them by issuing secured bonds.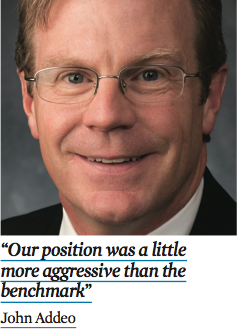 "That will enhance short-term liquidity, but once they've tapped the secured bond markets to their limits there's no obvious plan-B for re-liquifying should commodity prices stay low," he warns. "In many cases they are so desperate to keep the fire going they've started burning the furniture. They'll do anything they can to maintain liquidity, and holders of unsecured bonds may see a significant layer of secured debt put in front of them in the capital structure over the next few weeks."
Much the same logic is behind the decision by MFS to sell into the 2015 wave of liquidity to realise quick profits on some beaten-up bonds they picked up at the end of last year. "We were able to sell some of our higher-quality assets, like Concho and Range Resources, in exchange for the mid-tier quality range that were down 20-25 points, names like Sanchez Energy and EP Energy," says Cole. "But some of these bonds have recovered most if not all of their former value, and WTI has not recovered much at all."
Similar views again are heard from our top-ranked strategists over the three-year horizon at Northern Trust Global Investments. They, too, got hit in the turmoil of Q4 2014, although not nearly as hard as Manulife. Like MFS their positioning within energy was to favour midstream and refiners over E&P and servicers, complementing an underweight in resources sectors in general. But while MFS took some tactical value bets at the end of last year, Northern Trust has so far stayed on the sidelines, citing the same issues brought up by Addeo at Manulife.
"We think there is more volatility to play out in terms of the oil price itself but also in terms of issuance of secured paper that will subordinate existing unsecured bondholders," says senior fixed income portfolio manager Richard Inzunza. "The first of that senior secured issuance came out from Comstock Resources at the end of February. We're not going to be underweight forever but that's our current call, and it's probably the biggest risk in the portfolio. We are looking at some of that coming volatility as potentially an opportunity to close some of our short position."
Financials
If we compare the Northern Trust portfolio's headline credit-ratings allocation with the other two, it looks to be the riskiest. In terms of yield, it clocks in, like the others, at a market-level 6.3%.
To understand the different attitudes to risk at play, take a closer look at the BB segment of the Nothern Trust portfolio next to that of MFS. The former has a much bigger active position in place: Inzunza points out that this part of the market not only yields just 4.5%, leaving anyone with market weight the considerable challenge of making up 150-200 basis points from the rest of the universe just to stay with the benchmark; it also introduces significant interest rate risk at today's tight spreads.
"Looking back at the rates-related sell-offs in high yield recently, it didn't matter if you were holding very high-quality BB paper, it can sell off by 10 or 12 points," he warns. "It doesn't work like mathematical duration in investment grade, because there simply isn't a bid for it."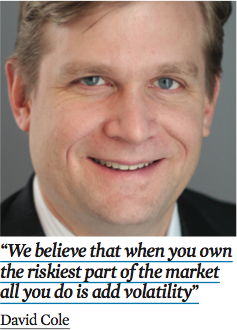 Cole at MFS concedes that these sell-offs hurt his portfolio during 2013, but adds that "if you spend too much time worrying about interest rate sensitivity you don't get the benefit of securities that can protect you when credit sells off", as it did at the end of 2014.
But in addition to the big underweight, what Northern Trust does hold in BBs is telling, too. It has a big, almost eight percentage point overweight in financials – a lot of which is the subordinated contingent capital issued by European banks over recent years. This has been a marked outperformer and much less interest rate sensitive than your average BB paper.
"This sets our portfolio apart a little," says Inzunza. "Financials hasn't been a real high-yield sector, historically, but our research analysts are grouped by sector rather than by market, so they look at both investment grade and high-yield issuers, and using the expertise of our three financials analysts we have always been a material player in a lot of the subordinated paper that has come to market. I look at it as taking a deeply-subordinated position in A-rated global banks and insurance companies. Relative to the little high-yield companies I'm used to dealing with the underlying business risk is much lower, but I'm still getting a high-yield return because of the subordination."
As with the energy sector, it is not the financials weighting that sets Northern Trust apart – Manulife runs a nine percentage point overweight and MFS has a decent holding, too – but rather the choice to favour European 'CoCos', yielding in the 7%-plus range, over US preferred shares that yield 5-6%.
By contrast, McCafferty at Manulife says: "We certainly think there is a much higher margin of safety with banks in general thanks to all of the post-crisis regulation, but we are most familiar with the US market and we think the margin of safety is higher there."
And Cole at MFS agrees. "We have dabbled in some European banks, but we feel that the structures from the US banks are a little more creditor-friendly than the AT1s and CoCos from Europe," he says. "The market increasingly started to price these as a spread pick-up relative to senior when we think they ought to be priced more like equity. We would worry that if and when the first AT1 gets triggered it would just highlight the risks that investors are mispricing right now."
To sum up, one could say that all three of our featured strategists have been taking fairly big risks – risks that show up clearly in the performance numbers for 2014. If Northern Trust has been seeking risk in subordinated European financials, Manulife has been seeking it in some of the more oil price-exposed parts of the energy sector and MFS in the interest rate risk that comes from the most solid credits. It is clear which positioning was best suited to the tumultuous conditions of 2014 – but that kind of history rarely repeats itself in such short order.
Oil price impact on high-yield
1

2

Currently reading

High Yield: Oil, banks and rates

3