How do independent advisers measure the overall performance of fiduciary management mandates and how do their approaches compare? Charlotte Moore reports
At a glance
• Benchmarking the service of a fiduciary manager is good practice in assessing the provider's long-term performance
• Fewer than 20% of UK schemes do so, despite the rise of fiduciary management.
• It is important to choose an independent adviser.
• The level of delegation and control of the fiduciary is important.
• Peer group comparisons will be facilitated by the development of central model portfolios by fiduciaries but it is important to select the right peer group.
• Alongside performance, alignment of interest, communication and innovation are also important metrics.
Managing a defined benefit pension scheme has become a highly complex business. This has driven many to hire a fiduciary manager because they see a professional investor as better qualified to take on the myriad complexities of modern portfolio management than their previous arrangements.
Like every other outsourcing agreement, however, it is not a case of 'set and forget' – performance of the fiduciary manager has to be regularly reviewed to ensure it is delivering what it promised.
It is especially important to regularly assess these contracts because the financial sustainability of a pension scheme affects both members' benefits and the financial strength of its sponsoring company.
The complexity of running a pension scheme, however, makes it much more difficult to assess the performance of a fiduciary manager, so it is a hard task for a company or a board of trustees to undertake on their own.
While most sponsors are likely to have their own in-house IT experts, for instance, who have the necessary expertise to assess whether an outsourcing provider is making its goals and targets in that area, many company schemes lack in-house pension and investment expertise. Indeed, this is often the reason for appointing a fiduciary manager in the first place.
A solution is to hire a third party to assess the performance of the fiduciary manager, but few schemes actually do this. Anthony Webb, head of fiduciary research, at KPMG UK, says: "Our research shows that less than 20% of schemes in the UK currently employ an adviser to help them to assess the performance of their fiduciary manager."
Pension schemes should ensure they choose an independent adviser to assess the fiduciary manager's performance. Paul Boerboom, managing partner at Avida International, says: "Independence might sound like a cliché but it's an important cliché."
"To accurately assess a fiduciary manager, the adviser has to understand the market," says Boerboom. That includes an understanding of best practice for different pension schemes. A thorough comprehension of the solutions is also vital. A grasp of pricing, liability terms and contracts, as well as negotiating skills, are also important.
Not only do schemes lack the necessary expertise to assess the performance of a fiduciary manager, the exercise is also much more complex than simply benchmarking an equity manager to an index. Webb says: "At first glance, it seems a simple task, as the principal aim of a fiduciary manager is to reduce the funding deficit and to help the pension scheme to achieve its goal of buyout or sustainability."
But look a little deeper and a number of complexities emerge. "Not only does every scheme have a different structure but the way it interacts with its manager is also unique," Webb adds. The fiduciary manager might be allowed a high level of control or it could be quite constrained.
Before assessing how a fiduciary manager has performed, their level of control needs to be taken into account. "A manager can't necessarily be blamed, for example, for not correctly setting the level of interest-rate hedging if they were not given this remit," Webb continues. "To assess whether a fiduciary manager is performing well, a scheme needs to understand all the roles it is performing and how much control it has over each role."
An evaluation also needs to be made about how skill has been involved in the manager's performance. Nikhil Radia, investment consultant at Hymans, says: "A manager might just have been lucky." This can only be appraised by having an in-depth understanding of how each fiduciary manager works, says Radia. For example, how much does the manager rely on short-term tactical moves to generate returns versus long-term strategic aims?
Then the scheme needs to understand how each of those roles contributes to overall funding level. "Only when all of that analysis has been completed can a scheme form an accurate assessment of its manager," Radia adds.
As the fiduciary management industry matures, however, more straightforward evaluations may become easier. William Parry, investment consultant at Xerox HR Services, says: "A growing number of fiduciary managers are now offering a central model portfolio which they then tweak for each client."
As this central model becomes more established it will make it easier to compare the performance of different fiduciary managers. Parry says: "By looking at the components of that model portfolio, it becomes easier to compare the managers."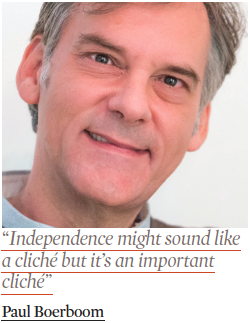 Just as conventional asset managers have been forced to be more transparent about their performances and their cost structure, a similar pressure is being placed on fiduciary managers. Parry says: "But some fiduciary managers currently lack the internal infrastructure to be able to quickly and easily produce this data." As the markets mature, however, fiduciary managers will have to install the necessary infrastructure to be able to provide this data, he adds.
It is likely that an assessment of fiduciary managers might evolve in a similar manner to the way the Dutch market has developed. Boerboom says: "The UK market is in its infancy compared with the Dutch market."
There are considerable differences between the two markets. "In the UK, it tends to be smaller pension schemes which use fiduciary managers while in the Netherlands, it's those with assets of more than €5bn," Boerboom says.
Larger pension schemes can afford to have more in-house expertise, while the smaller schemes do not have the same resources. "This means UK schemes are more likely to give their manager more discretion and flexibility," Boerboom adds.
In contrast, the larger Dutch pension schemes tend to outsource some but not all of their investment functions. In the Netherlands, there is also more than just a straightforward evaluation against stated goals. Boerboom says: "When we evaluate a fiduciary manager we compare them to a peer group, which includes a group of two or three relevant firms."
To ensure the right peer group is used, it's important to ensure the managers have been given the same level of discretion to implement their own decisions. Boerboom says: "Otherwise apples will be compared with oranges."
Once the peer group has been established, the fiduciary manager should be measured against four key metrics. First, the manager should be assessed to see if it has delivered the performance it promised.
Boerboom says: "This is the quantitative part. The parameter might be a performance goal or the closing of the funding gap." The manager should also adhere to their cost targets, he adds.
Then the manager's governance structure and its alignment of interest with its client should be assessed: "This includes an evaluation the manager's incentives and whether it is using the right benchmarks."
The third area to examine is the fiduciary manager's ability to manage its relationship with its client, including how well it communicates. Boerboom says: "We look for examples of how effective a fiduciary manager is at advising its clients and its ability to create trust."
Finally, the manager's ability to innovate along with its ability to adapt and generate thought leadership is assessed. Boerboom says: "This assesses whether the manager can be a long-term partner and come up with innovative ideas as market conditions change."
This includes looking at whether the manager can look for new sources of return, as well as developing new risk management techniques, bring down investment costs and integrate ESG factors.
These four assessment factors help an external manager to more accurately assess the performance of the fiduciary manager. "It's a mistake to focus too much on quantitative measures alone," says Boerboom.
The structure of the UK market, however, makes it easier to focus on quantitative performance, but qualitative aspects are important: "As these schemes are outsourcing more of their functions, they will be more focused on improving funding levels," says Boerboom. "It's the softer aspects of the relationship, such as sharing the same cultural values, which really determine the long-term success of a fiduciary manager."
Roger Brown, founder of IC Select, agrees that the success of a fiduciary manager relationship has to be a two-way street: "There is an over-emphasis in the UK on the performance delivered. The softer factors are essential."
Not only does the fiduciary manager have to deliver but the trustees also need to ensure they have the necessary competencies to oversee the fiduciary management. "And these competence levels have to be maintained," says Brown.
Alex Koriath, head of UK and European pensions practice at Cambridge Associates, adds: "The scheme has to be comfortable in its working relationship with the fiduciary manager." The trustees should be clear about the investments being made and the risks being taken.
This should be the case even if much of the responsibility of running the pension scheme has been delegated to the manager. "There is a risk that trustees will no longer seek to educate themselves about the processes and tools being used by the fiduciary manager," says Koriath. As part of their fiduciary duties, trustees have a responsibility to understand the manager's strategy and the risks associated with that strategy, he concludes.
Investment Solutions: Who casts the first stone?
1

2

Currently reading

Hiring a fiduciary manager is just the beginning

3