It is tantalising to imagine the concept – that the standard global fixed-income portfolio, which has stood the test of time for so long, may be about to unravel. The standard bearers – US Treasuries, the UK Gilts, German Bunds and Japanese government bonds (JGBs) – may soon have to share the stage with a brash newcomer: Chinese government bonds (CGBs).
The Chinese government bond market is expected to overtake the US within a few years
China's 10-year bonds are yielding around 3%, compared with zero or negative rates in other developed countries
In a year in which the performance of developed-market bonds has floundered, much rethinking is going on. Proactive chief investment officers of global pension funds, together with other institutional investors, want diversification, better returns and, frankly, 'safer' assets in their portfolio.
But why CGBs? And why now? Because, at RMB114trn (€14.7trn) at end of 2020 – and having grown at an annual 19% compound rate since 2016 – CGBs now make up the second-largest bond market in the world.
Stephen Jen, CEO of London-based Eurizon SLJ, a long-time analyst of the Chinese market, tpoints out that the market capitalisation of Chinese bonds is already more than double the size of all other emerging markets combined. He estimates that in two years' time, the CGB market will be bigger than all of Europe, including Switzerland and the UK: "I mention its size not to impress people but to underscore the liquidity in the market. If you want to go in and out of that market, the bid-offer is very narrow."
Hayden Briscoe, head of Asia Pacific Fixed Incomes at UBS, says the Chinese bond market will double in size in five years to about $35trn. The US market is $45trn, so he expects China to catch up with the US "within the next five years".
Briscoe says the Chinese government made a policy decision in 2015 to develop a bond market to foster more efficient use of capital.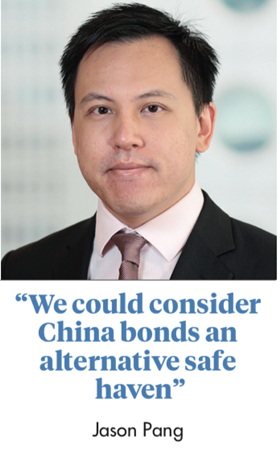 "The big story inside China is that its debt capital market is shifting from bank loans to bonds," he says. "China wants local provinces to go to publicly-traded bond markets for capital.
"Today, bonds account for just 15% of the Chinese capital market. US bonds account for 70% of the US capital markets. China wants to go the US route."
At a time when the developed world is trapped in a sea of low interest rates, reflected in negligible, zero or negative yields in sovereign bonds, China's 10-year bonds are yielded around 3% at the moment, according to S&P Global.
Over the past 15 years, Jen has tracked the performance of CGBs over five major global economic dislocations – the global financial crisis (2008), the European debt crisis (2011), the emerging market sell-off (2015), the renminbi meltdown (2015) and the COVID-19 pandemic (2020). Jen manages a $3.3bn Luxembourg-domiciled RMB bond fund and, in February, launched the UK-domiciled Eurizon SLJ Bond Aggregate RMB fund in the UK.
"Through all of these five episodes CGBs outperformed developed market bonds by more than 100%, cumulatively," he says.
"Their performance in four of the five episodes was better than US Treasuries. During the pandemic, US Treasuries have done better only because they slashed interest rates and the yield curve collapsed.
Against this background, CGBs have gained a safe-haven aura. Jen says: "When risk-taking is positive, all these assets go off in value. You struggle to find genuine safe assets anywhere in the world, so when things go badly where do you go to hide?
"Which assets will rally in bad times? It used to be that investors found safety in JGBs, US Treasuries and, some time ago, German bunds.
"These no longer provide the safe-haven ballast purpose which is so important for portfolio managers."
Briscoe says: "CGBs have a place in the portfolio because they have no correlation with the global bond market. The volatility is very low (2-4%). When you look at Gilts, US Treasuries, or the Bunds, their volatility can reach 10%."
Jason Pang, senior portfolio manager, and Asia local rates and FX lead at JP Morgan Asset Management, says: "We could consider China bonds an alternative safe haven. This year, we've seen US interest rates shooting up, resulting in a degree of total-return losses for fixed-income investors.
"If you're an institutional investor seeking haven-like characteristics and lack of correlation, China bonds do fit in that perspective," Pang says.
"They are a regional outperformer, year-to-date. As of the end of April, CGBs are up 1.7%, including the currency, compared with the global aggregate, which was down almost 3%.
"It used to be that investors found safety in JGBs, the US Treasuries and, some time ago, German Bunds" - Stephen Jen
"So you could have made almost 5% being short the global aggregate and long China government bonds. That is where the alternative safe-haven view is coming from."
But Pang tempers his optimism, saying that the Chinese bond market will, like any other asset class, move in cycles.
"Broadly, investors are recognising the value of the lack of correlation that China bonds offer," Pang says.
"This year has proven the value of that attribute. That may be why you are seeing institutional investors becoming more interested. China bonds offer an opportunity to improve diversification and risk return profile."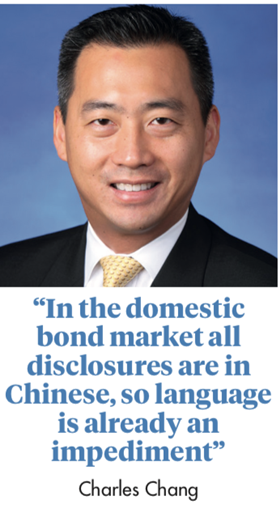 CGBs are already included in the Bloomberg Barclays Global Aggregate Bond index and the JPMorgan GBI-EM index, with weightings of 6.5% and 10% respectively.
FTSE Russell has affirmed China's inclusion in the World Government Bond index (FTSE WGBI) over a 36-month period from 29 October 2021, with an estimated final weighting of 5.24%.
In a recent research note, Standard Chartered Bank's fixed-income team, led by Becky Liu, wrote that China's inclusion is the biggest change to the FTSE WGBI to date.
As a result of FTSE Russell's move, Standard Chartered expects combined passive inflows of $130bn-156bn, which is on a par or greater than with the Global Agg or JP Morgan inclusion processes. "We expect inflows to be largely at the expense of developed markets, which account for a larger share of the WGBI," she says.
At around 7% in the Bloomsberg Global Aggregate and 10% in the JPM GBI-EM, CGB weightings are lower than market. Jen says: "It is absolutely not sufficient. The world is very underweight on Chinese bonds."
Briscoe says some CIOs are starting to go beyond index allocations, considering standalone mandates to increase their holdings of CGBs.
Pang says his firm is seeing a similar trend. CIOs are mandating fund managers to access the Chinese onshore bond market, typically through Bond Connect, a mechanism set up by Beijing to enable trading of CGBs in Hong Kong, as part of its strategy to open up its capital market.
"Institutional investors tend to be looking at CGB and policy bank bond mandates, with the retail side more yield-focused," Pang says.
Most asset managers who spoke to IPE agree that Chinese growth is decelerating to the 5-5.5% range, and that it will eventually slip under that range as China's economy matures in coming years.
Institutional investors appear to have stayed clear of corporate credit, instead buying only CGBs and quasi-CGBs.
Bonds issued by the central government and the largest state-owned banks make up at least 60% of the entire Chinese bond market.
Bonds issued by policy banks are considered quasi-sovereign because of the implicit support of the Chinese government in times of financial problems.
The policy banks are Industrial & Commercial Bank of China (ICBC), China Construction Bank, Agricultural Bank of China, Bank of China and the Development Bank of China.
They offer "interest rate-sensitive" instruments, providing some income and capital appreciation, Briscoe says. He adds that government bonds and non-deposit-taking Chinese banks account for about 17% each of the market. The fastest-growing segment is local government bonds, which already account for 23%.
China bonds occupy three universes – the onshore renminbi-denominated market, the Dim Sum bond market, and the offshore dollar-denominated market.
As Charles Chang, Greater China lead for corporates at S&P Global Ratings, points out, the total dollar-denominated Asian international bond market stands at roughly $2trn. Of that, China accounts for about $950bn.
In a recent research note, a leading Hong Kong-based bank said foreign holdings stood at RMB3.57trn as of February 2021, accounting for 3.2% of the overall China bond market.
The report said that more than 900 foreign entities have gained access to China's onshore bond market. About 60% of foreign holdings are in CGBs, followed by 28% in policy bank bonds.
However, Pang says foreign ownership in just China government bonds is 10%; in policy bank bonds it is about 5%. The latter is starting from a low base of about 2%.
How fast will foreign ownership increase? Pang says: "Our estimate for government bonds is 15% foreign ownership in the next three to five years. This is a modest estimate. Policy bank bond ownership should get to 10% over time. It will depend on the stages at which investors progress."
He says foreign investors are at a "learning stage" with Chinese bonds.
UBS's Hayden Briscoe says: "I would want to invest in a net creditor nation. After Japan, China is the world's largest creditor nation.
"People have been calling for Japan to default for the past 40 years. It has not defaulted because it is a creditor nation. My point here is, if you want be invested in China, it is because it is a safe place – and unlikely to default.
It is generally agreed that China's corporate bond market had been unrealistic and even artificial because, for some 20 years, there were no defaults, one analyst tells IPE.
That has changed. Chinese regulators are allowing defaults to take place.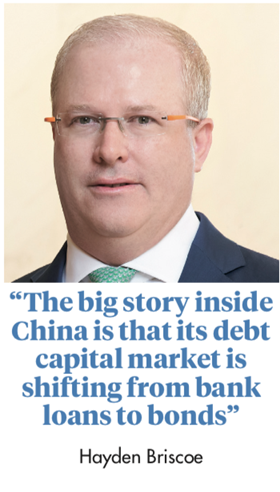 As Chang notes, the Chinese domestic bond market began 20 years ago, but the first default did not occur until 2014, followed by a state-owned enterprise (SOE) default in 2015.
"From 2017 onwards, we saw a big jump in defaults and we expect that to continue to go higher," he says, although compared with other regions, China's corporate bond default rate is still "abnormally low".
He says that Chinese corporates' issuances of international bonds have slowed down this year because of the government policy to control leverage in companies, especially in the real estate sector. The policy has also affected central government-owned SOEs, but issuance by local government-owned SOEs are back to pre-COVID-19.
On the issue of transparency and governance, Chang says: "In the domestic bond market all disclosures are in Chinese, so language is already an impediment. In addition, transparency is generally low, and is a big problem."
Jen is sanguine that there will continue to be ongoing political friction between China and the world, in particular with the US, as China becomes stronger economically and more assertive.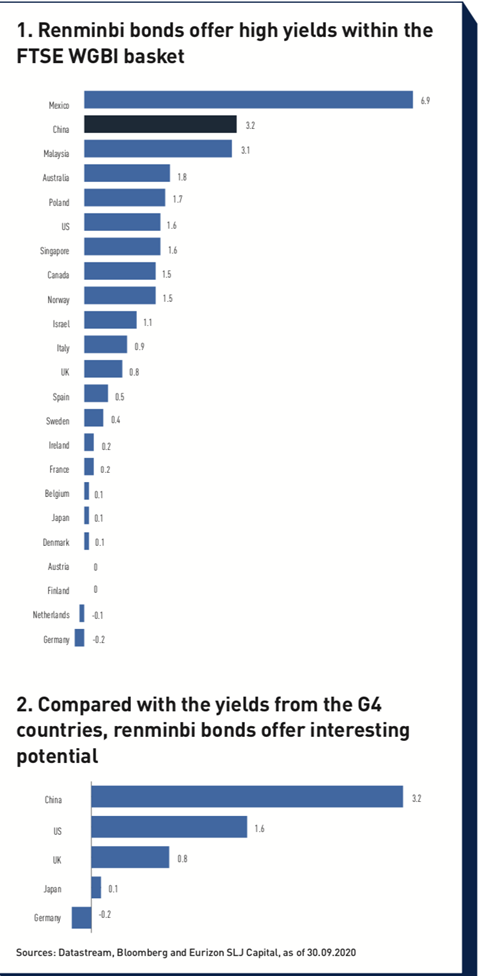 There could well be setbacks, he says, if, for example, in a retaliatory move against China, US institutions are forbidden to buy CGBs.
Jen says the Chinese also have a lot at stake, given the trillions they have invested in US assets.
"The Chinese have a saying that goes something like this – there is 'a bit of me in you and a bit of you in me'," he says. "So they encourage foreign investment into China. That way they will not be held hostage when there is a war.
"Regardless of the headwinds, the world is massively underweight on the CGB," says Jen. "If nothing happens, we are seeing a catch-up process.
"The central case here is that, in the next five years, Chinese bonds and equities are going to attract about $2trn. They will take money away from not just emerging markets but from US Treasuries and European bonds."