European regulators are promoting a 'gold standard' for asset-backed securities
Key points:
US asset-backed securities markets have thrived since the global financial crisis but Europe is struggling
Securitisation still has an important role to play
Europe has introduced simple, transparent and standardised (STS) labelling bifurcation in market
The global financial crisis (GFC) of 2007-08 started in the US sub-prime asset-backed securities (ABS) markets. Its impact shrunk the global ABS markets considerably and, in some cases, shut them off completely for a while. Today, the environment is different, and even European regulators have undertaken initiatives to stimulate the securitisation markets. But perhaps in contrast to the US, old prejudices still exist in Europe.
While the GFC started in the US, its ABS markets have grown back considerably. Securitisation is recognised as a key financing tool across several different sectors, says Adam Perez, a senior investment director at Cambridge Associates. The US residential mortgage-backed securities markets (RMBS) markets had been dominated by the US government agencies known as Fannie Mae, Freddie Mac and Ginnie Mae. Fannie Mae and Freddie Mac had to be bailed out by the US government during the GFC to the tune of $187.5bn but they eventually returned $218.7bn, giving a profit to the government.
"While for years, the non-agency RMBS in the US was seen as a shrinking ice cube that would eventually disappear, that has turned around and the US has now seen some growth of around 4% a year for the past few years in non-agency RMBS," says Perez. These loans are not just sub-prime but also include categories such as the self-employed.
Perez adds: "Former Fed chairman Ben Bernanke had trouble getting a mortgage when he left the Fed because he didn't have a regular income." The market is facings structural changes such as the rise of the 'gig' economy as well as more stringent regulatory standards requiring 'pristine' credits for eligible mortgages post the GFC.
Perez sees that European markets in some ways have grown back remarkably post the GFC, with the European collateralised loan obligation market recording record issuance in 2019. CLOs are accounting for approaching 50% of leveraged loan issuance and are therefore crucial to the development of corporate debt markets in Europe. But, he admits, overall growth has been held back by regulation.
The regulators, however, have seemed to favour covered bonds over RMBS. One reason for this, says Pritesh Solanki, a portfolio manager at Insight Investment, is that, in contrast to the US, Europe relies 90% on wholesale funding and that figure has increased since quantitative easing (QE) began: "It has made it difficult for regulators to consider securitisation as a core funding tool".
Indeed, says Stéphanie Ferrieu, a senior portfolio manager at LFIS ( La Française Investment Solutions): "Today, European ABS is a niche market – a decade after the GFC, the European ABS market has achieved stability but is struggling to achieve the pre-crisis issuance levels. It plays a very marginal role in financing mortgage debt in the euro-zone."
At least attitudes are different from the years immediately after the GFC when the European ABS market was still being demonised by a punitive regulatory environment with little help from traditional core supporters who had been diverted by alternative sources of funding.
A key development has clearly been a change in perceptions by regulators. They have realised that the US sub-prime losses were not reflected in the default experience of the European ABS markets. "The US sub-prime and CDO [collateralised debt obligation] losses in the US accounted for 75% of all losses and the loss for the market was only 70bps in aggregate. That market is now non-existent," says Solanki.
European regulators, however, took that experience and applied it wholesale to European markets. A good example of this is the Granite structure set up by Northern Rock for non-conforming mortgages which were seen as equivalent to the US sub-prime market. Northern Rock itself went bankrupt during the crisis. "The bonds traded well into single digits at the BBB level and around 50 at AAA, but the whole structure got refinanced at par and all the coupons were paid in full for all investors," says Solanki. "The whole portfolio was eventually bought by the private equity firm Cerberus".
The European Central Bank (ECB) and the Bank of England argued as along ago as April 2014 in a paper that securitisation, if appropriately structured and regulated, can complement other long-term wholesale funding sources for the real economy, including for small and medium-sized enterprises (SMEs).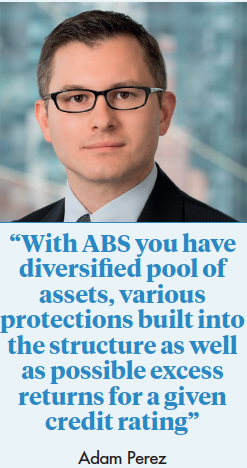 Securitisation also fits in with another policy objective of increasing bank lending in the European economy, which is still, unlike in the US, heavily dependent on bank rather than capital market funding. Transferring credit risk to non-bank financial institutions thereby providing capital relief to enable more lending to the real economy is an objective outlined by the ECB and the Bank of England which recognise that it can play a critical role in the recovery of Europe's economy.
The EU is clearly still trying to stimulate the European ABS markets. The EU's new Securitisation Regulation also created a new label at the beginning of 2019 enabling issuers to characterise transactions as 'simple, transparent, and standardised' (STS) if they meet certain requirements.
It was an initiative driven both by the regulator and the industry to essentially create a 'gold standard' indicating the highest quality securitisations, says Aza Teeuwen, a partner of TwentyFour Asset Management. "It has reopened the RMBS market, particularly for bank treasurers, allowing less regulatory capital to be held against STS securities," he says.
As Teeuwen explains, when the labelling structure was initially introduced in January 2019, there were several unfinalised elements of guidance awaiting clarification from the regulator on some important details, so there was essentially zero prime issuance in January and February of 2019 until these were clarified. But the first large deals undertaken by Nationwide and others in RMBS and Volkswagen in autos were well received by investors.
By September 2019, more than half of new issuance was STS-labelled. Ferrieu sees a bifurcation developing in the marketplace between STS deals which are essentially traditional transactions in asset-backed securities and prime RMBS and non-eligible securitisations. "For example, securitisation in Europe since 2016 has been instrumental in peripheral euro-zone countries like Italy to reduce balance sheet exposures to non-performing loans."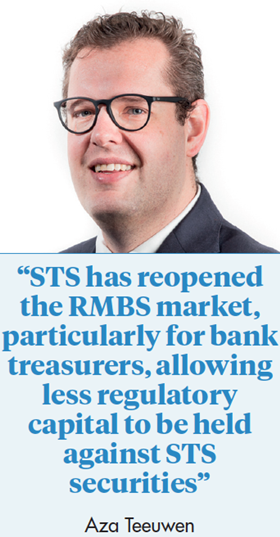 However, Teeuwen does not see the STS initiative as rapidly changing the overall size of the European ABS markets but it is a great step in the right direction. Capital charges have improved but covered bonds and, in fact, the plain mortgages themselves still have a favourable capital treatment for insurers. For that reason, insurance companies in, for example, the UK and the Netherlands have teamed up with mortgage originators in recent years, to buy whole loan pools of mortgages, rather than AAA-rated securities."
How should investors regard ABS? Cambridge Associates builds customised portfolios for its clients and Perez argues that there is a place for investment-grade US and European CLOs and RMBS. "ABS enables credit portfolios to be diversified away from straight corporate credit," he says. "There may be some fundamental issues with a specific corporate but with ABS you have diversified pool of assets, various protections built into the structure as well as possible excess returns for a given credit rating."
The downside is complexity. But for investors the STS labelling is designed to give them the confidence that structures are sound.
Fixed Income - European investment grade: No sign of end for negative yields
1

2

Currently reading

Building ABS confidence

3