Negative interest rates look set for a lengthy run in Europe, raising concerns about the long-term effects
Key points
The shift to negative interest rates has not had immediate consequences
There is growth in euro paper issued by US firms
Perhaps the most puzzling question for many is why any investor would want to invest in negative-yielding bonds
With no immediate prospect of the negative-rate environment ending, the long-term impact needs to be considered
About 30% of all investment-grade securities and about 15% of all corporate bonds are now negative yielding. Investors who buy them and hold to maturity are guaranteed to make a loss. The highest-rated corporations able to issue in euros are being paid to borrow, while many others are able to borrow at close to zero interest. Should corporates be 'filling their boots' by issuing large quantities of debt and when they do issue debt why would anyone want to buy it?
The most fundamental change in market perceptions, says Pierre Verlé, head of credit at Carmignac, is the realisation that there is no discontinuity at zero for bond yields. "For a few thousand years, everyone felt cash today was worth more than cash tomorrow," he says.
Before central banks started implementing negative base rates, the view was that zero was a lower bound and crossing it would have immediate consequences. But while there have been no immediate consequences there will clearly be long-term ones. But while zero may not represent a discontinuity, there might be practical limits on the lower bounds for interest rates. "There is a discontinuity between negative 0.7% and negative 1% when people start withdrawing cash from the economy," says Verlé.
The European Central Bank (ECB) has already withdrawn €500 notes, making this more difficult.
Several European investment grade issuers have taken the unprecedented steps of issuing bonds at negative yields. In 2016, Henkel issued a €500m two-year bond with a yield of negative 5bps while Sanofi raised €1bn of three-and-a-half-year debt at the same yield.
More recently, Siemens issued a zero-coupon two-year bond in September priced at €100.633, giving a yield of negative 32bps. Other recent issuers include LVMH and Dassault Systèmes. The pharmaceutical sector has been particularly prevalent with Sanofi, the champion of negative-yielding issuances, and GSK also issuing a negative-yielding euro-denominated bond.
While Roche has not done so as yet, it can certainly do so, having plenty of Swiss franc and euro-denominated bonds trading at negative yields up to September 2025 maturities, says Verlé.
The US, unlike Europe, is unlikely to see negative bond yields anytime soon. However, says Timothy Crawmer, global credit manager at Payden & Rygel, the US Federal Reserve has considered and would in the future consider going into negative territory, even if it has not done so as yet. But for US multinationals with European subsidiaries, it is a 'no-brainer' to have a natural hedge for overseas investment by financing their European operations by borrowing in euros, so there has been a large increase in 'reverse yankee' bonds – euro-denominated bonds issued by US companies.
In certain cases, it can make sense for dollar investors to swap them back to dollars and realise the 240bps hedge benefit that is mainly driven by the short-term borrowing rate differential between the US and Europe.
"Some US companies, John Deere, PACCAR and Lyondell, have even been able to issue bonds that are eligible for the ECB corporate sector purchase program (CSPP)," says Crawmer. All three are predominately US companies but have European-based revenues, so they have been able to use their European-based entities to issue debt that has qualified for inclusion in the ECB CSPP.
Perhaps not surprisingly, Payden & Rygel hears that the ECB is trying to limit this type of activity because its ultimate goal is to help stimulate European-domiciled companies, rather than US ones.
The ECB has implemented negative rates to try and stimulate the economy by encouraging companies to issue debt and invest the proceeds. However, trying to persuade companies to invest is driven more by views of opportunities in the light of macro-economic uncertainties rather than borrowing costs.
"We see a slow change in mentality but less at the corporate treasurer level and more at the c-suite level with CFO and CEO conversations," says Adam Whiteley, global credit analyst at Insight Investment. As he points out, considerable corporate borrowing requirements have already been fulfilled over the past few years, so current marginal requirements are not that large.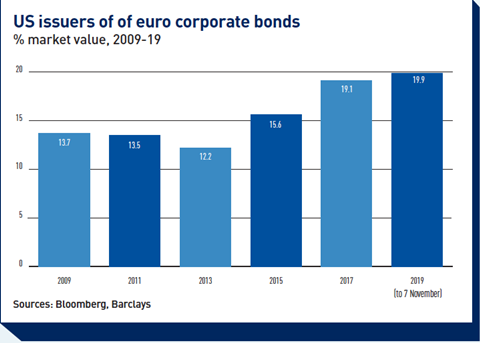 Moreover, while it makes sense to take advantage of low rates if a company has productive investment opportunities; if it is just borrowing and keeping the proceeds as cash on the balance sheet, it will end up being a negative carry trade. Bank deposits will be significantly negatively yielding, while the borrowing will include a credit spread component which is another incremental cost.
Negative rationale
Perhaps the most puzzling question for many is why any investor would want to invest in negative-yielding bonds. One answer is that that they might have no choice.
Insurance companies, for example, points out Himanshu Chaturvedi, a managing director at Cambridge Associates, are often faced with holding negative-yielding liquid assets such as cash and short-term Treasury bills against short-duration liabilities and the closest alternatives would either be corporate bonds with lower credit ratings or longer-dated government bonds which are liquid but more volatile.
Life insurance companies that have offered products with guaranteed minimum returns face even more challenging problems. Trying to meet the targets requires taking on more risk than budgeted for and therefore increasing requirements for regulatory capital.
For investment managers, the reaction, says Whiteley, may be exactly what the central banks want in terms of a rebalancing effect. "They want investors to move out of cash into government bonds and from those into credit and from investment-grade credit into more riskier areas," he says.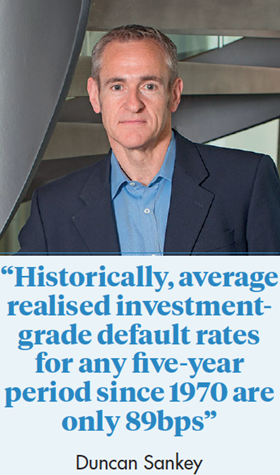 He sees six different ways to increase yield, none of which is a free lunch: going down the rating spectrum; lengthening duration; increasing subordination; adding leverage; investing more in illiquid assets; and taking advantage of a complexity premium in structured products such as ABS.
For investment-grade credit investors, there is one way to try and generate positive returns even in the face of negative bond yields, and that is by harvesting the credit premiums alone without exposure to the risk-free government bond yields through the credit default swap (CDS) markets.
Current investment-grade credit spreads are about 50bps for five years which, says Duncan Sankey, head of credit research at Cheyne Capital Management, implies a breakeven cumulative default rate over the period of 4.2%: "Historically, average realised investment-grade default rates for any five-year period since 1970 are only 89bps."
Using CDS derivative contracts enables investors to leverage up exposures to a relatively safe asset class at zero cost. While the CDS marketplace has had a tarnished reputation in the past, associated with pre-crisis excesses and also more recently, manufactured credit events, Sankey argues that market bodies and regulators have gone a long way towards resolving these issues.
With no immediate prospect of the negative-rate environment ending, the long-term impact needs to be considered. David Riley, chief investment strategist at BlueBay Asset Management, points out that the Bank for International Settlements, the central bankers' central bank, has already noted with concern the rising number of so-called zombie firms. These are defined as companies that are unable to cover debt-servicing costs from current profits over an extended period.
Such firms can take advantage of low financing costs to perpetually raise new finance but are holding on to capital and labour that could be put to more productive uses.
How long can this continue?
"Japan has had zero and negative rates for two decades and the central bank has been engaged in bond buying and also equities through ETFs," says Riley. That maybe the unattractive future waiting in store for Europe.
Fixed Income - European investment grade: No sign of end for negative yields
1

Currently reading

Fixed Income - European investment grade: No sign of end for negative yields

2

3