Undoubtedly a good year for financial assets, 2019 ended on a bright note with the broad, and relieved, consensus that the China/US trade conflict might be de-escalating. The new year began with the unexpected, a surge of tensions in the Middle East, a reminder of the precariousness of peace in the world.
Central banks remain dovish on rates
US yield curve is steepening, but inflationary pressures remain absent
Emerging markets set for monetary tightening
Undoubtedly a good year for financial assets, 2019 ended on a bright note with the broad, and relieved, consensus that the China/US trade conflict might be de-escalating. The new year began with the unexpected, a surge of tensions in the Middle East, a reminder of the precariousness of peace in the world.
As those anxieties subsided, so did the oil price. Risk assets retraced their downward moves, and US (risk-free) rates returned to where they had been before the US drones struck.
With well-anchored expectations of central bank dovishness, the Federal Reserve, European Central Bank (ECB), Bank of England and Bank of Japan all included, other forces pushing for higher rates need to be strong. While US stocks have powered higher, the 10-year US Treasury yield has found it hard to break up through 2%.
Easy money notwithstanding, forecasters see signs of US economic weakness which might provide more downward pressure on rates. The latest US balance of payments data, for example, revealed another month of shrinking goods imports.
While the improvement in the trade balance will boost the fourth US GDP figures, imports falling more than exports rising is not an economy in perfect health. The data may still be reflecting payback from front-loading purchases before tariffs were introduced, although it might not and merits watching.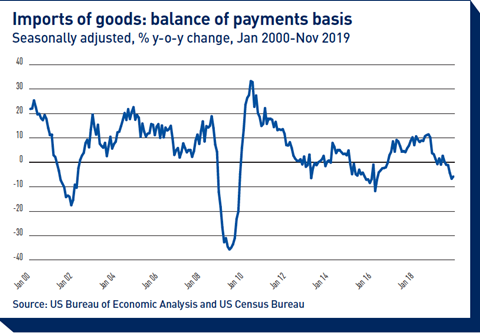 Geopolitics will almost certainly sporadically influence, always unpredictably, markets and businesses and consumers. The US is in an election year, with little clarity on who the Democratic nominee will be, and hence the potential policy plans in opposition to those of the Republican incumbent. Although the UK Conservatives have a healthy majority to deliver their Brexit, it will still be a fraught journey.
Bonds
In August 2019, the US yield curve stopped flattening, thus concluding a trend which begun over two and a half years ago. Financial conditions had become more accommodative, after the 25bps cut in August, and as the market began to price in further easing.
The subsequent steepening is undramatic in absolute terms, with today's slope, early in the new year, similar to that exhibited over June and July of 2019, that is still flatter than throughout the past decade.
Market forces: Chinese state-owned defaults
At the end of 2019, the Tewoo Group defaulted on its dollar bonds, the first time a Chinese state-owned enterprise (SOE) had done so in 20 years. Back in 1998-99, Guangdong International Trust and Investment Company, Gitic, collapsed owing foreigners (Japanese and western banks) more than $1bn.
Two decades ago, although shockwaves did reverberate through Asia still reeling from its debt crisis, the borrowings of China's SOEs were much lower than they are now. Indeed, it has been the spectacular rise in China's non-financial sector debt that has been the worry for investors. The debt as a proportion of China's GDP rose from about 160% in 2008-09 to about 270% at the end of 2018, according to the Bank for International Settlements.
The pace of Chinese bond defaults, although high, does not appear to be accelerating, with a similar number over both 2018 and 2019. However, according to S&P Global Ratings, "Tewoo's default is a landmark case, and demonstrates a growing tolerance for defaults by distressed SOEs", and hence for bailouts to be more selective, both for SOEs and local government financing vehicles.
Although China's debt to GDP is high, there are other developed countries with debt/GDP ratios in excess of 250%, but these economies have interest rates close to zero. The present annual interest payment on China's existing debt is about 15% of GDP, and so any interest rate increases add significantly to an enormous burden.
While investors seem to be taking a sanguine view, acknowledging that implicit government support is diminishing, they are also placing faith in policymakers to be able to step in and successfully contain systemic risks.
A snapshot of rates in the summer of 2004, as the Fed started to hike, and then four years later in 2008 – in the midst of the Fed easing monetary policy as the global financial crisis unfolded – shows Fed Funds at about 1.5/1.75% and the slope/yield difference between 2-year and 10-year Treasuries being about 150bps, in both 2004 and 2008. In contrast, at the start of 2020, with the Fed's target rate also at 1.5/1.75, the corresponding slope is 30bps.
While the Fed is in dovish mode, with its bar for future hikes set high, the forces for further steepening may still not materialise. Even if the Fed were to cut rates, many forecasters argue that with rates already low, another round of quantitative easing (QE) is possible.
As well as QE, the absence of inflation is also a factor influencing flat yield curves across developed markets (DM). The majority of observers contend inflation is not a concern in 2020. For the US, those arguing against inflation rising say it is hard to identify what might trigger accelerated price rises, given soft trends in shelter costs in particular.
So just how noteworthy is it that (core) European inflation beat the ECB's forecasts in 2019? Some ECB officials have expressed their optimism that this trend may continue. Many investors argue that pricing pressures across the euro-zone remain subdued, and that there seems to be little the ECB can do to alter this.
Currencies
The Asian reflation theme has gained credence and momentum, and not just from watching rising South Korean export volumes, one of the first real-time indicators for global trade. Regional purchasing managers' indices have been rising, suggesting increasing business confidence. With the weight of trade tensions lifting, as well as supportive monetary and fiscal policies through 2019, uncertainties about growth are fading across emerging market (EM) Asia, ex-China.
EM markets, including EM currencies which had been laggard through much of the 2019, rallied in December. And in January, it was encouraging to see the quick recovery from the risk-off moves triggered by US/Iran tensions. There may well be more to go. An increasing number of EM central banks are looking to tighten monetary policy and this could be supportive for EM currencies.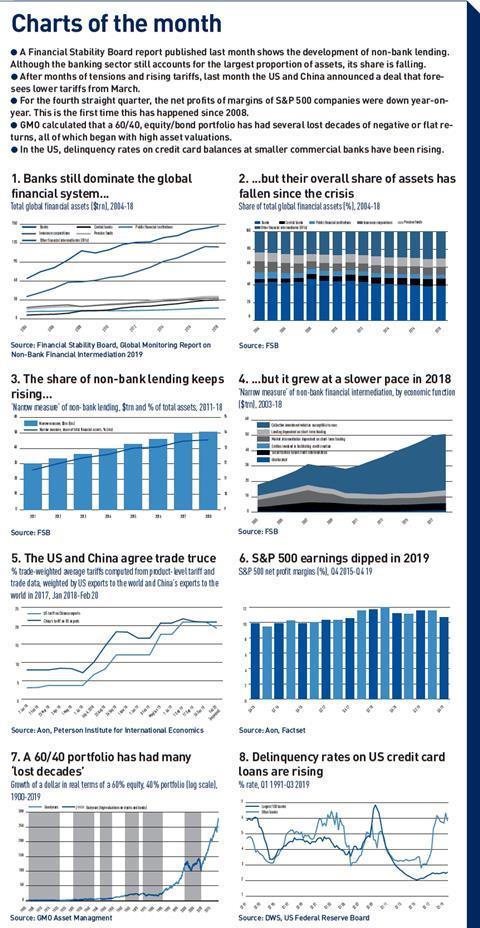 Much of the available data pointing to macroeconomic improvement has been survey-based, or 'soft', though it may appear that demand for some commodities is materialising, but we must await more conclusive hard activity data to validate the more optimistic view.
Of course for EM assets, at this juncture having increased in value over last year, their elephant in the room is the outlook for developed markets (DM). If there was a marked improvement in the data from DMs, (finally) surprising to the upside, instead of repeated disappointments on the economic activity front, then the lift to EMs could be substantial. And, undeniably, sustained bad economic news from DMs would derail EMs' nascent recovery, and could send their risk premia soaring.