The relief from the farewells to 2020, and welcoming a Brexit trade deal, has waned in the face of rising COVID-19 infection rates. There have also been further lockdowns across swathes of Northern Europe as well as in Japan, Thailand, and South Africa to name a few. The vaccine-generated light at the end of the tunnel which appeared last year, seems rather distant, and possibly dimmer too.
2021 has seen rising COVID-19 infections and more restrictions placed on economic activity
Bullish growth predictions reliant on a successful race to vaccinate
Demand for UK assets falls as EU trade deal leaves service sector exposed to tariffs
Investment decisions are forward looking and markets remain fairly sanguine. Many growth forecasts have already been downgraded as first quarter lockdowns tighten. At present most forecasts are preceded by the caveat of a successful and quick vaccine roll-out globally. That said, there are plenty of forecasters suggesting that global GDP growth in 2021 could still be record-breaking in its strength.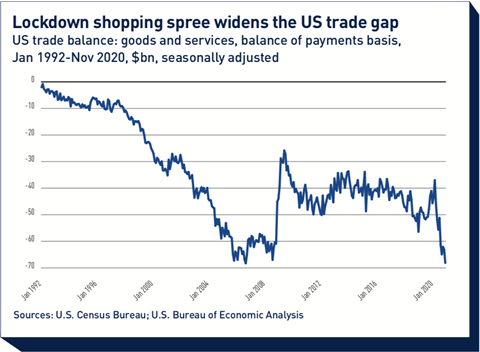 Bulls contend that the pandemic enabled governments and their central banks to provide support on a huge scale without concern for moral hazard. That was because the economy faced an exogenous shock that came when companies and consumers were not overly burdened by excesses.
The US trade (goods and services) balance paints an interesting picture (see figure). Over the past few decades, the trade deficit has widened as the economy boomed, then moved from deficit towards surplus during recession. In contrast 2020's downturn reveals a widening of the deficit, to a near record level reflecting (US) consumers, unable to holiday or eat out, turning to purchase far more goods and products, many of which are not made domestically.
Crypto: central banks aim to future proof currencies
Bitcoin has been grabbing the market limelight as its price continues to soar, albeit with sharp sell-offs along the way. Whether or not its trading does indeed have the potential makings of a bubble, crypto currencies are high on agendas. Central banks across the globe are conducting discussions about launching their own crypto currencies.
The Bank for International Settlements (BIS), in a recent working paper*, suggests that over 2020 attitudes to central bank digital currencies (CBDC) have changed. This was aided by the reduced use of cash during lockdowns. One particular tipping point was Facebook's 2019 announcement on plans to launch Libra, its own crypto currency. About 80% of central banks are engaging in research or development of CBDCs.
The ECB, for example, published a 'Report on a digital euro' last October. It discussed a digital euro, describing it as 'central bank money offered in digital form for use by citizens and businesses". The ECB said that it would "complement the current offering of cash and wholesale bank deposits". A decision on whether to launch the project is to be made later. This process is mirrored in the US.
However, China is ahead of most other countries. It already launched a pilot programme with some of the major state banks last April. After that it conducted a trial with 50,000 households in the city of Shenzhen.
Central bankers will be acutely aware that the rise of alternative/private digital currencies could have negative implications for monetary sovereignty. Digital money potentially limits the ability of central banks to influence domestic monetary conditions. As ECB board member Fabio Panetta says: "We need to make sure our currency is fit for the future. Inaction is not an option."
* Rise of the central bank digital currencies: drivers, approaches and technologies, August 2020 https://bit.ly/38IJrDm
While it may be true that those hardest hit sectors, such as hospitality and leisure, are poised to bounce back once COVID-19 is beaten and lockdowns lifted, there could still be considerable 'scarring' across economies.
There is a danger that, among the many economic divergences that are being exacerbated, those within the EU may damage the prospects for the recovery fund.
Bonds
Since last autumn, longer-dated US Treasury yields have risen more than other developed markets (DMs), pricing in the stronger US growth outlook. They have also accounted for the domestic implications of the State of Georgia's run off elections heralding a potential for a (moderate) 'blue wave' of fiscal expansion.
Though issuance is undoubtedly set to be heavy on both sides of the Atlantic over 2021, the supply/demand balance in Europe may be more bullish for European rates. As a result of the quantitative easing (QE) purchases by the European Central Bank (ECB), against the backdrop of a worsening economic picture as lockdowns remain in place.
Another feature of continental Europe's rate markets is how flat its yield curves remain. This is especially the case when compared with the curve in the US, or even the UK. As the reflation story continues to drive investment evaluations, it is possible that current differentials between European and US rates, as well as the breakeven rate spreads, may find it hard to diverge further. Europe's longer-dated rates and breakevens could be dragged higher, potentially leading to the steepening of Europe's yield curves.
As for risk, credit spreads are already tight. It is interesting that after the Georgia run-off elections, US credit spreads reflect a 'best of both worlds' scenario. The blue wave does provide fiscal stimulus. but, a slim Democratic majority in the Senate, means incoming president Joe Biden will find it hard to impose progressive regulation on corporates.
European investment grade had a strong December, aided by ebbing supply and the Brexit deal. Those 2020 returns seem arguably likely to have to be cut from this year's return predictions. Continued spread compression may be more difficult in a generic sense. However, monitoring differing disparities caused by COVID-related exposures may reveal useful spread trades, as the race to vaccinate continues.
Currencies
Predictions for a weaker dollar, in the global reflation trade remain the consensus view, though it may be challenged by the shift in US politics, and an altered fiscal outlook. The US Treasury market's bearish start to 2021 has led to an appreciation in the broad dollar index (DXY).
US long rates have risen, opening up a differential with other DMs. However, short rates tend to be more influential in the short- to medium term for foreign exchange markets. It seems that this tendency has been augmented, with so many official rates at the effective lower bound and central banks' huge QE operations squeezing out rate differentials across the maturity spectrum.
Some argue for a bearish dollar stance. They point to the dollar weakening that has already occurred. In addition, they contend that global interest differentials may be as low as they get, with a higher possibility of more widening from this point.
Increasing evidence of the rapid spread of COVID-19 in the UK has dampened enthusiasm for its assets, assuming any remained in the aftermath of the Brexit deal. The deal creates tariff uncertainties in the service sector, which accounts for 80% of the UK economy, and it leaves the future unclear. A combination of near zero yields, a current account deficit, on top of the trade deal and worrying virus data, each add to the headwinds facing sterling.