Supply shortages put pressure on manufacturing prices
Bond markets worried by prospect that inflationary pressures may persist
US debt negotiations take the shine off the dollar
After a reasonably peaceful summer – relative to the many previous volatile ones for capital markets, that is – simmering tensions are bubbling over, affecting many financial asset classes.
German manufacturing September PMI came in at 58.4, seemingly still indicating an expansionary environment. However, delving deeper, the recent decline in the headline index from July and August's punchy numbers (65.9 and 62.7, respectively) belies a weaker underlying picture.
The supply shortages have pushed down production levels, and new orders are being postponed or cancelled. Rising input costs are leading to near-record numbers of goods producers also raising their prices. And sentiment among German manufacturers is dropping. It is down to its lowest level in 13 months, with many worried that these supply shortages could persist well into 2022.
Weakness in China's economy and problems in its huge property market, have cast a nervous shadow. Given that real estate directly accounts for 15% of China's GDP (and indirectly, maybe double that figure), the policy crackdown and reining in of the real estate market, for both lenders and borrowers, caused material damage to China's growth figures.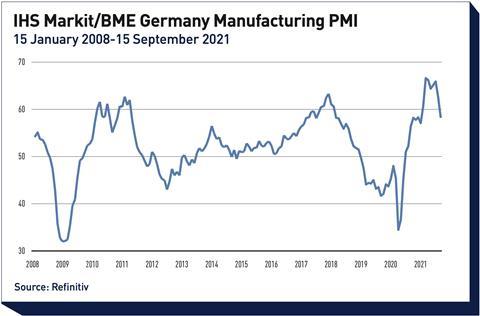 China's real estate regulatory changes, spurred by the 'liquidity' troubles of the huge Evergrande, may be over but other factors paint a pessimistic outlook for the economy. With supply bottlenecks pushing up commodity and intermediate goods prices, the widening gap between China's producer and consumer prices is causing a significant squeeze on the incomes of SME workers. These account for as much as 80% of China's total workforce.
Stagflation – in the 1970s, and now?
The stagflationary times of the 1970s – experienced in the US, UK across Europe and in East Asia – were difficult and depressing. There was double-digit inflation, slow economic growth, high unemployment and poor financial asset performance.
Though academic economists may still be contesting the causes, the generally accepted consensus holds that the exogenous oil supply shock of 1973-74 and again in 1978-79 were the causes of both the inflation surge and the declines in economic output.
The Fed calls the episodes part of the 'Great Inflation' that lasted from 1965 to 1982. It describes this as the defining macroeconomic event of the second half of the twentieth century. "Over the nearly two decades it lasted, the global monetary system established during World War II was abandoned and there were four economic recessions, two severe energy shortages…. And the greatest failure of American macroeconomic policy in the post-war period."
Today's consensus view seems to be that inflation is rising, and perhaps more permanent than forecast, and the world could be entering a period of lower growth, global (and US) economic growth rates remain positive. But the global economy should be spared the full 1970s-like stagflation experience.
This more sanguine outlook of the longer-term effects of a sharp supply shock to one set of prices and of their subsequent impact on other sectors is based upon inflation experiences (in developed markets) since the mid-1980s. And on faith in the abilities, and desires, of central banks to get and keep inflation down. That is, to keep inflation expectations and fears anchored.
While the world may not be about to re-live the 1970s, today's economic mix has stagflationary tendencies. It may well disrupt some previously 'safe' investment relationships. The slump in sterling is a case in point, rising interest rates doing nothing to support the currency. Also, foreign exchange forecasts tend to accept that rising commodity prices will support commodity currencies. However, if today's supply-shocked rising prices create economic stagnation then that positive link may be turned on its head.
Another potentially significant headwind for the Chinese economy is the problems already being felt in energy supply. A large portion of the population is already experiencing electricity rationing. Coal stocks are particularly low, as China has not purchased its usual quantities from Australia. Electricity suppliers are experiencing significantly higher wholesale prices but strict regulatory caps limit how much of this they can pass on to customers. They are being sorely squeezed with some entities choosing not to trade at all rather than suffer big losses.
Bonds
As energy prices have risen, so fixed-income markets have weakened, with UK Gilt yields rising particularly rapidly. For Europe and the UK, gas supply constraints together with the further rise in oil prices, to $80 a barrel, mean that energy price rises generally have been more marked than in the US, and so inflation breakevens are also on the up, with the euro 5Y5Y breakeven (the difference in market interest rates for a period of five years, beginning five years in the future) reaching the European Central Bank (ECB) 2% inflation target for the first time since 2012.
For bond markets it seems the inflationary threat from the wide variety of supply bottlenecks now feels more real, and certainly more worrying than the stagnating part. Perhaps the current environment could maintain its upward pressure on prices for longer. If so, inflation might prove less transitory than central bankers are contending.
Inflationary pressures are rising not because of healthy reflationary demand but because of steadily worsening supply-side problems. These tend to be more difficult for monetary policy to tackle. How does the US Federal Reserve tightening monetary policy help alleviate bottlenecks and repair damaged global supply chains?
Nervous investors are asking whether 2021 will mark the end of the four-decade downtrend in nominal US interest rates, during which the US long bond has produced positive total returns in 30 out of 40 years.
European rates, though higher than they have been for the past two years, are still low. Investors seem to be holding a stronger conviction that the ECB can look beyond this current inflationary period. However, the strength and breadth of these supply shocks could push, and keep, inflation materially higher. That could boost both inflation premia and nominal term premia. As a result, Europe's very low long-end yields could be driven considerably higher.
Currencies
The weaker-than-expected September payroll numbers took some of the shine off the dollar. The currency has benefitted from the general risk-off sentiment and was also aided by rising bond yields. The tortuous debt ceiling negotiations in the US, though avoiding a shutdown for now, remain a risk for the dollar. This evokes dark memories of 2011, when the US credit rating was downgraded and consumer confidence took a palpable hit.
Most observers expect the warring politicians to avoid a technical default and not endure another damaging government shutdown. However, the risks are there and may keep a dampener on further dollar appreciation.
For the UK, talk of stagflation brings back grim memories for many old enough to have lived through the 1970s. Today the UK's particular vulnerabilities, perhaps the most acute within the G10, possibly combined with enough personal memories of the 1970s stagflation, contributed to a currency slump even as sterling rates were soaring.
The UK's relationship with the EU remains delicately balanced as tensions ebb and flow over the Northern Ireland/Ireland border. Such strains tend to lead to higher volatility and unsettle sterling.
Various Bank of England committee members have been voicing hawkish views as inflation risks have risen. With extremely low storage facilities, the UK seems particularly exposed to any threats of energy shortages this winter. With the added uncertainties surrounding ongoing Brexit negotiations, some observers are nervous that the Bank of England may be heading towards a policy error if it ramps up its hawkish bias.