Amongst the myriad of investment conundrums facing investors, one of the more pressing today is whether – or not – the US economy will overheat. Though the Federal Reserve has done a good job assuring the markets that while (US) inflation data may indeed print higher than "target", Chair Jerome Powell will be "looking through" any rises. They have argued that these should be temporary and a dovish outlook will remain.
Will the US economy overheat as demand continues to exceed supply?
Europe set for stronger growth as purchasing managers' index surges in Q2
Central banks diverging from the dovish consensus
Forecasters are finding incoming data prints even trickier than usual to evaluate as numbers continue to be volatile and unpredictable. US employment data is apparently yo-yoing, making it difficult to detect if momentum is that strong. Markets have also chosen to take a sanguine view to some strong inflation data.
Such has been the strength of demand that supply has been exceeded, creating supply-side bottlenecks extending to the US labour market. These factors have put upward pressure on prices.
Supply-side constraints will, arguably, be relieved as COVID-19 restrictions are eased and economic activity 'normalises'. Inflation bears point to considerable slack in the US economy, in particular the nearly eight million figure difference between the number of people in employment today, compared with back before COVID-19. These suggest that wage inflation, though experiencing a tailwind, may not soar.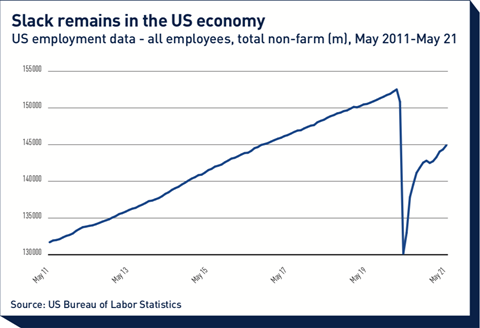 Markets are better positioned to absorb higher inflation figures with US breakeven inflation rates currently pricing in considerable upside. Indeed, such is the faith in the transitory nature of the current inflationary phase, five-year breakevens (B/E) have risen – from the lows of March 2020 – above both 10-year B/E and 5yr/5yr forward inflation rates (the difference in market interest rates for a period of five years, beginning five years in the future) for the first time in over 15 years.
All set for taper tantrum two?
With tapering possible this year, many observers are looking back to the fallout from the 'original' taper tantrum of 2013, and wondering if there will be a repeat. In the first one, all risk assets were hit after the Fed shocked the markets with surprise references to tapering. Emerging market assets suffered the most as rates rose sharply.
Many observers argue that 2021's tapering will not replicate the 2013 tantrum, not least because emerging market current accounts are much healthier today. Fitch Ratings estimates that the median current-account deficit in its emerging market universe was about 2% of GDP in March 2021, compared with 3.2% in 2013. Countries with the largest gaps to finance – such as Brazil, India, South Africa and Turkey – suffered, initially, the biggest waves of selling.
Thanks to the effects of COVID-19, however, 2021 is different to 2013. As well as running exceptionally loose monetary policies, developed market policymakers have enacted huge fiscal stimulus packages, supporting their economies in readiness for opening up. Emerging economies have not only enjoyed significantly less support but, for many, vaccination programmes are lagging those in developed markets, and for some, COVID-19 infection rates are still high.
The open economies of emerging markets would usually benefit from growth in developed markets. However, much of the expansion predicted for developed markets is in services sectors, not goods, so less likely to boost emerging markets. Although inflation is rising, several emerging market central banks have already raised rates. Given the credibility bestowed upon proactive central banks, this should reassure investors.
However, while the dramatic events of spring 2013 might not be exactly repeated, with emerging market valuations still high and spreads quite narrow, hints of lower global liquidity are bound to make markets wobble.
Bonds
US Treasuries have been essentially range-trading over the second quarter. They have apparently accepted that inflation is rising but are reassured that these pressures will ease in the medium term without the need for Fed interventions.
The influence of ultra-loose monetary policy, maintaining liquidity, is diluting upward pressures on risk-free rates. Though positioning generally is not extreme, there seems to be a consensus about this narrative of the transience of inflation which can be unsettling, and may ring some alarm bells.
For Europe, there may be some catching up ahead, both in terms of GDP growth but also for Bund yields. After renewed lockdowns meant Europe's first quarter GDP numbers turned out disappointing, purchasing managers' index (PMI) figures over the second quarter have been surging, pointing to stronger real economy data in the future.
As monetary policy will remain loose, European policymakers are keeping fiscal strings relaxed. Measured by the cyclically adjusted budget balance (used in the EU framework of fiscal surveillance) the aggregate stimulus in 2021 may be higher than 2020. These figures do not include the borrowings from the EU Recovery Fund. This is set become the world's biggest issuer of supranational debt and is due to soon start issuing bonds.
While the language of the European Central Bank may become less dovish, it has been consistent in its messaging that tapering is still premature, and that policy will remain accommodative. However, with burgeoning economic growth, loose fiscal policies (so more bond supply) and the potential for European inflation to materially rise, the flatness of the Bund curve may be unsustainable.
Currencies
The euro appreciated in 2020, as G10 central banks maintained their dovish stance. This year, however, there is divergence with a growing list of hawkish central banks, recently joined by the Reserve Bank of New Zealand, which surprised markets, with their signaling of rate hikes in 2022. A year ahead of market expectations.
It is unsurprising that central bank policies are shifting. Economies have emerged from COVID-19 and lurched towards 'normalisation', with volatile macroeconomic data coming thick and fast. It also means a reliance on policymakers judgment, as opposed to economic data.
Despite the data volatility, foreign exchange markets have been drifting for months, looking for the news that might catalyse change. Positioning in the major currencies does not appear extreme, although there appears to be a bearish consensus on the dollar.
While European economic activity is reviving, and will close the gap and maybe overtake the US in terms of growth numbers, there are arguments both for, and against, a rotation from US to European assets.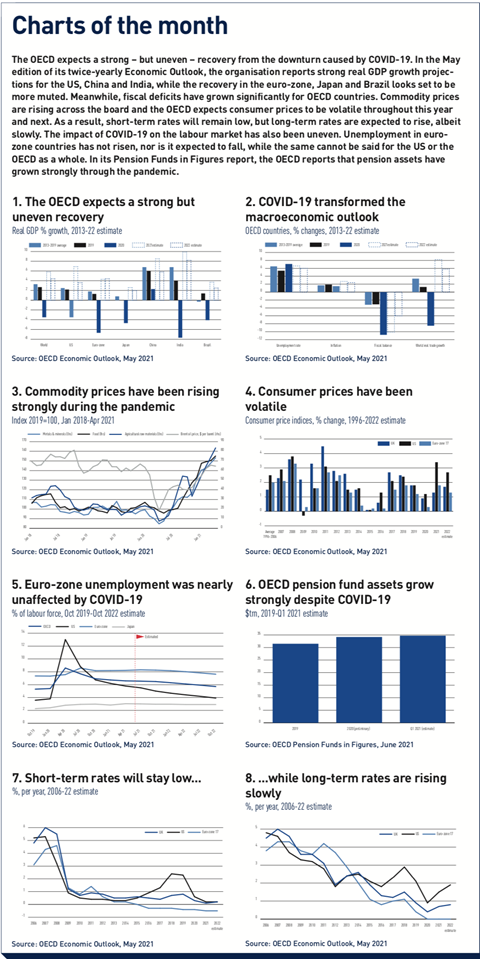 That US job gains have not been added as quickly as forecast is interpreted by some, as easing anxieties that the Fed might alter expectations and bring forward tapering. Inflows to Europe, especially into equity markets as growth prospects improve are providing a tailwind for the euro. There is the potential for a great deal of money to be attracted into the bonds issued by the EU Recovery Fund.
The more dollar bullish forecasters, while perhaps tactically bearish on the dollar, see the currency appreciating over the second half of 2021, buoyed by robust economic growth, the inevitability of the Fed talking tapering, and from rising US real rates.