US COVID-19 case numbers were rising rapidly at the time of writing. Western European figures suggest that the lockdowns are repelling the second wave. Japan's statistics suggest a third wave is coming. Only an efficient vaccination and a high participation in inoculation programmes can end the threat posed by COVID-19.
The US presidential elections did not resolve the challenges of political risk. Without control of the Senate the Democrats can get only modest legislative measures passed, but the country needs more drastic reforms in several areas. A no-deal Brexit seems likely in the UK with both parties remaining far apart.
Asset allocation
Joe Biden's win in the US presidential election brings the promise of a large economic support package that looks like the main driver of equity optimism. However, any Democratic package will likely be opposed in the Senate.
Meanwhile, more than one supplier is close to a working COVID-19 vaccine. At least some vaccines should be available in the second quarter of 2021. This opens the way for central bankers to push for an end to economic support measures but such moves could be followed by a wave of business failures.
UK equity expectations remain subdued but that looks realistic in view of the uncertainty around its trade negotiations with the EU. Expectations for Japanese bonds are higher (but still negative) and stable, which offers an opportunity for bond portfolio managers expecting headwinds.
Country allocation
The upward trend of US net equity expectation continued while bond sentiment looks to have settled below 20%. Net expectations for euro-zone equities corrected to a still high level while net bond sentiment remained stable and low. Japan's figures indicated rising optimism for equities – presum- ably on the back of US support measures – and stability for the bond outlook. The Japanese level remained high compared with the US and EU. Expectations for UK equities were kept subdued by a potential no-deal Brexit.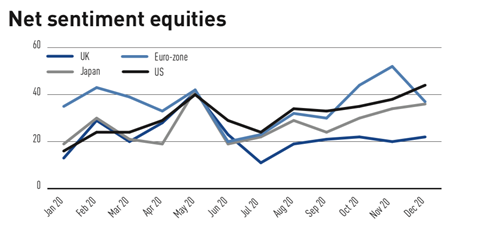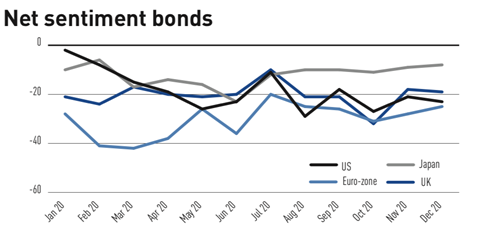 PETER KRANEVELD, INTERNATIONAL PENSIONS ADVISER,PRIME BV
Supporting documents
Click link to download and view these files