At the time of writing, over half of the US population was vaccinated against COVID-19 with the EU at 40%. UK figures give a positive picture but the threat of new strains remains. The G7 have announced plans to supply vaccines to developing countries.
Domestic economies are opening, but international travel remains hamstrung until the implementation of internationally recognised vaccination certification. EU-wide certification looks set to be arranged quickly.
Political risk is slowly returning. Preparations for the COP26 climate change conference show gaps between the EU/Japan and US. US president Biden's extended honeymoon in EU capitals is wearing thin or already gone. The EU may become assertive on trade, as Biden upholds Trump-era tariffs and blocks the World Trade Organization dispute settlement system.
Asset allocation
Net equity sentiment has now trended down for two or three months. This looks like more than a correction. The end of economic and social support programmes is close, inflation is returning and increasing political risk does not help. While unemployment trends appear positive, they are rebounding from a low base.
Net bond sentiment is mostly still falling and converging. Japan's bond sentiment figures have been a clear outlier for months. Increased inflation and possible rising interest rates seem to make a difference even outside the US. The neutral view on equities has risen above that of bonds in most regions.
Country allocation
This month shows a further erosion of previously high sentiment in equities, combined with the certainty that bonds are not to be trusted. The wide gap between equity and bond sentiment and the low neutral vote combine to form an image of a market running behind. By the same reasoning, the narrowing gap between equity and bond sentiment, and rising uncertainty, seem to show the US as a market running ahead of its fears.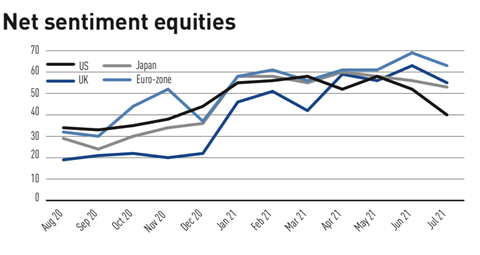 PETER KRANEVELD, INTERNATIONAL PENSIONS ADVISER,PRIME BV
Supporting documents
Click link to download and view these files