The much-feared post-summer holiday effect on COVID-19 contaminations did not materialise. The current wave started earlier and statistics are already trending down in the US, EU, UK and Japan, although still at a high level. Full vaccinations are over 60% in the EU and UK, with Japan catching up fast. Emerging markets are still significantly behind in tackling the pandemic.
The political risk of a COP26 failure is relatively high. The Biden adminis- tration seems on collision course with China over the latter's carbon emissions, higher than the US and EU combined. China's policies are moving in the right direction, but legacy projects being realised generate a worsening outcome. Russia, Thailand, Iran and Saudi Arabia are doing even worse. These countries' economies are under threat from initiatives, such as the EU's Carbon Border Adjustment Mechanism (CBAM) to tax products made with high carbon emission methods.
Asset allocation
Net equity sentiment is slightly up in the EU, US and Japan, slightly down in the UK, but the movements are small. Net bond sentiment has gone back to record lows, with Japan following the general trend, but at a much higher level. The pattern suggests great confidence in continuing high growth without inflation.
The neutral view on equities is stable for the US and EU, up in Japan and the UK. The neutral view on bonds is remarkably stable. Analysts are practically all looking in the same general direction.
Country allocation
Except for Japanese bonds, all net sentiment figures are stable and within a narrow band. It is clear that political and COVID-19 risk is largely ignored, but it is not apparent which countries would suffer most from a failure of COP26.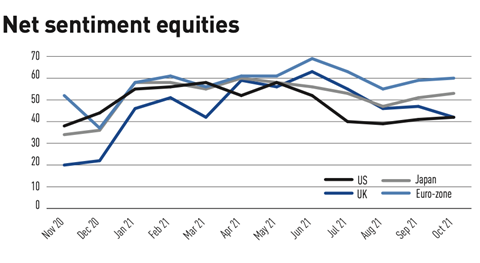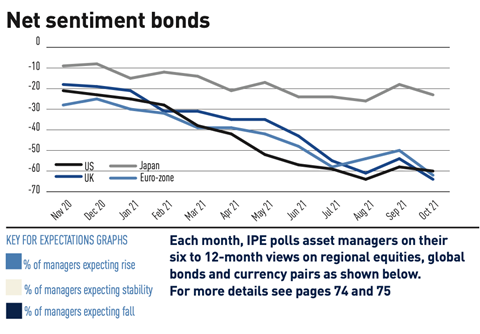 PETER KRANEVELD, INTERNATIONAL PENSIONS ADVISER,PRIME BV
Supporting documents
Click link to download and view these files