Less than a year after his controversial appointment, criticism of Nicolai Tangen's leadership of Norges Bank Investment Management is building
Nearly 10 months into what he has described as his dream job, Nicolai Tangen has started to make his mark. Since becoming chief executive officer of Norges Bank Investment Management (NBIM) in September 2020, the former hedge-fund magnate has reshaped the leadership team. He has set out his key priorities for the management of the Government Pension Fund Global (GPFG) and revised the official strategy placing more emphasis on active management.
Alongside these acts, Tangen has also cultivated a vocal public profile, using his fame and enhanced financial influence to attract young professionals to a career at Norway's NOK11trn (€1.1trn) oil fund.
His celebrity was only amplified by last year's furore around his appointment – a welcome distraction from last spring's lockdown for many Norwegians.
At the centre of the storm was a series of objections raised by parliamentarians on the Norges Bank Supervisory Council about the manner Tangen had been appointed – without having appeared on the candidate shortlist, and following email contact with then-incumbent CEO Yngve Slyngstad.
Also at issue were conflicts of interest that could arise from his links to the AKO Group he founded and other business interests.
Step by step, concessions were made by Tangen and Øystein Olsen, the governor of the central bank Norges Bank – Tangen's main backer for the job. Just a week before he started work, it was agreed Tangen would transfer his entire holding in AKO Capital to the charitable entity AKO Foundation, and convert his personal fund investments into bank deposits.
The media event of Tangen's arriving for his first working day at Norges Bank's Oslo building on an electric scooter created an image of an accessible, relatable human being – in contrast to the multi millionaire head of the world's biggest sovereign wealth fund that he is.
His chosen top team at NBIM was revealed a month into the job, with Tangen slimming the leadership group to nine, including himself, from 12. Five members of old line-up went, replaced by two new members, both of them women.
In October, Tangen told a routine parliamentary hearing he had three priorities for GPFG – return, communication and talent development.
In April, NBIM published its new strategy, revising the existing plan which had been signed off by Slyngstad. Outlining what was staying and what would be new, Tangen said: "High performance, responsible investment and transparency continue to summarise our strategy. However, the revised strategy focuses on optimising processes, on technology and on developing our employees."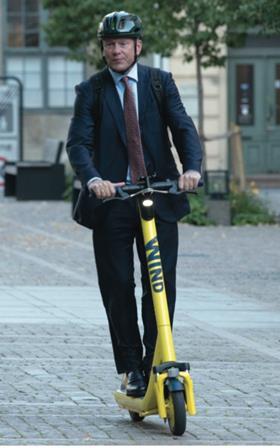 Among many things, the document announces NBIM's intention to increase its research on negative selection, including forensic accounting. This is one of two elements of the plan to stem from Tangen's previous experience, he says – the other being NBIM's new work with psychological resilience.
"We have worked with mental resilience a lot in my previous life, and I have seen what that can do to the team and to individuals in terms of their ability to take risks when they are down, and how that can reduce stress," he said.
NBIM has hired a sports psychologist to develop psychological resilience amongst staff.
Tangen's focus on changing the human element of NBIM – both by shaping how existing staff think and by inviting new applicants – coupled with his emphasis on technology – seems encapsulated in the investment simulator he spoke of in May.
Compiling millions of historical data points for each portfolio manager, the simulator NBIM is building is to analyse why people made the decisions they did, and how to do better next time.
So far, the way Tangen is leading NBIM appears promising, according to Tom Karp, professor in leadership at Norway's Kristiania University College, and slightly more modern than the kind people are used to seeing at NBIM and other conservative environments within finance.
Having researched mental toughness and strategies, Karp says: "It will be interesting to see if he really means this or if it is just window-dressing.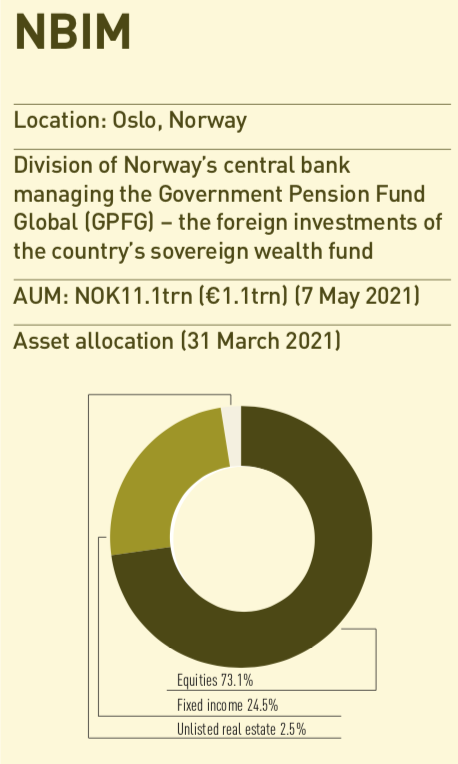 "In any case I think it is a strategy much needed in high-performance environments like investment banking and funds – but in combination with some sort of winding down strategies and work-life balance."
Viewed from the outside, Karin Thorburn, professor of finance at Norwegian School of Economics in Bergen, says Tangen appears to be an engaged and charismatic leader focused on building NBIM's organisation.
With the caveat that it is too early for conclusions about Tangen's leadership of NBIM, Espen Henriksen, associate professor of financial economics at Oslo's BI Norwegian Business School, says that on the positive side, the CEO has been able to rebuild trust and a better working relationship with the ministry of finance – which functions as the custodian for GPFG and makes recommendations on the investment strategy to parliament.
"Chatter from within NBIM also tells that he has been able to rekindle energy and enthusiasm among many employees, and, in particular, among the younger cohorts," Henriksen says.
But he cautions that Tangen risks "destroying value for the owners" for at least three reasons.
"First, the absence of deep, principled thinking about asset management and precise communication to the owners of the fund makes the asset-management model more fragile and forestalls gradual improvements in the strategic benchmark.
"Tangen talks a lot in public and social media but has so far not shown a deep understanding of either financial value-added from the fund or strategic trade-offs facing the fund," he says.
"So far, his communication about the fund has been a caricature of hedge-fund marketing and not what we should have expected from a manager who represents one large owner," he says.
Henriksen's second point is that Tangen's maintenance of a high media profile is certainly not in the long-term interests of the fund.
"With the size of the fund, it is a natural target among opportunistic politicians, non-government organisations, and media around the world – so attention comes at a large cost.
"The fund would probably have been better served with an efficient, low-key management style that would have been solely focused on implementing the strategic mandate, communicating that tersely and precisely, and on ring-fencing the fund," he says.
Thirdly, according to Henriksen, Tangen risks undermining the principle of clear separation between the management of the fund and politics.
"A key to the success of the Norwegian sovereign asset management model has been to keep politics out of the management of the fund. The fund has been managed solely to create the largest possible financial value-added. Politicians can then pursue political goals using the transfers from the fund," Henriksen says.
NBIM's proudly-announced first unlisted infrastructure investment – a deal to buy a 50% stage in Ørsted's Borssele 1 & 2 Offshore Wind Farm – does not make much financial sense, he says.
"So it has been interpreted as an attempt by Tangen to build his personal legacy and gain political favours," says Henriksen.
The new strategy document has given fuel to concerns that Tangen would try to make the GPFG's management more active, and perhaps more hedge fund-like.
One recent indication of a more active approach came at the beginning of May, when he told a parliamentary hearing NBIM would no longer automatically invest in small companies that were added to the index the GPFG follows.
Thorburn says the new strategy document does show a change towards more active management. She emphasises that "to achieve the highest possible return," as the document does, is very much like a hedge fund, she says, rather than "the highest possible risk-adjusted return net of cost," which is what an index fund does.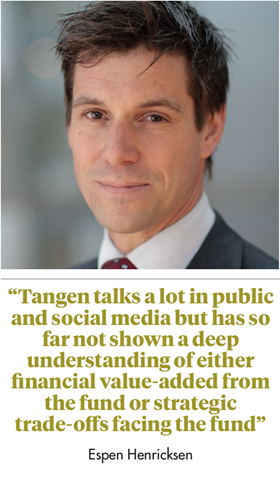 "That said, the document does mention 'at a low cost', although not as prominently as featuring the absolute return," she says.
Under Slyngstad's prior leadership, Thorburn says NBIM primarily took bets based on asset classes and well-known risk factors, such as size and value.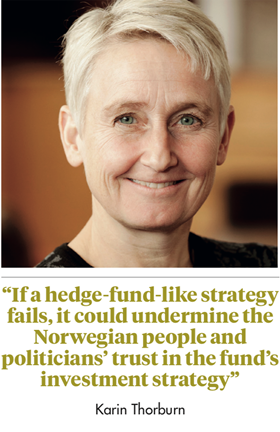 "Tangen has replaced this asset-allocation and factor-tilting with bets on individual securities and corporate events — again in the spirit of a hedge fund," she says.
"The strategy document reveals a belief that NBIM can identify investment opportunities that other investors in the market fail to see and therefore have not priced," says Thorburn, noting that the plan also states NBIM will increase its use of external managers.
While active management does not increase expected returns, she warns that it does have two potential costs.
"The first is the direct costs of the resources allocated to do research and trying to beat the market.
"The second and potentially more important cost is the political risk.
"If a hedge-fund-like strategy fails, it could undermine the Norwegian people and politicians' trust in the fund's investment strategy.
"Worst case, this could lead to political pressure to lower the fund's overall risk, for example, by reducing the fraction for equity," according to Thorburn, who says she has long said GPFG with its long investment horizon and steady oil revenue, could and should take on more systematic risk.
"If you ask me, changing the benchmark index to include more equities is a much more profitable strategy for the fund than making the fund more actively traded," she says.