Insurance-owned asset managers can be difficult to pigeonhole. Some have forged strong specialisms, often in fixed income, but now also in alternatives like property or niche credit. Others have remained a corporate backwater absorbed by group general-account assets.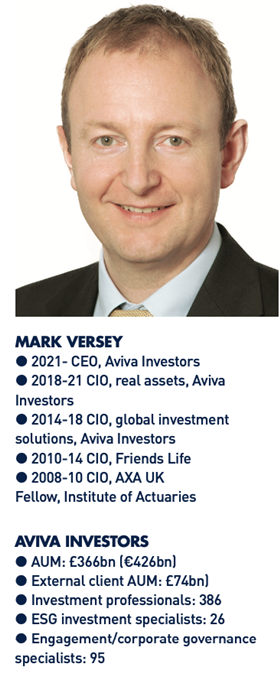 But insurers are increasingly divesting core businesses as areas like life insurance have become a drag on profitability. This has implications for their asset managers. In some cases, like abrdn (the rebranded Standard Life Aberdeen) the whole strategy is to focus on pensions and savings. In the case of the UK's Prudential, the company has pivoted entirely to Asia.
Unlike Prudential, Aviva has shifted away from Asia (having sold its Singapore business in 2020) and remains committed to the UK life market.
Corporate pension derisking is important for the company's growth strategy and it is a significant writer of UK bulk annuity business, ranking in the top four in 2020 with sales growth of almost 50% year-on-year, taking assets to £6bn (€7bn).
Aviva serviced £3.7bn of bulk annuity business this year to July – including a £900m deal with the retail group Kingfisher. This augurs well, given the firm's previously stated ambition to scale up in terms of transaction volumes. It has tended to underwrite smaller average deal sizes compared with its competitors – an average of £95m in the year to end-June 2019, according to the Hymans Robertson's 2021 Risk Transfer Report.
Aviva Investors must service this pipeline of pension risk transfer business with its own conveyor belt of assets to allow its parent to expand the business line.
DB derisking as a strategy for corporate clients can be seen as a natural extension of insurance asset management, given the focus on long-dated cashflow-matching as pension funds manage down their liabilities.
Aviva Investors launched its 'Lime' long-income property fund in 2004 and complemented this with its 'Cells' Continental European Long Lease Strategy fund in 2017.
The firm has also expanded its buy-and-maintain credit strategy to cover emerging market debt, reflecting the way DB funds are expanding their horizons in the search for higher yield.
Mark Versey, who was appointed CEO of Aviva Investors in February 2021, is a seven-year veteran of the business and pledges "evolution rather than revolution" with a hybrid growth strategy to expand both group and external business.
The firm manages a much lower proportion of external third-party assets than, say, its larger UK peer, Legal & General Investment Management (LGIM), which has scaled up over the years through its index business and LDI.
Aviva Investors also posts a low contribution to group operating profit – £85m in 2020 against the group's £3.2bn, equivalent to 2.7%. The equivalent for LGIM is more than 22%.
Versey says the ambition is to boost the P&L significantly: "That will come from the combination of powering Aviva but also from growing our external client base today.
"After the divestments that Aviva have made, we're 65% internal, 35% external, and actually most of our growth at the moment is external.
"It's the Aviva side that we need to power up to get even more growth but we've got clear plans of how we're going to get that P&L up and be back to the sort of contribution at Aviva group level that you'd hope."
Recent changes have involved streamlining the AIMS (Aviva Investors Multi Strategy) fund suite to focus purely on target-return strategies.
Versey also articulates Aviva Investors' ambition to become a leading sustainability asset manager with a "laser focus" on ESG. That has involved commitments including a landmark group-wide pledge to become net carbon zero across all asset classes by 2040, announced in March.
The firm has a long track record in ESG and Steve Waygood, chief responsible investment officer, has a significant profile in his own right as co-founder of the World Benchmarking Alliance and the Corporates Sustainability Reporting Coalition, among other initiatives.
Supporting climate transition involves capital-allocation decisions and engagement with laggards.
In equities, Aviva Investors brings serious clout as an asset owner and compares well with its peers in corporate governance. Its 2020 responsible investment report cites 3,428 engagements; BlackRock's equivalent report cites 3,500, whereas Legal & General Investment Management reports 1,556.
There is an engagement escalation policy for the 30 largest carbon-emitting listed companies globally, coupled with a three-year horizon to divest from laggards.
Broadly, Versey sees the world of responsible investing moving from a focus on process towards standardisation of reporting.
This should allow investors to benchmark the effectiveness of asset managers' ESG strategies by focusing on real-world impacts, such as measurable (and verifiable) carbon reductions. As Versey puts it: "You'll get found out if you've just sold the brown and bought the green."
This cuts across binary buy or sell decisions – encompassing corporate governance policy and engagement in particular.
"Our view is that there's a transition that we need to get right. The world needs to move from brown to green and we want to support corporates who are doing that transition," Versey says.
In his previous role as CIO of the real assets division before he became CEO, Versey was instrumental in creating a single platform for property, infrastructure and related debt capabilities. In January, the firm announced a comprehensive 2040 net-zero target and pathway for real assets.
"Here it's not us challenging the management team of a corporate and saying 'make yourself greener'," Versey says. "We are the management team. If you own a building, you have to make it green, so how do you do that?"
Aviva Investors has raised an initial £425m (€493m) for its climate-transition real assets fund, which will invest in real estate, infrastructure and forestry, and for which corporate DC schemes are a target audience.
Liquidity is a key consideration. "We're making sure that our real assets strategies have the necessary liquidity that is needed by corporates, but also the necessary diversity of asset types," Versey says.
His clients – external and internal – will certainly hope the pipeline of real assets and other income and growth-generating opportunities continues to flow abundantly.