Nowadays, it seems fair to ask asset managers whether they believe they can fulfil their clients' needs while at the same time doing their bit to fight COVID-19.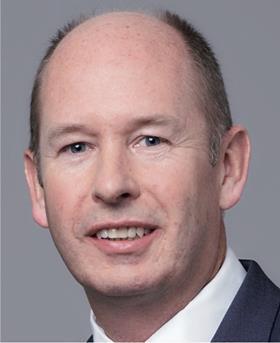 Mark Dowding
● CIO of BlueBay Asset Management since May 2019
● Formerly BlueBay's head of developed markets since 2010
● Head of fixed income, Europe at Deutsche Asset Management, 2007-10
● Head of fixed income, Europe at Invesco, 2000-07
● Portfolio manager, Morgan Grenfell, 1993-99
● BSc in Economics from the University of Warwick
BlueBay Asset Management
● AUM: $67.2bn (€57.4bn)
● Strategies: investment-grade credit ($38.2bn), emerging market debt ($9.8bn), leveraged finance ($9.9bn), convertibles ($1.7bn), structured credit ($1.3bn), multi-asset credit ($6.2bn)
● 430 employees and partners, including 112 investment professionals
● Eight global offices: UK, US, Luxembourg, Japan, Germany, Italy, Switzerland, Australia
● A subsidiary of RBC Global Asset Management
Consider the widespread adoption of responsible investment principles. The pandemic can be seen as a test of managers' loyalty to those principles. If managers are truly committed to achieving positive social outcomes as well as returns, then they should be able to show that their capital allocation decisions are helping society tackle the emergency.
Mark Dowding, CIO of fixed-income specialist BlueBay Asset Management, argues that by engaging both corporate and sovereign issuers on environment, society and governance (ESG) questions, with an emphasis on the 'G' factor, the firm is contributing to the fight against COVID-19.
BlueBay Asset Management, founded in 2001, was acquired by Royal Bank of Canada in 2010 and operates as a subsidiary of the financial group's asset management arm, RBC Global Asset Management.
BlueBay focuses on active management strategies across the spectrum of fixed income. Its investor base is global and most of its assets are invested in investment-grade credit, emerging-market debt and leveraged finance.
In 2011, BlueBay launched a private debt business that amassed $13bn in assets, until it was spun off last year. It is now expanding its capabilities in illiquid credit in developed and emerging markets, with two newly-created roles. Fund launches in those areas are expected next year.
Earlier this year, Adam Phillips was appointed head of developed markets special situations, while senior portfolio manager Mihai Florian will develop BlueBay's illiquid corporate-credit strategies in emerging markets.
Engagement represents a key aspect of the firm's active management philosophy, according to Dowding, and this is not uncommon among fixed-income investors nowadays.
More atypical, perhaps, is the intensity of BlueBay's efforts in engaging with sovereign issuers, as described by the CIO.
Dowding says: "Groups like ourselves are heavily engaged in dialogue with policymakers. It is what I spend a lot of time on, and frankly one of the most interesting parts of my job."
The objective of those engagement activities is ultimately to improve the credit quality of the issuers involved.
"This is not done in a Machiavellian sense of trying to make profits only for ourselves, it is done with a deep-seated desire to see positive policy outcomes.
"We're seeking to be constructive in our dialogue with authorities and end up with good policymaking, because we see that as conducive for good returns. But we also see this as part of our ESG mindset. As stewards of capital, our clients expect us to deliver more than just an investment return," Dowding says.
"The other angle for us, as active investors, is trying to understand what is going to happen next. Addressing certain issues with decision-makers puts us in a strong position to benefit from how markets may move and fundamentals may change if policy evolves in a certain way," he says.
At BlueBay, engagement activities have involved a carrot-and-stick approach. The CIO says that at times the firm has used its ability to short-sell issuers as leverage with sovereigns.
In recent times, the firm has lobbied against the government of Brazil on issues around deforestation and indigenous people's rights.
"We took a very active position against Brazil. We then got called into a meeting with the deputy prime minister, the head of the central bank and other stakeholders to discuss with the government what steps they needed to take to mitigate our ESG concerns.
In the past we have lobbied in Japan and Europe for banks to be granted exemptions from central banks with respect to being charged negative interest rates on excess reserves on deposit at the central bank.
BlueBay took the same approach towards the European Central Bank (ECB). Indeed, the firm's favourite lobbying ground seems to be the EU. This is where Dowding contends the firm can achieve the most in terms of responding to COVID-19.
He says: "As investors in the European economy, we have an important role in making Europe work, and part of that is our dialogue with European policymakers, at EU and national level.
"We apply pressure to continue to move forward in terms of ever-closer monetary union. We have taken the view that if the euro-zone wins, we all win."
Dowding praises the efforts of European policymakers in delivering a €750bn recovery plan but warns about the risk that complacency about the EU's situation could creep back in. The toxic mixture of economic recession and political tensions could lead to heightened break-up risks, he says.
"The initial response to COVID-19 has tended to be more unilateral in nature, at a time when we would have liked to see greater global coordination to combat a common threat.
"My concern is with how the crisis unfolds politically as COVID-19 recedes. We may see a disparity in the performance of different countries, which could drive political divergence and pull Europe apart. There has been an inner desire by many investors to try and speculate on the demise of the euro, and although it is pleasing to see that has diminished over the last few months, I do not think we can ever afford to be complacent."
No doubt, many investors share Dowding's hopes for euro-zone survival. But the CIO holds some views that may not go down as well with the majority of his peers or clients.
He says: "There are things that, if we can get right, would put economic growth on a stronger footing. For instance, QE is only adding to income inequality, which is bad for both society and the economy. In that respect, I like the idea of a capital gains tax. Similarly, perhaps we should be taxing corporations more, particularly those that do not seem to be paying their fair share of the tax burden. A winner-takes-all economy is not good for growth."
When asked how the global economy will deal with its ever-growing debt burden, Dowding puts forward the idea of debt cancellation. He says: "The debt that is owed by governments to central banks could effectively be cancelled. If this sounds potentially toxic, one has to foresee that borrowing costs and inflation would go up initially but it would create space for fiscal policy, which is what is needed at the moment to restart the economy."