The UK's auto-enrolment policy has been successful. But this success has been no accident, as a new research project shows

Auto-enrolment is now a fixture of UK pensions policy following the implementation of the programme from 2012-18. While it is largely seen as a success story both in the UK and internationally, with opt-out rates below 10%, the reasons behind its success are nevertheless complex.
They may also be difficult to translate internationally, as experiences in other countries, like Turkey and Poland, appear to be showing.
The UK's autonomous publicly-backed master trust, NEST, has embarked on a research project to document and archive what Prof Nick Pearce, director of the University of Bath Institute of Policy Research and in charge of the project, calls the "successful architecture of reform".
Matthew Blakstad, assistant director of the NEST Insight Unit, an internal think tank, sees a risk that the evidence base and general information on the process and delivery of the reforms could be "lost to history".
In an interview at NEST's head office in London's Canary Wharf financial district, Blakstad outlined the rationale for an ongoing programme to create a full online archive covering the 2002-06 Pensions Commission, the genesis of NEST and its predecessor, the Personal Accounts Delivery Authority, and a wider catalogue of documents.
Blakstad says: "There's a huge amount of documentation that was generated both around the activities of the Pensions Commission, but also more widely by a lot of the other bodies involved, not least PADA, which became NEST; not only about the rationale and the mechanisms by which the reforms came to be forged, but also documenting the various bits of analysis and research that were done to make the thing happen." The objective is to create a full academically indexed and archived resource that researchers can draw on.
As a former head of Britain's Number 10 Policy Unit, which provides policy advice directly to the prime minister, Pearce was ideally placed to run 1997-2015 policy research project. As Blakstad says: "He was there at the time and he knows a lot of the actors involved."
Auto-enrolment and the structure that eventually became NEST were a recommendation of the 2005 Pensions Commission, the then Labour government's attempt to settle the question of the long-term funding of pensions. Private sector employers were retreating from defined benefit pensions (DB) by the early 2000s but there was little coherent policy on how to best structure defined contribution (DC) alternatives.
Ill-considered reforms of the 1980s had removed the ability for employers to automatically enrol employees into a workplace pension scheme. Trust and confidence in private pensions was low following a well publicised scandal of pensions mis-selling in the 1980s and 1990s – itself a byproduct of these same reforms. As a result, DC workplace pension provision was patchy and arguably unfit for purpose. Piecemeal policies in the 1997-2001 Labour government were seen as largely ineffective.
Prof Nick Pearce
● Director of the Institute for Policy Research (IPR) and professor of public policy, University of Bath
● Former director of the Institute for Public Policy Research (IPPR)
● Head of Number 10 Policy Unit, 2008-10
● Previously special adviser in the UK Home Office, Cabinet Office and Department for Employment and Education.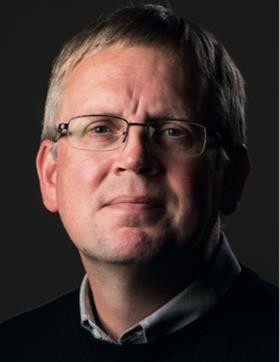 NEST Insight Unit
● Established 2016
● Focus on issues facing its target membership group
● Emphasis on practical solutions and sharing best practice
● Aims to deliver research, publications and events
● External funding from Vanguard and Invesco, with other sponsors for individual projects
● Projects include sidecar savings, the self employed and an annual report on saving.
NEST and Auto enrolment key data
● 7.9m members of NEST and 720,000 employers
● 10.2m employees enrolled since 2012
● Opt-out rate about 9%
● Over 90% awareness level among micro, small and mid-sized employers
● Workplace pension participation is now 87%
● £90.4bn invested in 2018.
Source: DWP Auto Enrolment evaluation report 2019
Auto-enrolment timeline
● 2002: Pensions Commission established, headed by Adair Turner
● 2005: Pensions Commission's report recommends the creation of the National Pension Savings Scheme and a rise in the state pension age to 67
● 2006 (May): publication of the pensions reform white paper, Security in Retirement: Towards a New Pensions System
● 2006 (November): publication of the Pensions Bill, which provides for the Personal Accounts Delivery Authority to be established
● 2006 (December): publication of white paper, 'Personal Accounts: A New Way to Save'
● 2007: Pension Act 2007 receives royal assent, implementing many measures of the Turner Report
● 2007: Paul Myners appointed chair of the Personal Accounts Delivery Authority (PADA)
● 2010: PADA becomes NEST Corporation
● 2012-18: Auto-enrolment phased in
There was also a long-standing ambition among Labour politicians to re-introduce the link to average earnings in increases to the state pensions. This had been removed by the Conservative government in 1980.
By the mid-2000s, the Investment Management Association (now the Investment Association) and the Association of British Insurers were generally supportive of the Pensions Commission's policy recommendations for supplementary pensions. Richard Saunders, chief executive of the IMA from 2001-12 and speaking in 2006, outlined a structure not dissimilar to the one in operation today with an independent, publicly accountable board overseeing a scheme with responsibility for default fund design and asset allocation.
Yet there was hostility to personal accounts from the large actuarial consultancy firms, which saw them as a cut-price alternative to DB schemes that would encourage employers to level down pension provision.
Christine Farnish, a former chief executive of the National Association of Pension Funds (now the Pensions and Lifetime Savings Association), once said the policy reeked of "Stalinism" and "big government".
For Blakstad, an important part of the research involves "how you forge an effective consensus and how you make something like the Pensions Commission an effective instrument for driving policy rather than just a set of recommendations that get left in a bottom drawer somewhere".
Pearce used his political rolodex to contact a range of interview subjects, a number of whom spoke on camera. These included the former prime ministers Tony Blair and Gordon Brown, as well as senior civil servants and former pensions ministers.
Unlike most areas of government, pensions policy has largely been an oasis of cross-party consensus in recent years. Yet it was not a given that the coalition government of 2010-15 would implement auto-enrolment. With a focus on austerity at the top of government and with benefits policy in the sights of the then secretary of state, Iain Duncan Smith, Steve Webb, was instrumental in driving the policy forward as pensions minister.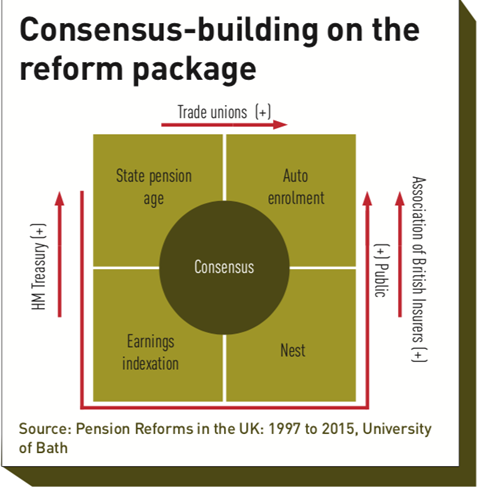 Pearce comments: "There is a contrast in the political roles after 2010 where Webb becomes quite pivotal, whereas before 2010 it had been done at the very highest levels of the government, not by the minister of state in the department."
Pearce was careful to emphasise to potential interviewees that his aim was to focus on how and why the reforms came about, not to critique them. He sees the project as a kind of contemporary oral history.
"We were interested in why the Turner Commission was set up, the processes, the kind of policy framework in that period, the decline of DB schemes, the failure to get voluntary workplace pensions at any kind of scale, and problems building up with means testing."
Means testing was a safeguard built into UK pensions policy to prevent the relatively wealthy from drawing on the public purse. It had the unintended effect of putting off lower earners from saving as even relatively low levels of capital could make them ineligible for a higher state pension.
The introduction of a flat-rate basic state pension in the 2007 Pensions Act was therefore a crucial underpinning for the long-term success of auto enrolment.
The Pensions Commission itself was deliberately designed to be neutral and technocratic, and was consciously not set up as a royal commission. As interview evidence shows in this project, royal commissions were increasingly seen as slow, sclerotic and bureaucratic.
Appointments to the Pensions Commission were also made with care: Adair Turner, a former McKinsey director and director general of the Confederation of British Industry, was in the chair alongside John Hills, professor of social policy at the London School of Economics and a leading academic in his field, and Jeannie Drake, a prominent trade unionist.
Pearce praises the commission's strong evidence base and the clarity with which it articulated the trade-offs around the long-term affordability of state pensions. Unlike recent failed attempts to reform social care, there was no effective 'veto' from a block of voters as reforms for the working-age population were paired with policies to enhance the state pension in a single package. Auto-enrolment contribution rates were also set at a relatively low rate at first to dispel concerns from employers.
Overall, Pearce believes the success of the Pension Commission's recommendations and subsequent policies lies in their compatibility with the underlying structure of the UK benefits system as put in place following the Beveridge report of 1942. This foresaw a relatively modest system of social security focused on flat-rate payments that were intended to be supplemented by private provision.
Of the project with Pearce and the University of Bath, Blakstad remarks: "As with all our projects, really, it was a very collaborative effort. And, it was the bringing together of two very similar but slightly different sets of research priorities and working together to define a piece of work that would address both those sets of priorities."
The work of Pearce and his colleagues Thomais Massala and Marsha Wood will be of interest to a wider audience and to countries in particular with a relatively stable, predictable state pension system and developed capital markets.
"I certainly think if you're a policymaker in another part of the world looking at these UK reforms, you will have to think very carefully about your own context, what elements of these reform packages you can implement and which are not likely to work.
"The conclusions from our research are that this was a very first successful reform process and that Britain has done some important things. And even if other countries have to think of their own context, their own politics, their own institutions, you can't just do policy transfer of this kind."
NEST's Insight Unit and what it is currently doing
As a public body, NEST believes it has a duty to research issues that affect its target market of 8m members. The conundrum is how to do this without drawing too heavily on its own resources given its low-cost model.
Matthew Blakstad, assistant director of the NEST Insight Unit, says: "NEST is really in a unique position because of our closeness to the reforms, because of the size of the population that we have, and because of the very specific role that we were given within the [auto-enrolment] reform package. And, obviously, we've got a bigger dataset than anyone else involved."
NEST Insight, he explains, was set up to use the knowledge and data to which NEST has access "to deliver research and insights that will help deliver better outcomes in retirement for people who are, broadly speaking, part of the automatic enrollment system".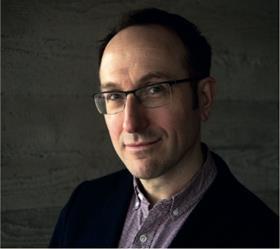 To keep costs down, NEST seeks private funding both to support the Insight Unit strategically and to defray the cost of individual projects. Vanguard and Invesco currently provide core funding.
Research projects are separate from NEST's own business research on the specific needs of its customers. Aside from the pension reform research with Bath University, other projects have focused on sidecar (or emergency) savings and the self employed.
The aim of the sidecar savings project is to apply the technique of pensions auto enrolment to short-term savings in light of the fact that the core auto-enrolment population in the UK has inadequate emergency savings provision. Three UK employers have, so far, signed up to a sidecar savings trial.
The sidecar savings project has also allowed US academics to trial a project on a real-life population unavailable to them in America.
Blakstad says: "We're able both to be the leader of this sort of research project, facilitating the whole programme, making it roll out but also doing fundraising, setting up partnerships with, for instance, the technology partners we needed to run the trial."
In addition, a yearly How the UK Saves report is supported by Vanguard. Legal & General Investment Management supports research into the phased increase of auto-enrolment contribution levels, and the Dutch Network for Studies on Pensions, Ageing and Retirement (NETSPAR) supports work on engagement.
To read the latest IPE Digital Edition click here