Assets worldwide in exchange-traded funds (ETFs) are on a seemingly unstoppable growth path. Can anything halt ETFs' progress?
ETFs' growth trajectory
By a variety of measures, 2017 has been a record year for the global ETF market. Assets invested in ETFs and other exchange-traded products (ETPs) reached a new all-time high of $4.8trn (€4.1trn) at the end of August, according to research firm ETFGI. Recent months have seen an acceleration in growth: global ETF assets surpassed the $3trn mark only last summer, while they crossed the $4trn threshold in May 2017.
The ETF boom is part of a wider trend away from actively managed mutual funds and towards index-tracking funds, particularly in the US market. According to researchers at Credit Suisse, in 1989 assets in index-tracking mutual funds totalled only $3bn, around 1% of total US mutual fund assets.
However, by the end of 2016, assets in index-tracking mutual funds and index ETFs had grown to a collective $5.1trn, 26% of the US mutual fund market. ETFs alone had a 13% market share.
In other global markets ETFs have a lower penetration rate: ETFs currently represent around 5% of European mutual fund assets, for example.
ETF industry analysts are increasingly confident that the growth rate can continue. PwC forecasts global ETF assets to exceed $7trn by 2021.
Some ETF market participants are even more bullish.
"So far, assets in global ETFs have doubled every five years," says Bryon Lake, head of international ETFs at JP Morgan Asset Management.
"So can we reach $10trn in assets in 2022, compared to the current $5trn? It's a stretch but it's entirely possible."
Some regulatory trends and changes in market structure clearly favour the further expansion of the index-tracking funds market. The increasing focus on cost transparency and push for the elimination of hidden subsidies in the adviser market both appear to provide fertile ground for ETFs.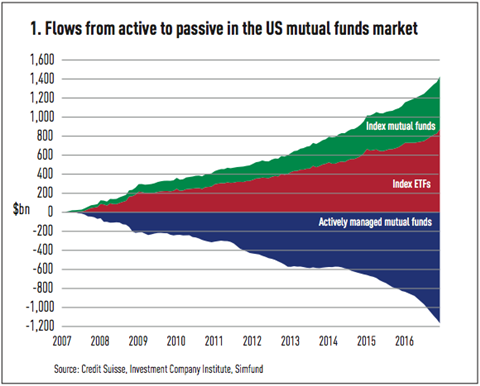 Despite past concerns among regulators and ETF opponents that ETFs incur hidden liquidity risks, investors seem to have shown increasing confidence in the funds' structure. Past episodes involving difficulties in pricing ETFs, such as the 2010 flash crash in the US or the August 2015 disruptions to ETF quotes on the US stock exchange, have been accepted as down to broader problems in US equity market structure.
"You would need a big negative event, such as a problem with redemptions from ETFs investing in less liquid assets, or a robo-adviser blowing up, for the growth rate to be constrained," says Hortense Bioy, European head of ETF research at Morningstar.
But for ETF asset growth to continue at 20% a year, it's likely that the market will also have to rely increasingly on the expansion of assets in funds tracking non-standard indices or ETFs embedding discretionary active strategies.
ETFs will also have to attract different types of market participant by competing head-on with other tracker products like futures, or by playing a more central role as collateral in the securities finance market.
And as the remaining active managers face an existential challenge, they are likely to up their game to compete with cheaper index-tracking funds, putting the performance and liquidity of ETFs under the spotlight.
Market structure and regulatory changes favour ETFs
Manooj Mistry, head of passive investment at Deutsche Asset Management, draws parallels between the growth of ETFs and the introduction of disruptive technologies in other industries.
"Like financial services as a whole, the asset management industry is going through a lot of change," says Mistry.
"ETFs and passive investing are one of the disruptive elements coming from within the industry. Other forces, like FinTech and RegTech, are coming from outside."
Arnaud Llinas, head of ETFs at Lyxor Asset Management, notes the recent expansion of ETF usage outside the traditional buyer groups of asset management firms and insurance companies.
"ETFs are becoming increasingly competitive price-wise vis-à-vis index funds and we are seeing increased usage of ETFs by large institutions like pension funds," says Llinas.
"At the other end of the size scale there's increasing usage of ETFs by wealth managers and in wrappers designed for digital distribution to retail investors."
Victor Haghani, a former hedge fund manager and now founding partner at Elm Partners, an asset management firm focusing on asset allocation using index funds and ETFs as building blocks, argues that the structural advantages of ETFs over traditional mutual funds are often misunderstood.
"ETFs are a massively underappreciated positive innovation," says Haghani.
"ETFs are generally superior to traditional mutual funds since the ETF can be traded intraday and the costs associated with subscriptions and redemptions are borne directly by those making the trade. That creates stability."
"In a traditional US mutual fund investors can typically enter or exit once a day at mid-market prices. That increases the risk of an investor run."
"It's a bit like the story of the telephone and the telegraph. Early on, the telegraph companies offered to buy the telephone technology but only so they could continue sending written messages for someone else to read out. They didn't see how telephones would be used."
Meanwhile, several regulatory trends in the US and Europe appear to favour the further uptake of ETFs.
The so-called 'fiduciary rule', passed by the US Department of Labour in 2016, requires financial advisers to recommend what is in the best interests of their clients when advising on investment products for retirement accounts. Previously, US advisers were held only to a 'suitability' standard. Other things being equal, the fiduciary rule incentivises the use of low-cost products such as ETFs.
In Europe, MiFID II, which enters into force in January 2018, prohibits European investment advisers from accepting fees, commissions or other benefits from third parties. MiFID II also contains important provisions requiring the publication of post-trade data for ETFs.
"MiFID II will help put a microscope on the costs of investment management," says Patrick Mattar, managing director and European head of the iShares capital markets team at BlackRock.
"It will help people look more closely at what they are purchasing and the prices they are paying for those services. ETFs tend to benefit from these types of comparison."
"The richer post-trade data promised by MiFID II will enable clients to have a much better picture of historical patterns in secondary market liquidity," says Slawomir Rzeszotko, European head of business development at market-making firm Jane Street.
Smart beta in focus
A ranking of the world's 10 largest ETFs by assets under management consists exclusively of funds tracking standard, capitalisation-weighted indices of stocks and bonds, such as the S&P 500, the MSCI EAFE, the FTSE Emerging and Developed Markets, the Russell 2000, the Nasdaq 100 and the Bloomberg Barclays US Aggregate Bond indices.
Nevertheless, ETF market participants are excited about the growth prospects for funds tracking non-standard, so-called 'smart beta' indices, particularly in Europe, where smart beta adoption levels amongst professional investors are above those in the US.
Global assets in smart beta ETFs and other ETPs have grown at a compound annual rate of 31.5% over the five years to August 2017, according to ETFGI, exceeding the growth rate in traditional, capitalisation-weighted index trackers (18.9%) by some margin.
"Systematic, rules-based investing is really expanding. I expect the assets in smart beta ETFs to grow much further, with fixed-income smart beta a particular focus," says Howie Li, chief executive officer at Canvas, ETF Securities' fund platform.
"In the coming years a significant proportion of the growth in ETF assets is likely to come from funds embedding non-traditional strategies like smart beta, objective-driven or thematic," says Lyxor's Arnaud Llinas.
"These ETFs don't just buy the market, they allocate risk according to models. They participate actively in the price formation mechanism and in the efficiency of the overall market."
"Fixed income and smart beta are the two areas of focus for us in ETF product development," says Fannie Wurtz, managing director for ETFs, indexing and smart beta at Amundi.
Jane Street's Slawomir Rzeszotko points out that trading activity in smart beta ETFs is also on the rise.
"There's a visible growth in trading volumes in smart beta ETFs," says Rzeszotko. "A year or two ago, investors were mainly trading minimum volatility products, now they are more active in different factor strategies. It seems clients are increasingly embracing these products."
JP Morgan Asset Management's Bryon Lake argues that the increasing variety of investment strategies underlying ETFs is a natural development.
"I think of ETFs as a technology which you can use to embed many types of investment strategy," says Lake.
"ETFs started by tracking capitalisation-weighted indices, they've moved to embrace smart beta and now people are looking more closely at creating active ETFs as well."
Newer uses of ETFs
For ETF issuers to hit their ambitious growth targets, newer applications and uses of ETFs are likely to be required. One potential growth opportunity may be as an alternative to index-tracking futures contracts.
"As ETF fees have gone down and the cost of accessing banks' balance sheets has gone up, many institutions who don't need leverage are using ETFs rather than futures to gain market exposure," says ETFGI's Deborah Fuhr.
"If a future is trading rich to its fair value, banks can't step in so easily any more to take the other side of the trade," explains BlackRock's Patrick Mattar.
"So when the market is in a bullish phase and end-users are net long, futures continue to trade rich. We're seeing this occur regularly across a number of popular equity indices. This opens the door for people to look at an alternative product. If people want unleveraged, cheap delta-one exposure then ETFs are a good solution."
Another avenue for growth is in the increasing use of ETFs as collateral in the securities finance markets.
"ETFs that offer same-day liquidity and the possibility of collateral access for OTC derivatives may generate new interest from investors over the next year or two," says Josh Galper, managing principal at consultant Finadium.
"There may also be opportunities for some ETFs to participate in direct and peer-to-peer securities finance markets, or to join central counterparties (CCPs) as buy-side members," he adds.
A focus on performance
Some market participants argue that the increasing take-up of index-tracking funds is creating much better prospects for active managers.
"The investors leaving active managers are likely less informed than those who remain," says Michael Mauboussin, director of research at BlueMountain Capital Management and former head of global financial strategies at Credit Suisse.
"More passive investors and noise traders may create more inefficiency and hence opportunity for active managers," Mauboussin says.
Although one swallow may not make a summer, active managers may be encouraged by recent performance surveys by S&P and Morningstar, in which they did collectively better against their index-tracking peers over the 12 months to end-June than in previous surveys.
"The one-year success rate among active US equity funds increased substantially relative to year-end 2016," wrote Morningstar in its mid-year 2017 'Active-Passive Barometer' publication.
"About 49% of active US stock funds beat their composite passive benchmark in the 12-month period ended June 30, 2017, versus 26% for the year ended December 31, 2016," the firm noted.
"The recent improved performance of active managers may divert some money away from passive funds, which is not an unhealthy development," says Peter Sleep, senior portfolio manager at Seven Investment Management.
"The cross-correlation of stocks has fallen and it's become more of a stock-picker's market."
But it's too early to judge if anything fundamental has changed in active funds' relative performance prospects, argues Morningstar.
"Stylistic headwinds and tailwinds tend to explain short-term fluctuations in active-fund success," the firm says.
And it's unlikely that recent variations in active managers' collective performance will do much to hinder ETF sales, argues ETFGI's Deborah Fuhr.
"As they track an index, ETFs are an easy product to talk about, regardless of what's happening in the market, since you might use them as a hedge. With active products the conversation is different as they are about manager skill and we know that there's little persistence in active manager performance," she says.
While accepting that passive funds have a growing market share, some market participants contest the argument that index-tracking ETFs are creating pricing inefficiencies.
"ETF growth could at some point disrupt markets, but for the moment there's no evidence this is the case," says Lyxor's Llinas.
"Index-tracking assets – in index funds, index mandates and ETFs – are 18% of total global assets under management, if you include both funds and separately managed accounts and mandates. ETFs alone are about 5% of the total. For us the debate about ETFs impacting market price formation is a bit exaggerated."
Hortense Bioy, European head of ETF research at Morningstar, says the increasing diversity of ETF strategies counteracts crowding concerns.
"There's a great variety of ETFs on offer across asset classes, from cap-weighted to smart beta, thematic and ESG. This, together with the ability of investors to short ETFs, will help prevent them from having a negative effect on price discovery," says Bioy.
And following ETFs' two decades of success, Antoine Lesne, European head of ETF research and strategy at State Street, suggests that the onus is still on active managers to justify the value of the services they offer.
"There are always opportunities for active managers to navigate around index-related fund flows," says Lesne. "But it's for them to prove that they can exploit them."