Both the US and European exchange-traded fund (ETF) markets are dominated by a few key providers. This is to be expected, since to be successful in the index-tracking investment business requires scale.
While the largest provider of ETFs in both markets is BlackRock, the second and third-largest players in Europe are Lyxor and Deutsche Asset Management (AM). In the US, Vanguard and State Street Global Advisors (SSGA) occupy the second and third positions, respectively.
Although the collective market share of the top three in Europe has declined slowly over time, it remains substantial, with BlackRock, Lyxor and Deutsche AM accounting for 65% of the market (see figure 1). BlackRock is far ahead of its two competitors, with a 45% share of Europe's ETF assets.
Outside the top three, the bulk of the remaining European ETF assets remain with a handful of other firms, leaving a long tail of less significant players. According to data provider ETFGI, in September 2017 the European ETF market had 60 issuers, operating across 27 exchanges in 21 countries.
Rory Tobin, global co-head of SPDR ETFs, State Street Global Advisors' ETF arm, says: "The top 10 European players account for more than 92% of flows and we have observed the concentration among these players increasing."
But the concentration among the top three players in Europe is lower than in the US, where the largest three issuers control 82% of all ETF assets. The largest European players control less in percentage terms than their US counterparts because Europe's ETF market is more fragmented.
Tobin says: "Unlike the unified character of the US, European investors operate in different currencies, tax frameworks, exchanges and regulatory regimes."
Even BlackRock's dominance in Europe can be traced back to its origins in two of the largest local markets. Stephanie Clarke, senior vice-president of global market intelligence at Broadridge, says: "Even though iShares is owned by BlackRock, a US company, it has strong European roots."
BlackRock acquired UK-based Barclays Global Investors (BGI), the creator of iShares, in 2009, prior to which BGI had acquired German ETF provider Indexchange in 2006.
Different levels of market evolution also help to explain why Deutsche AM and Lyxor (owned by French bank Société Générale) are dominant players. Clarke says: "The ETF market is much more developed in France, Germany and Switzerland, while it has yet to gain significant penetration in Italy and Spain."
The strength of the banking sector in Europe is another key factor. Wealth management is integrated into the banking sector in many European countries. Thomas Merz, head of European ETF distribution at Vanguard, says: "This is a captive distribution model."
Adam Laird, head of ETF strategy for northern Europe at Lyxor, says: "It varies around Europe. For example, wealth management is a banking operation in Scandinavia and France but it is an independent sector in the Netherlands and the UK."
But while European banks are using their networks to sell to their clients, ETFs are typically not being sold directly to retail clients. Instead, they are bought by institutional investors and private wealth managers. In Germany, for example, individual investors tend to go to their bank for financial advice. Merz says: "The bank will then design the portfolio for the individual and it will often use its own provider of ETFs."
This captive distribution model also exists in the US, however. Wiegand says: "ETF distribution structures are also dominated by banks in the US as they control the wealth management market."
Amongst Europe's institutional investors, it's the medium and small-sized firms that are the main client base for ETFs. "ETFs are typically used by portfolio managers, insurance companies, asset allocators in family offices and portfolio constructors at wealth management platforms," says Vanguard's Merz.
Larger institutions, such as pension schemes, have tended to use ETFs less frequently. Merz says: "ETF-based strategies are only used occasionally by these professional investors." Instead, larger institutions prefer to use either their in-house managers or to use a third party to provide them with a segregated account, he adds.
When large institutions use ETFs it is usually either to put in place a portfolio tilt or to gain exposure to a particular asset class when they are thinking about switching a manager or changing their investment strategy, says Merz.
However, ETFs can also be helpful to larger pension schemes when they receive cash which has to be distributed to active managers or segregated accounts. Wiegand says: "As it takes time to make those transfers, ETFs help schemes to invest in markets and to avoid having large cash piles."
Clarke points out that ETFs are becoming steadily more attractive to larger investors. "As prices fall more institutions are turning to ETFs as part of their tactical asset allocation," she says.
Others argue that there is a more substantial change in the way the biggest organisations use ETFs. SPDR's Tobin says: "There has been a shift towards institutions using ETFs for long-term core allocations, or to gain exposure to more difficult-to-access markets, like convertible or emerging market local bonds."
ETFs have also emerged as an attractive alternative to futures, as they can be implemented without the daily margin requirements or the infrastructure, administrative and legal and compliance overheads that come with derivatives, he adds.
While the use of ETFs by large investors is expected to increase, Deutsche Bank's Wiegand predicts that the major growth driver in Europe will come from elsewhere. "This [institutional] market will not be largest driver of ETF growth in Europe," he says.
But while the captive distribution model, coupled with the relatively slow uptake of ETFs by large institutions, explains why the European market has been dominated by three players over the last decade, it also represents a significant challenge to ETF providers looking to gain market share in Europe. How can they break the long-standing stranglehold of the top three?
There are two options. Either the ETF providers work with the wealth managers in the banks to persuade them to use their product instead of that of a preferred partner, or they can try to disrupt the market – for example, by undercutting others on price or using new distribution avenues or technologies. Some will pursue both avenues. Vanguard's Merz says: "The banks' asset allocators welcome the greater choice among ETF providers."
Greater market disruption might also be an option. Merz says: "In the UK market, we have started to market directly to the private investor." A similar strategy across continental Europe could be a possibility in the future, he adds.
Merz says: "It makes sense for us to start making retail investors aware of our brand and that we have broadly diversified and highly transparent ETFs." This greater visibility among retail investors should create a feedback loop. Merz says: "If investors become aware of the benefits of our products they might ask their wealth manager to include our ETFs in their portfolio."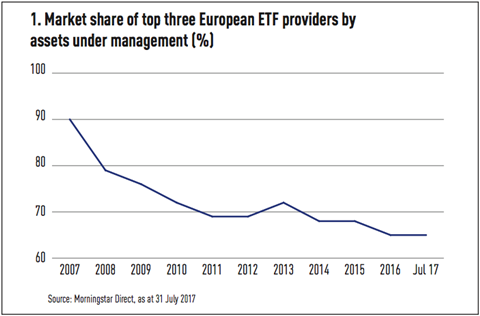 Other developments in the financial adviser market could also make it easier for newer ETF issuers to gain a foothold in Europe – especially if some of the recent trends in the US ETF market are adopted on the other side of the Atlantic.
Wiegand says: "There has been a shift in the way the independent financial adviser (IFA) market works in the US." Rather than select the funds themselves, US financial advisers now often assign clients a model portfolio, the design of which is outsourced.
These model portfolio managers then often use ETFs as their building blocks. According to US market statistics recently quoted in the Wall Street Journal, up to 12% of the $150bn (€128bn) inflows into iShares ETFs during the year to the end of July 2017 came through ETF model portfolios.
Wiegand expects this trend to be replicated in Europe, but for it to come primarily from the ETF providers rather than IFAs. "We launched our robo-advisory and model portfolio services because we have the necessary scale and expertise," he adds.
It will become much harder, however, for new ETF producers to come to the market, according to Wiegand. He says: "The benefits of economies of scale have been a key driver in the consolidation of the providers." But over time the captive banking distribution model will start to erode. Wiegand says: "This will become more fragmented with considerable differences within each country."
For example, in Switzerland a strong independent financial adviser community exists while there is a vibrant robo-advisor market in Germany. "Similar trends could develop in France and Italy, depending on how the banks react," says Wiegand.
Regulation will also be a catalyst for change. Wiegand says: "MiFID II's emphasis on greater cost transparency could help to reshape the distribution model and the way portfolios are constructed."
Under MiFID II, wealth managers will no longer be able simply to use legacy products – there will be an onus on them to shop around and find the most cost-effective solution.
It could also reshape the way managers design their clients' portfolios. Wiegand says: "A greater focus on costs could lead to great economies of scale." That would lead to a rethink of the value chain, he adds.
Disruptive forces can help to accelerate this trend. Wiegand says: "Technological trends such as the growing use of the internet are helping to drive people away from banks and to alternative providers of wealth management services."
While there will be challenges in the ETF market as consolidation continues, those players which survive should see the size of their assets increase as the market continues to expand.
The European market is still nascent: the US market has $3trn in assets while the European market only accounts for a little over $720bn. Tobin says: "We see no reason why the European market should not grow to a similar scale as the US over time."
The European ETF market is currently the fastest-growing segment of the asset management industry, with a growth rate of around 15% in the year to date, according to ETFGI. Tobin says: "But ETFs represent less than 7.5% of the European mutual fund market, so the scope for growth is significant."
Clarke says: "The message from the ETF providers is that these funds should be thought of as an investment vehicle, rather than a choice between active and passive." Providers want ETFs to be thought of as a transparent and flexible strategy which could be used either in conjunction with, or instead of traditional active management products, she says.