Tomas Franzén, chief investment strategist of AP2 (pictured), the second Swedish buffer fund, tells Carlo Svaluto Moreolo about the fund's approach to long-term investment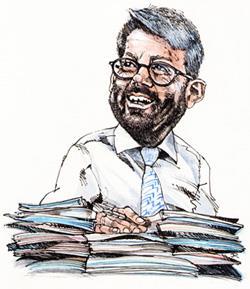 When Andra AP-fonden, Sweden's second national pension fund, turned 10 years old, Tomas Franzén, its chief investment strategist, wrote: "It is almost inevitably an understatement to admit that the first decade turned out very differently from what was anticipated." The remark appeared in book published to celebrate the milestone.
Franzén was referring to the unprecedented crises that struck the financial markets during that decade. However, the real challenge for Sweden's AP funds had only just began.
As the financial crisis hit global markets, the debate on the role of the AP funds within the Swedish pension system intensified. Many reports questioned their existence on the basis of their high costs and suboptimal results. Arguments in favour of merging the funds won support. But, after much uncertainty, the government shelved the plans to reform the AP fund system at the end of 2015.
After such difficult years, it is only natural that Franzén is eager to look back at the mission that AP2 was given when it was created in 2001. That should be the starting point of any discussion on how the fund manages its portfolio, he says.
AP2 was created in 2001, following comprehensive reforms of the pension system that were undertook in the late 1990s. The reform tried to address the serious demographic imbalances that threatened the sustainability of the system. Sweden shifted from a defined benefit pension system to a notional defined contribution (NDC) system. Four new AP funds, including AP2, were entrusted with assets, and tasked to invest on the global markets, with few quantitative restrictions.
AP2 at a glance
• Created: 2001
• Assets: SEK300bn (€32bn)
• 2015 return: 4.1%
• Asset growth since inception: 130%
• Location: Gothenburg
Contribution levels were fixed at 18.5% and individuals are insulated from direct interest rate and inflation risk given the NDC nature of the system. As such, Swedes can formulate their expectation on their future pension based partly on how the AP funds are expected to perform over the long term. The other element is their life expectancy, since longevity risk on the funded part of the pension system is borne entirely by individuals.
AP2's mission, explains Franzén, is linked to the future of the pension system. He says: "We have been asked to manage our part of the funds as efficiently as possible, but we should always think in terms of future pensions. Of course, it is up to our board to formulate how that notion should be interpreted and applied to portfolio construction and strategy."
"It is a question of identifying what kind of return we need to generate over time, in order to guarantee the highest possible future pension level. When we construct our portfolio, we do that within a framework that takes into account the development of the overall pension system," says Franzén.
To the same extent, AP2 must see that the portfolio minimises any negative impact on future pensions, which are always at risk of being affected by imbalances in the pension system.
The fact that the fund has to take into account the dynamics within the unfunded part of the pension system means that its return target will be high, with strong implications for the risk that AP2 has to take.
"Based on our optimisation exercises, it seems that the pension system wants us to have assets that carry a high risk-return profile, rather than assets that are very low risk. One way to interpret that notion is that the system is long-term, so it favours taking short-term risks as long as they are rewarded in the long term. We really have to try to think about our portfolio in terms of how it affects future pensions, which is a much more complex question than just optimising the portfolio per se," observes Franzén.
He clarifies, however, that no explicit target return has been set for AP2 and its peers. However, there is an implicit target return of 4.5%. "Depending on the stability of the pension system, and on the long-term demographic dynamics and short-term variables such as employment, we have high return expectations. We're not a liability-driven investor, but we do invest in a liability-driven environment of sorts that entails an implicit return requirement."
Franzén was appointed in 2006, previously holding the role of head of asset allocation at the fund. Since 2010, he has worked alongside the chief investment officer, Hans Fahlin. Their roles are quite different, explains Franzén. He focuses solely on investment policy and portfolio design, whereas the CIO is more involved in the daily running of the fund, including manager selection and implementation. "My role is also communicating with the board on investment policy issues, to advise when we should change the allocations or the strategies we have," he adds.
The board assesses the portfolio annually. Franzén believes it is appropriate to look at the strategy once a year, to check whether future return expectations should be amended, and if there is a need to rotate the portfolio to reflect changed expectations. That is not to say, however, that the portfolio, or indeed the strategy, should change once per year. "If you change your strategy every year, there is something seriously wrong", says Franzén.
From an asset allocation point of view, AP2's story began with a large allocation to equities. Franzén recounts: "At the outset, we build a portfolio with a large allocation to traditional equity risk. Later, we started to think about what we could do to achieve a more diversified portfolio without compromising our aspiration to get equity-like returns. So, we have constantly been seeking to find uncorrelated strategies and assets."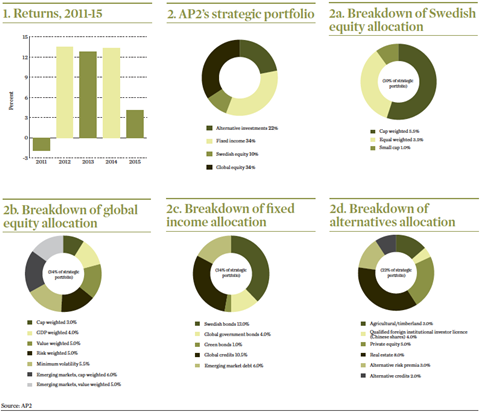 In the aforementioned book, Franzén stated that AP2 had begun an explicit diversification programme. "Diversification has been the key strategic approach for some time," adds Franzén.
As it stands, AP2's strategic asset allocation consists of four main asset classes: Swedish equity (10%), global equity (34%), fixed income (34%) and alternative investments (22%). Last year, this strategic allocation contributed a 4.1% return.
Returns from other main asset classes were split as follows: 15.2% from Swedish equity, 9.4% from developed market equity; 2.1% and 3.2% from overseas corporate and government bonds; 0.7% from Swedish fixed income. However, the emerging markets equity and debt portfolios suffered losses, of 9.1% and 7.2%.
When these results were published, CEO Eva Halvarsson noted that AP2's active management strategies generated 0.9% over 2015.
Since 2012, the fund has transferred SEK50bn (€5.5bn) worth of mandates to internal management. During 2015, the scheme completed the insourcing of the global credit and emerging market fixed income portfolios. This will bring cost savings as well as better use of internal capacity, Halvarsson said.
A closer look at the fund's portfolio reveals a highly complex structure, consisting of 21 strategies.
There are, in essence, two broad investment objectives AP2 should consider, according to Franzén. "We need to add value in terms of average returns over time but at the same time we need to to mitigate the overall market risk in the portfolio", he says.
That is why AP2 emphasises diversification as well as long-term investment. As such, it has a preference for uncorrelated strategies and assets, as well as those that enhance long-term returns.
This has a two-fold application to the portfolio. Firstly, Franzén feels that as a long-term investor AP2 should be in a position to take risks that are associated with illiquid, long-term assets. Over the years, the fund has gradually increased its portfolio of unlisted assets.
"We have to look beyond public listed markets. That has been one of the major transformations over the entire period. We have fulfilled our potential allocation to private equity, and increased our allocation to property in the broader sense, including timberland and farmland", recounts Franzén.
He believes that those types of assets provide "cleaner" diversification than public listed ones. "We do not necessarily expect that part of the portfolio to give much higher return over the long-term on average, but we do expect them to add value in a different way."
Secondly, AP2 has focused on factor investing and alternative risk premia. Large portions of both the Swedish and the global equity portfolio are invested in factor-based strategies. Franzén, who has been chairman of the EDHEC-Risk Institute's international advisory board, says the term 'smart beta' is a misnomer. The emphasis in factor investing should be on avoiding over-exposure to 'lazy beta', or inefficient market cap-weighted indices.
Whether factor investing works because of demonstrable risk factors or behavioural biases, does not matter, according to Franzén. What matters is that factor investing works and that it has to be done in a certain way.
He stresses that implementation and governance are key, saying: "One thing is to be exposed to a factor, another thing is to be rewarded for the exposure to that factor. Factors are really time dependent, and that is the reason why we get exposure to them as part of our strategic portfolio."
Franzén adds: "The challenge of doing that is to be aware that things can change fundamentally, and you have to be open to reconsider your thoughts on a factor. But I think there is a more serious risk that you throw out a factor at the wrong time if it does not pay off."
In other words, AP2 takes a strategic, rather than tactical, approach. "We think about it in a more macroeconomic-oriented way, taking a monetary policy cycle point of view," adds Franzén.
The alternative risk premia (ARP) portfolio – which accounts for 3% of total assets – is invested in currency carry, merger arbitrage, convertible arbitrage, short volatility, insurance-linked securities and dividend futures.
The allocation to the ARP is a result of AP2's understanding of academic research on hedge funds, according to Franzén. As an asset class, AP2 sees hedge funds are somewhat problematic, as they may produce "lower or even negative alpha" than other more traditional strategies, "when proper considerations in terms of risk factors and distributions are made."
Yet, by using what Franzén calls "financial engineering" skills, pension funds should be able to obtain hedge fund-like returns. By financial engineering, he means techniques that allow investors to get systematic exposure to risk premia and factors efficiently.
He says: "If you want to build a factor portfolio, you cannot just expose your portfolio to a set of factors in a simplistic way. You have to construct your portfolio. And it is important to have financial engineering skills on your own, or to be able to extract them from managers."
Finding uncorrelated strategies and attractive illiquid assets, admits Franzén, has become more difficult over the years. But, that is no reason to stop searching, says Franzén, as there is evidence that the illiquidity premium associated with them has materialised. "However, we should be a bit more cautious going forward, and not take it for granted that we will have very high returns in the future, such as the ones we have seen from our real estate portfolio," he concludes.
On the Record: What is your approach to governance?
1

2

Currently reading

How we run our money: AP2

3

4