---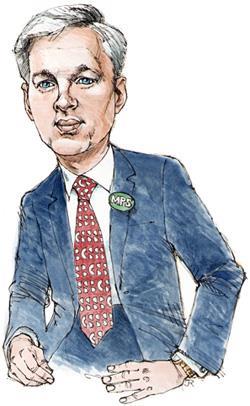 Stefan Dunatov , CIO of Coal Pension Trustees (pictured), tells Carlo Svaluto Moreolo about his vision for managing the UK coal industry's legacy schemes
The remnants of the once glorious British coal industry are a handful of open-pit coal mines, mainly located in Wales, which produced 8.6m tonnes of coal in 2015. To give an idea of the dramatic decline of the industry, coal production has more than halved since 2005 and fallen by almost 80% since 1998. The last deep coal mine closed in December 2015.
But the industry has left a long-lasting legacy, which consists of two large pension schemes – the British Coal Staff Superannuation Scheme (BCSSS) and the Mineworkers' Pension Scheme (MPS). The two closed schemes, which have combined AUM of around £18bn (€21.3bn), will have to pay pensions for the next three decades at least.
One of the key figures in managing the UK coal industry's pension legacy is Stefan Dunatov, CIO of Coal Pension Trustees Limited (CPT). CPT is a company jointly owned by the two schemes, and provides many services, including investment advice and actuarial support. Dunatov oversees the investment strategy of the two schemes, which includes asset allocation and portfolio construction.
Dunatov is a well-known and respected figure in the UK institutional investment industry. He is the current chairman of the 300 Club, a group of high-profile investment professionals. He also sits on the investment committee of the Wellcome Trust, the world's largest medical research charity. Prior to joining CPT in 2009, he worked for Deutsche Asset Management, Equitas, the Reserve Bank of New Zealand and HSBC.
Both the schemes that Dunatov advises provide defined benefit (DB) pensions, with part of the pension guaranteed by the government. But there are two main challenges in managing the schemes. "We do not have a natural call for capital. No one can just put money in the scheme unless there are quite severe circumstances. Therefore, we have to be very careful and try to avoid situations where we are funding pension payments with assets that have just gone down in value," says Dunatov. The second challenge is that the schemes require a high rate of return to meet pension payments over time. Dunatov says that rate of return is about 2% over inflation.
Because of the particular nature of the schemes, Dunatov is reluctant to speak about liability-driven investment (LDI). He explains: "Strictly speaking, we are not valued like a normal scheme. We are valued on a forward-looking basis." From that perspective, the schemes are well funded. But that does not mean the schemes can tolerate a high level of risk.
Dunatov prefers the expression "objective and risk-driven investing". This means the investment strategy, and the resulting asset allocation, is driven by the trustees' objectives and risk tolerance. "We should be able to look at the list of what we own and understand why everything is there. It's either there to help our objectives or to meet our risk tolerance," says the CIO.
The crucial issue is that different sequences of return and risk can result in different wealth outcomes, according to Dunatov. "Because we are going to be around for 30-plus years, we should think that, in theory, we could be long-term investors. But we have done a lot of work on understanding the relationship between paths of returns and wealth outcomes. For us, it is very important to be aware of those paths of return and risk."
Again, in this context, Dunatov sees a subtle but important difference between cashflow matching and cashflow management. He believes the latter phrase defines his strategy more appropriately. "We need to be aware of our cashflows and ask ourselves: how can we be sure that we can pay those through time, whilst keeping growth assets in the portfolio? The more confident we are that we can actually meet our payments for, say, the next three to five years, the easier it is to keep our medium-term conviction that equities will grow," adds Dunatov.
To build that confidence, the CPT investment team works with scenario analysis, building forecasts on the asset classes in the portfolio in different scenarios. He clarifies: "We forecast the expected return of everything we own, in a base-case scenario and a risk scenario. The accuracy of these scenarios is not always guaranteed, but they are meant to guide us in deciding what we are going to keep or add to the portfolio."
The characteristics and objectives of the pension schemes, coupled with the trustees' investment beliefs, have led the schemes to build a somewhat unusual strategic asset allocation. There is a large allocation to growth assets, represented by public and private equity. This takes up around 60% of the portfolio.
The schemes also have a small shipping portfolio of directly-owned ships. Conceptually, this fits well within a coal industry scheme. "This is also a growth asset, because it's highly cyclical, but we like the fact that it has a high cash yield," Dunatov explains.
Then there is a "special situations" portfolio, which does not fit into a strict private equity or private debt label. This is what Dunatov calls the most "esoteric" part of the portfolio and where the schemes carry most of their idiosyncratic risk.
A large chunk of money, equating to 15% of the portfolio, is invested in UK real estate. Dunatov says the portfolio was originally intended to provide capital growth as well as income. But a review of the expected returns from the asset class meant the portfolio is now treated as a source of income alone. The return profile is, nevertheless, very strong, according to the CIO.
The basic income element in the portfolio is high-yielding debt. This building block supports the schemes' outgoing cashflows, but has to be high-yielding in order to help the schemes meet their high return target. It consists of both public and private debt. There is a government bond portfolio and an emerging market debt one that is currently under review.
What excites Dunatov is the rather large allocation to private debt, which corresponds with 10% of the overall assets. The portfolio is invested in European, North American and Australian assets. "It's a great solution," Dunatov says.
"It is fair to say we focus a lot on this asset class. As a high-yielding debt asset, it can generally help pension funds in two ways. The coupons can be used to pay the pensions from time to time. But it also helps match our relatively high discount rate," explains Dunatov, who adds that it is less exciting at the moment from a capital growth perspective.
CPT designed the private-debt mandate in house, defining the yield target and amount of risk. But the key feature of the mandate, which was implemented three years ago by three managers, is that it is meant to be a partnership.
"The logic is that with private debt, you are buying an esoteric beta. You have to have a manager go out and allocate the funds properly. The alpha in this asset class consists of avoiding the blow-ups. It's about really sound security selection. But it's also about having the ability to work through the problems and come out the other side if anything goes wrong," explains Dunatov.
This meant, the CIO says, managers with the right staff, capabilities and business structure were required. "We needed managers that were more than just loan originators and could manage the loan through time."
The choice originally fell on two specialised asset managers, Sankaty Advisors (now BainCapital Credit) and Goldman Sachs, a firm with which the schemes have a long-standing relationship, before it was expanded to include a third manager, Ares. The approaches are different, in that Goldman Sachs leverages on its capabilities as a merchant bank, whereas the other two are asset managers. But Dunatov says he is satisfied with both approaches. "What matters is investing with firms that have the right skills and temperament, and people who have a long track record and can put their money to work."
But he makes an important point. Successful investment in private debt requires strong alignment of interest with managers. "The fact that managers have skin in the game, so we can be co-investors, is very important in this asset class. Whenever possible, we make sure managers cannot change their risk exposure without changing ours," he explains.
This partnership aspect of the schemes' relationship with asset managers is a key one. Because both schemes are closed, a fully outsourced model was chosen. "We are never going to have a large internal team, because as the scheme gets smaller over time, it gets harder to justify having internal investment capabilities," says Dunatov.
"We should be able to look at the list of what we own and understand why everything is there. It's either there to help our objectives or to meet our risk tolerance"
And there is another important reason for that choice, which defies the idea that sophisticated pension funds must have internal investment teams. Dunatov argues: "An asset owner needs to be careful that it does not fall into a trap of having a team of people that then limits its asset allocation choices. I think the partnership model works better in many cases, and our experience with private debt is a good example."
On the other hand, he admits, there is no right answer to these problems. "All you can do is ask yourself: what is the best way to build an allocation to this asset class and take advantage of the opportunity?"
In this context, it is interesting to note that CPT is in the process of reassessing the added value of its public equity portfolio. Less than 50% of that portfolio is managed actively, through what Dunatov identifies as high-conviction, global strategies. The rest of the public equity portfolio takes the form of either traditional passive equities or a factor-based allocation, implemented by AQR Capital.
Dunatov says: "We are evaluating the persistence of alpha in a world of low returns. In general, I believe you have to come to a view as to whether it is worth chasing it. Alpha chasing takes time and physical resources, and it is not for free. It needs to be monitored constantly. It comes down to a confidence question; you have to be really confident in the alpha in order to do all that. And I think there is a valid question about how confident you can be today, especially in traditional equity markets."
Recent asset allocation shifts suggest that confidence is waning. Over the course of the year ended 31 March 2016, the BCSSS scheme reduced the level of equities in the portfolio. To counterbalance that, the allocation to government bonds, private debt and special situations debt was increased. But equities – public and private – will continue to play a major role in the portfolio.
Overall, the schemes are posting healthy returns and beating their benchmark. Both reported a 2.7% return for the most recent annual reporting period, and the annual return over three years is above 8%. Although the five-year figure is slightly lower, CPT is reaching well above the schemes' high-return objective.
The UK coal industry may be dead, but its schemes are alive and looking into the future. As a strong believer in long-term investment, Dunatov is well placed to continue supporting the schemes in achieving their objectives. He has challenged the conventional wisdom on risk, on the grounds that it may harm long-termism.
In particular, Dunatov views volatility as an inappropriate measure of risk, and believes investors should focus on forecasting returns instead of volatility. They should, in equal measure, improve their understanding of the economic exposure of portfolios and consider likely and worrying economic scenarios. The downfall of the UK coal industry might serve as a useful lesson on considering all possible outcomes, even the most distressing ones.