Ramón Nieto (pictured), CIO of Geroa Pentsioak, tells Carlo Svaluto Moreolo about his fund's success in achieving high returns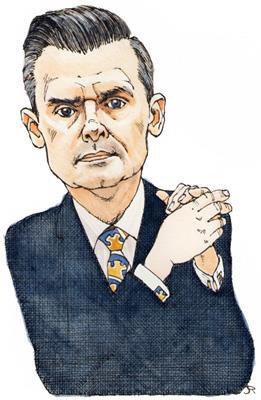 Despite efforts by the Spanish government to modernise the economy, the sustainability of the country's pension system is under threat. An ageing population keeps relying on public pensions, thus eroding the state's reserves. But compared with Italy, which has perhaps more modern public and private pension legislation as well as a larger number of contributing employees and a larger economy, the Spanish occupational pension sector has fared relatively well. It had grown to over €100bn in 2014 – equivalent to 9.5% of GDP.
This is mainly thanks to large pension schemes offered by global corporations such as Telefónica, Iberdrola, Endesa and a handful of financial institutions. But standing out among the largest pension funds in Spain is the €1.68bn Geroa Pentsioak, the regional occupational fund for employees in Gipuzkoa, one of the northern autonomous provinces of the Basque country.
Employers and trade unions in the region set the fund up in 1996 in the knowledge that the Spanish public pension system was unsustainable in the long term. The scheme, based in the regional capital of San Sebastián, is one of the few multi-sector regional schemes in Spain and across Europe. Such schemes have proved successful in building pension coverage for blue-collar workers in industrialised regions abundant with small employers.
Other examples are found in France and Italy, in regions where small and medium-sized enterprises (SMEs) from different sectors and trade unions have joined forces. These funds have also been committed to investing in the economies of their regions. Geroa, for one, holds 4% of its portfolio in shares of local companies.
In 2014, the fund received contributions from over 10,000 companies. Pension benefits are largely in hybrid form but a small defined benefit (DB) element relating to death and disability benefits was introduced in 2001. Metal sector workers are the largest contributors to the scheme, in terms of both membership and premiums, paying 4.6% of their salary equally split between workers and employers. Part of the benefit is also paid in annuities.
Geroa's governance structure is based on equal representation of employees and employers on the board and on the separation between the board and the investment management team. The scheme's general assembly, which brings together a larger number of elected representatives, meets once a year to approve the accounts, and on the rare occasion when the scheme's regulations have to be changed.
Although the scheme is the outcome of an agreement between employers and trade unions, the legal responsibility lies with the regional government. The scheme is classified as an Entidad de Previsión Social Voluntaria (EPSV) which translates to voluntary social welfare agency. In the Basque context, EPSVs are the collective or individual entities tasked with managing supplementary pension savings for the region's workers.
Geroa's board, made up of 26 employee and employer representatives, supervises the management team and approves the asset allocation. Among the board members is general director Virginia Oregui, who heads the management team, supervises the fund's investment performance and holds responsibility for the fund's asset allocation.
Oregui is supported by chief investment officer (CIO) Ramón Nieto, who makes the asset allocation decisions and oversees the fixed-income portfolio. The rest of the five-strong management team works on stockpicking and fund selection, while consultants are used, as needed, to evaluate and certify the risk of the portfolio.
According to Nieto, the management team normally meets in full every fortnight to study the fund's allocation. But in response to the current apprehension in the markets, meetings have become much more frequent. "I usually hold weekly meeting with the other members of my team to monitor short-term market movements, but with such high volatility these days, we are meeting every day of late," he says.
Geroa Pentsioak stands out among Spanish pension funds not only for its governance structure but also for its success in achieving high returns. Geroa's target is to return 2 to 3 percentage points above the Spanish inflation rate. In the past decade, it has almost constantly exceeded that target with the average return hovering at about 6%. The fund's growth over 10 years has surpassed 77%.
Years of strong performance have offset those of weak returns. In 2011, when the euro-zone sovereign debt crisis struck, Geroa posted a negative return of 4.2%. In contrast the fund recorded a return of over 14% in 2013 and in 2014 it enjoyed a 9% return.
Nieto says the fund aims to meet its investment target while maintaining risk in the portfolio at low levels and minimising management fees. In his view, this focus on costs has also set Geroa apart from the many pension products offered by for-profit entities in Spain.
Thanks to a mixture of investments in technology, scale and a preference for low-cost investment strategies, Geroa charges its members only 15bps of assets in running costs, and 16bps for management fees. The fund calculates that, compared with other Spanish funds, which charge an average of 1.5%, it can provide benefits 27% higher over a period of 17 years (the current lifespan of the fund).
The preference for a low-risk, low-cost strategy has driven Geroa, so far, to focus on fixed-income. The fixed-income portfolio features "important geographic diversification and active management", says Nieto. In his view "a mainly passive strategy would not be sufficient to optimise the risk-return profile".
A bias towards fixed-income is not unheard of among institutional portfolios in Spain and similar countries, such as Italy or Portugal. Nieto says that the local government body also favours a large asset allocation to fixed-income for Geroa.
But the reason the fund keeps a relatively low allocation to equities also has to do with its benefit structure. Nieto says: "The issue is that we have a unique portfolio for all our members, young and old. Having 50% or 60% in equities may be beneficial over a period of 40 years, but if we had a single bad year, say a 20% drop in the equity portfolio, our older members will suffer."
However, in the current low-interest-rate environment are credit and interest rate risks being rewarded correctly? Nieto says his team is having to make some tough choices. He concedes that the only way to achieve Geroa's target return of 4-6% is to take more risk. "We do not like it, but we are forced to do it. We believe that, in the medium term, fixed-income is not an attractive asset class." He points out that preserving capital will be difficult, let alone achieving a return, so that will be the main focus in fixed income.
The European Central Bank's ongoing quantitative easing (QE) programme should insulate the fixed-income market from the headwinds of the global economy, says Nieto. However, he expects a substantial sell-off in the near future. He adds: "In the medium and long term, due to the current level of interest rates it is unaffordable to maintain a conservative asset allocation policy." Therefore, Nieto anticipates that managers will seek to restructure their strategic asset allocation, to focus on capital preservation and avoid losses.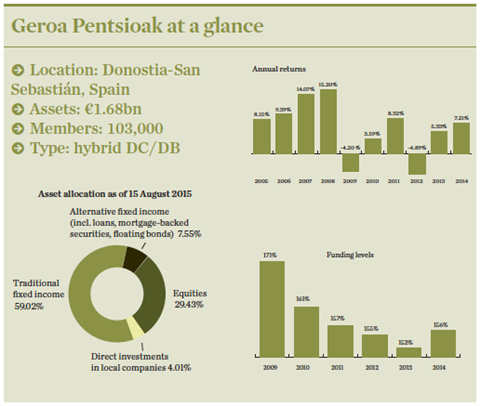 For the time being, Geroa aims to maintain current overall levels of credit and interest-rate risk, because, as Nieto puts it, "the coming months are going to be very challenging".
Nieto foresees volatility in Spanish fixed-income assets – not least, owing to the uncertain political environment. A general election is scheduled for 20 December and Nieto worries that the current government's difficulty in maintaining a majority will be punished by the markets.
He says: "Spanish pension funds have had tailwinds in recent years because of the reduction of risk premium against German Bunds. But in the coming months, things could turn negative due to political uncertainties such as the elections in Catalonia and the general election. Managers will have to predict whether the ongoing economic reforms will be paralysed or blocked by a new government, and the markets might penalise Spain for being an unattractive investment, at least temporarily."
This is why at the beginning of the year the fund increased its exposure to ultra-long sovereign bonds issued by peripheral European countries, particularly Spain, Italy and Portugal, seeking to extract relative value from carry. "The medium term of the curve did not provide any value," Nieto says. As a result, the fund has implemented a 'barbell' strategy which consists of being overweight ultra-long peripheral and short-duration in other areas of the fixed-income markets.
But Nieto continues: "This year we are facing problems, such as Greece and the Spanish elections, which affect the market and could potentially derail the strategy." To address this, the CIO says that halfway through the year the fund has further reduced the mark-to-market value of its fixed-income exposure to prevent a spike in volatility.
The fund has also increased diversification by building exposure to alternative asset classes including loans, mortgage-backed securities and floating-rate bonds. But, Nieto suggests, these assets may have a limited impact on the overall performance, since the bulk of the portfolio (59.2%) is still invested in traditional fixed-income.
At present just over 29% of Geroa's portfolio is invested in equities. During its existence, the fund has transformed the way it invests in this asset class. Nieto recounts that at the beginning Geroa invested through several equity mandates but, given the burden of bureaucracy, and the sometimes-underwhelming performance, Geroa switched to mutual-fund arrangements. "When we started, the mutual-fund sector was not well developed. Now the fund offering is more diversified and we can find funds charging low fees," he says.
Nieto adds that Geroa favours mutual funds because they offer more flexibility of entry or exit, and are more straightforward to measure against each other, compared with mandates. Nieto's team carries out the fund selection process internally, with Credit Suisse providing expertise as needed, and uses the Banco Santander Allfunds platform for implementation.
Because of the relatively limited size of the Spanish equity market, Geroa invests mainly in foreign equities, with a euro-zone bias. The fund holds shares of some of the largest and best-known corporates in Spain, including banking groups, but the focus of the portfolio is in French and German equities.
Aside from the asset allocation questions that are common to every investor in the world, Spanish funds have the added challenge of securing a regular flow of contributions. In Spain people still see public pensions as the main pillar of income during retirement.
Nieto suggests the blame lies partly with the economic crisis, which has been "brutal", but also with the regulatory environment which, he says, does little to help Spanish pension funds meet their objectives.
"Regulation should distinguish second-pillar pensions from third-pillar or individual ones," he says. "It also necessary to promote professionalism, as well as low fees, as fundamental objectives within the management of second-pillar funds."
But, he adds, growing the role of second-pillar pension funds in the country also requires a change in mentality on part of Spain's workers. "It is true that, in the current economic environment, workers should be more worried about where their next salary is going to come from, rather than saving for a complementary pension," he says. "But we can only achieve a significant overhaul of the Spanish pension system if workers demand that."
And it is the government, Nieto concludes, that should give impulse to social dialogue on the matter. "We need to expand the utilisation of second-pillar pensions to every worker, particularly young or low-paid ones. The dialogue must be resumed periodically, and fiscal incentives must be set to promote participation by those workers."
It is still early days for regional pension funds such as Geroa, even though it is close to celebrating 20 years of existence. But assuming a slow and stable recovery of the Spanish economy, and given Geroa's record in achieving positive returns, it is reasonable to assume the fund will remain a continued source of safety for Gipuzkoa's workers. For the many SME-rich regions of Europe, regional funds such as Geroa may be the solution to the tricky question of retirement income.